China's Friendship Treaty: A Distraction from South China Sea Diplomacy
Why ASEAN states should think twice before signing on to China's treaty of friendship and cooperation.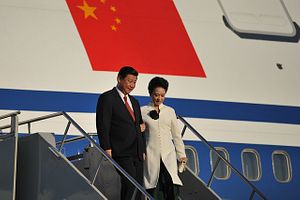 As China once again offers ASEAN states billions of dollars and promotes another treaty for "Good Neighborly and Friendly Cooperation" (which sounds an awful lot like the Treaty of Amity and Cooperation), Southeast Asian nations should consider how China perceives ASEAN and what goals it hopes to gain from its interactions with the bloc. By and large, China has maintained a favorable view of ASEAN since opening relations with it in 1991. Two factors contributing to Beijing's positive perception of the Association include its flexible and non-binding "ASEAN Way," and its openness to Chinese win-win overtures that help Beijing secure its territorial ambitions in the South China Sea (SCS). Given China's exploitation of these characteristics in pursuit of its expansionist goals, ASEAN should seriously consider whether it wants to sign on to another vague deal when diplomatic capital might be better spent on alternative frameworks.
Perhaps unexpectedly, China finds ASEAN a favorable diplomatic partner in part because its diplomatic style is compatible with China's. American criticisms that are directed at both ASEAN forums and the US-China Strategic and Economic Dialogue are remarkably similar, describing both bodies as talk shops that lack substance and are at times largely symbolic. However, these very characteristics of the "ASEAN Way" offer Beijing a non-confrontational, consensus-based mechanism for addressing regional issues that is in stark contrast to the expectations levied on Beijing in Western diplomatic forums. Like ASEAN, China's own diplomatic style has traditionally tended to focus more on form than on substance. Although the ASEAN Way may frustrate Western governments that seek to achieve concrete decisions after attending the Association's many meetings, Chinese diplomats likely find ASEAN diplomacy preferable for its comparatively ambiguous, hard to enforce agreements. This inclination mirrors the Chinese Communist Party's (CCP) domestic preference for guidelines and regulations versus detailed, enforceable laws that could threaten to control Party actions. In the SCS, this preference is reflected through Beijing's vocal support for vague and easily circumvented agreements such as the Treaty of Amity and Cooperation (TAC) and the Declaration of Conduct on the South China Sea (DOC), and its relative lack of enthusiasm for a Code of Conduct on the South China Sea (COC). Beijing has even less regard for the SCS plan of the only other non-ASEAN claimant, Taiwan's East China Sea Peace Initiative, which Taipei asserts is applicable to the SCS and has successfully guided the island's diplomacy towards maritime dispute resolution with Japan and the Philippines.
In addition to its predilection for amorphous agreements such as TAC and the DOC, Beijing finds ASEAN receptive to its win-win diplomatic framework, which allows China to slowly consolidate its territorial claims in the SCS in exchange for economic gain. China seems to have first adopted this view during the Asian Financial Crisis of 1997, in which China wasted no opportunity to publicize its leadership and responsibility by highlighting its decision not to devalue the RMB at "a big price" to itself. Chinese leaders seem to assess that the crisis showed ASEAN that strengthening mutually beneficial cooperation and regional economic integration was the route that both ASEAN and China must take to achieve common development and prosperity. China now has an FTA agreement with ASEAN and is the Association's largest trading partner, with a total of $443.6 billion in trade in 2013. In fall 2013 Xi Jinping announced his plan for a new commercial route dubbed the "Maritime Silk Road," in recognition of ASEAN and China's "shared destiny" that enables ASEAN to benefit from China's development. Additionally, China believes that its new Asian Infrastructure Investment Bank can become an important source of financing for ASEAN as it strives to meet its massive infrastructure needs. The ongoing theme seems to be that Southeast Asian countries can once again benefit from China's development and wealth as it did centuries ago.
Nevertheless, if Beijing's message of co-prosperity and development is the carrot of China-ASEAN relations, then economic isolation and coercion is the stick. China maintains that the SCS is not an issue between ASEAN and China. When the Philippines challenged Beijing over their bilateral territorial dispute, it found its fruit exports blocked and a "safety" ban enacted that stopped Chinese tourism to the archipelago. President Xi Jinping and Premier Li Keqiang made a point to skip the Philippines on their fall 2013 Southeast Asia tour, where the leaders signed lucrative business deals and set ambitious trade targets. Likewise, recent Chinese maps of China's Maritime Silk Road show its path conspicuously bypassing the Philippines as it winds from Southeast Asia all the way to Venice. Now even as Li pushes for a "Treaty of Good Neighborly and Friendly Cooperation between China and ASEAN Countries," China continues its land-reclamation activities in the SCS and is currently building an island large enough to hold an airstrip. Clearly Beijing's message is not lost on ASEAN, which has yet to publicly unite against China's gradual territorial gains even at its own expense. 
In light of Beijing's efforts to leverage the ASEAN Way and win-win diplomacy to advance its territorial goals, ASEAN states should think twice before signing on to China's treaty of friendship and cooperation. They should recall that the TAC, DOC, and ASEAN-China joint statement on DOC in South China Sea have yet to moderate China's actions in disputed waters; there is little reason to believe a new friendship treaty will incentivize Beijing to restrain itself. ASEAN should instead seriously consider Taiwan's East China Sea Peace Initiative, which the U.S. Republican Party (now in control of both houses of Congress) strongly advocated through a Resolution Supporting Taiwan's Peace Initiative in the South China Sea. If a united ASEAN can leverage stronger U.S. support to shield it from Chinese indignation, the initiative may prove a preferable diplomatic platform for joining ASEAN and Taiwan against creeping Chinese expansion in the SCS.
David Gitter is a Research Intern at the Project 2049 Institute and an MA Candidate in Asian Studies at The Elliott School of International Affairs, George Washington University.