Choe Ryong-hae Is North Korea's Number 2… Again
With his upcoming trip to Russia, Choe Ryong-hae appears to have regained his position as North Korea's number two.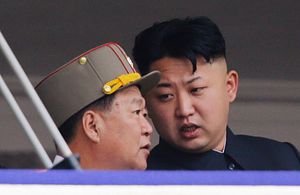 With his impending trip to Russia, Choe Ryong-hae appears to have regained his position as the second most powerful figure in the Democratic People's Republic of Korea (DPRK).
As Clint previously noted, North Korean state media outlets are reporting that Choe will travel to Russia sometime in the near future to serve as Kim Jong-un's personal envoy in meetings with Russian President Vladimir Putin. In and of itself, the decision to send Choe is not surprising as he is a long-time veteran of the regime who is often used as the Supreme Commander's personal envoy to foreign leaders. For example, back in May 2013, Choe traveled to China on behalf of Kim to meet with President Xi Jinping. He also was part of the group of senior DPRK leaders that made a surprise trip to South Korea last month.
On the other hand, the news is surprising because Hwang Pyong-so was believed to have supplemented Choe as the second most powerful figure in the DPRK regime after Kim Jong-un. Following the purge and execution of Kim's uncle, Jang Song-thaek, last December, Choe was almost unanimously seen as North Korea's number two. However, earlier this year Choe began relinquishing many of his top positions to Hwang, including chief of the General Political Bureau of the army and vice chairman of the National Defense Commission.
There were other signs that Hwang had surpassed Choe in the North Korean regime's hierarchy as well. For one thing, North Korean state media began mentioning Hwang before Choe when covering events at which both men were present. Hwang also clearly led the senior DPRK delegation mentioned above that visited South Korea last month, ostensibly to attend the closing ceremony of the Asian Games.
However, by the end of October, signs began emerging that Choe had once again become North Korea's number two. Specifically, in a state media report about a North Korean soccer match that both men attended, Choe was listed ahead of Hwang. State media maintained that order in a subsequent report about a military drill that Kim Jong-un inspected.
Furthermore, Choe appears to have assumed the position of Secretary for Organization of the Workers' Party of Korea. It is an influential post in charge of senior party appointments that was formerly held by, among others, Kim Jong-Il, while Kim Il-Sung was still alive. More recently, the post was held by Kim Jong-un's aunt, Kim Kyong-hui, who has disappeared from politics since the execution of her husband Jang last December.
Choe's visit to Russia — which is expected to begin on Monday — therefore seems to confirm he has reclaimed the mantle as North Korea's second most powerful figure. One explanation for Choe's apparent ascendance is the reported execution of Kim Kyong-ok, the first deputy director (first vice director) of the powerful Organization and Guidance Department [OGD]. As The Diplomat reported last month, Kim Kyong-ok was reportedly recently arrested and subsequently executed alongside some of his top aides. Choe is said to have led the operation on Kim Jong-un's behalf, and in doing so once again endeared himself to the Supreme Commander. It's also worth noting that Hwang rose through the DPRK ranks through the OGD.