'Money Politics' in Japan
Allegations of financial impropriety have a long and sordid history in Japanese politics.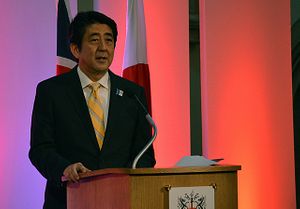 Issues of political corruption and financial impropriety have always swirled around Japanese politics. The latest episodes involving members of Abe's cabinet demonstrate just how persistent these phenomena are. They take two main forms.
The first is so-called "money politics" (kinken seiji). It involves "money for favors," known in Japanese as uragane, literally "bribes." Political corruption of this kind is linked to the role of individual politicians exercising influence over the delivery of specific policy benefits – usually regulatory or financial (including budgetary) favors – to donors. Convicting Japanese politicians for kinken seiji has proven nigh impossible, however. Not even those regarded as some of its most infamous practitioners, such as former Prime Minister Tanaka Kakuei and his disciple, Ozawa Ichiro, have ever been convicted of bribery and corruption.
More common these days is the second type – "politics and money" (seiji to kane) issues. Seiji to kane is a different beast from kinken seiji and mainly involves matters relating to compliance with provisions of the Political Funds Control Law (PFCL). The way in which politicians handle political funds – how they are reported, how they are acquired, and how they are spent – may be in breach of the law. Legal misdemeanors of this kind can result in prosecution and trial – to which Ozawa can attest – although securing a conviction and punishment can still be problematic. Prosecutors who have difficulty obtaining evidence and therefore the prospect of a conviction for kinken seiji can resort to prosecution for the "lesser crime" of seiji to kane to get their man. Sometimes, of course, the two types are inextricably intertwined: Breaches of the PFCL may occur as donors seek and politicians receive "money for favors."
Other areas encompassed by seiji to kane relate to violations of the Political Parties Subsidy Law and the Public Offices Election Law, which also regulate matters relating to money flows to and political expenditure by politicians. Another relevant law is the Law on Disclosure of Diet Members' Assets with a View to Establishing Political Ethics as well as additional "grey" areas such as the diversion of publicly funded secretaries' salaries into politicians' pockets for their own political purposes.
Details have recently surfaced of suspect dealings of the seiji to kane type involving former METI Minister Yuko Obuchi and former Justice Minister Midori Matsushima as well as current MAFF Minister Koya Nishikawa, Minister of Environment Yoshio Mochizuki, METI Minister Yoichi Miyazawa and Defense Minister Akinori Eto. Allegations are also swirling around Takashi Otsuka, parliamentary secretary for "Integrated Resort Management" – namely, the parliamentary secretary in charge of the casino bill. Details of these scandals have emerged largely because of forensic investigations by Japanese media organizations, particularly the weeklies, which are well known for digging deeply into the financial affairs of powerful political figures. As much as anything else, Abe called the election in December in order to "wash away the politics and money problems" afflicting the current Abe cabinet.
Even Abe himself is not necessarily immune to allegations of financial malfeasance. A critic writing in the November issue of Shūkan Posuto argues that Abe seems to attract lax politicians because he himself embodies old LDP-style money politics. He is described as a "department store of suspicion over political funds," having learned that "policies are money" (seisaku wa kane) when he was first elected in 1993. Five years later during the so-called "Finance Diet" he was promoting himself as a member of the LDP's "welfare policy tribe" (kōsei zoku) but seriously considered joining the financial policy area because it was considered "profitable." He was asked by the Japan Dental Association (JDA) to cooperate in amending the law so that dentists would be permitted to certify disabilities, received ¥1 million from the organization, and was later thanked by name by the JDA chairman at a JDA conference. He still receives donations from the JDA almost every year. This episode points directly to the delivery of special benefits to certain industries in exchange for political donations. In short, it smacks of kinken seiji. Suspicions also arose over a group called Anshinkai, Abe's so-called "dark money-gathering machine," which was headed up by AIG Chairman Bungo Yoshimura along with other key business figures. Officially Anshinkai was only a "social group" and not a political organization and so it was not required to submit an income and expenditure report. However, another group acting as the secretariat for the Anshinkai, the 21st Century Politics Research Group, hosted a party at the Palace Hotel in Tokyo to celebrate Abe's appointment as LDP secretary-general in 2003, inviting approximately 800 people including the managers of venture companies. How much money was gathered at the party and how much of it went to Abe is unknown.
One theory about why kinken seiji and seiji to kane issues remain so prevalent in Japanese politics has been offered by a Diet member's secretary. He argues that politicians who cause politics and money scandals all use their office to advance their own political and electoral interests by delivering political patronage and acting as brokers for special interests. They follow a so-called "seiji-'ya'" business model instead of a "proper politicians" ["seiji-'ka'"] business model where they act on behalf of the sovereign people. The most common pattern is for politicians to supply public works to their local constituencies in exchange for money from local companies. The fact that this model works and is so rampant is the reason why the public works budget continues to bloat, despite the national debt in excess of ¥1000 trillion.
Politics and money scandals not only undermine the standing of an administration, they impede the business of government. The TPP can hardly progress when the political and policy credibility of a key player such as MAFF Minister Nishikawa has been so undermined by the revelations of both past kinken seiji and present seiji to kane that continue to be made about him.
Aurelia George Mulgan is professor of Japanese Politics, University of New South Wales, Australian Defence Force Academy, Canberra, Australia. Author of six books on Japanese politics (the latest "Ozawa Ichiro and Japanese Politics: Old Versus New," Nissan/Routledge 2014).