More Evidence of Economic Slowdown in Central Asia
The sanctions on Russia continue to have significant repercussions for its neighbors.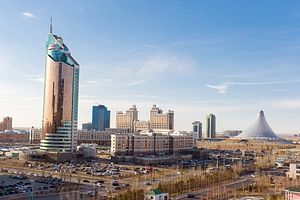 This month's report from the International Monetary Fund stands as the latest round of evidence that Russia's self-inflicted harm has extended to its neighbors. Of course, this reality was already readily apparent – a recent EBRD report showed just how much damage Russia's economic slide had wreaked in Eurasia. The new IMF report, however, not only confirms the EBRD's findings, but also allows us to take a closer look at certain of the post-sanctions rates – and to pin the blame for the region's slowdown that much more firmly on Moscow.
Overall, all five Central Asian states are looking at more sluggish projected GDP growth moving forward than they've recently known, especially for those nations most closely entwined with the Russian economy. While the IMF says Turkmenistan looks set to recover by 2015, Kazakhstan's GDP growth rate this year will likely be nearly 25 percent below than its 2013 clip, dropping from 6.0 percent last year to a projected 4.6 percent rate in 2014. The IMF likewise projects that Kyrgyzstan and Tajikistan will see little respite from their current slowdowns.
The reasons for this, per the IMF, remain relatively simple. Central Asia is slowing "mainly because of negative spillovers from an economic slowdown and increased geopolitical risks in Russia and weaker domestic demand in a number of [Central Asian] countries. … Geopolitical risks surrounding the Russia-Ukraine situation dominate the outlook." Moreover, the fallout hasn't yet reached a stasis – as the IMF notes, this latest round of forecast growth has already declined 0.75 percent from the previous projection just six months ago.
And there may yet be more decline to come. While Kazakhstan has managed to stave off both presumed inflation and another round of devaluation – coming on the backs of Russia's self-sanctions and a severely weakened ruble, respectively – Astana may yet be living on borrowed fiscal time. Further, the brunt of the economic fallout from foundering Russian economy is still to reach those nations most dependent on remittance rates from migrant laborers in Central Asia. Kyrgyzstan and Tajikistan have already seen discernible dips in their substantial remittance rates, and more may be coming. As the IMF notes, "A 1 percentage point decrease in Russia's GDP would reduce remittances to [Central Asian] countries by about 1½ percent." A decimated ruble will also continue pressuring the Kyrgyz and Tajik currencies, "feeding quickly into inflation."
The bottom, it seems, has yet to come. And with closer economic integration via the Eurasian Economic Union on the horizon for Kazakhstan, Kyrgyzstan, and potentially Tajikistan, this initial dip may be a signal of what to expect for the foreseeable future. Coupled with tumbling oil prices, massive fields experiencing delay upon delay, and a remarkable energy shortage looming, those nations who've tethered themselves closest to Russia look set for little economic optimism, no matter what Kazakhstan's newest ads on CNN may claim.