Obama to Visit India in January
The fruits of Modi's diplomacy become evident as Obama becomes the first American President to visit India twice.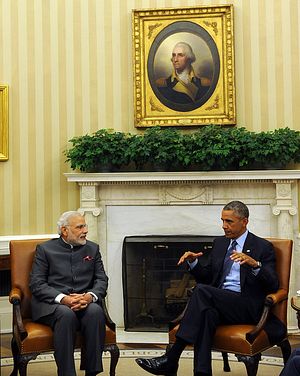 A surprise tweet by Indian Prime Minister Narendra Modi today announced that U.S. President Barack Obama will visit India in January as the Chief Guest for India's Republic Day ceremonies. The White House quickly confirmed this fact. Republic Day marks the adoption of India's Constitution in 1950, when the country became a republic. From 1947 to 1950, it was an independent dominion with the British monarch remaining the titular Head of State, as in Canada and Australia. Obama will be the first U.S. President to attend the celebrations as the chief guest.
Obama's visit to India in January will also mark the first time a sitting U.S. president has visited India twice during his presidency. Although President Obama has not been very India-oriented (in sharp contrast to his predecessor George W. Bush), this may have been due more to other issues taking up his time rather than any deliberate strategic intention on his part. Obama's visit to India is a testimony that Prime Minister Modi's hyperactive international diplomacy has started to pay off, putting an end to some speculation that Modi's globe-trotting was a waste of time. While the issue of whether or not this diplomacy yields tangible results is another matter, Modi has started to succeed in one of diplomacy's most important purposes: the task of advertising one's nation and reminding the world of its importance. This is important if countries around the world are to consider investing in India or its strategic interests. This includes a major breakthrough last week with the U.S. on a dispute over food subsidies that had previously risked derailing a new deal at the World Trade Organization (WTO).
As Modi's travels in the past few weeks have shown, he gets along well with world leaders and is very popular with them, which is not only inherently good, but good for Modi's diplomatic initiatives. Scroll.in has a great photo collection of Modi in Myanmar and Australia, where he attended the ASEAN and G20 summits. The photos include Modi interacting cheerfully with world leaders, including President Obama and Russian President Vladimir Putin, in addition to bonding with a koala. More substantively, India inked several deals with Myanmar and Australia and got the G20 to take an official stance on black money. Modi's visit to Australia was the first time an Indian leader visited the country in 28 years and led to the signing of a security pact and a one-year timeline to sign a free trade agreement.
Perhaps the most interesting new diplomatic initiative of the Indian government was its reaching out to Pacific Island nations it had previously not taken notice of. Modi met the leaders of these nations on the island of Fiji, which he visited after he left Australia. The present Indian government has been cultivating its diaspora in order to strengthen its strategic ties with nations inhabited by non-resident Indians. Fiji, in particular, is important because of its size, its large Indian community, and its geographic location. If it moves closer to India, this would strengthen India's strategic position in the Pacific.
Obama's visit to India and India's diplomatic successes show that India is getting serious about diplomacy, in which competence is the prerequisite for tangibles. Obama's visit demonstrates that the U.S. and India are willing to move forward strategically and economically despite the disappointing lack of progress over the past few years. Diplomatically, the next important summit to watch is the South Asian Association for Regional Cooperation (SAARC) next week in Kathmandu, Nepal. The lessons of ASEAN and China's growth point to an argument for more South Asian economic integration and manufacturing. In other words, SAARC has to move in the direction of ASEAN, a promise that it has so far failed to live up to. For SAARC to have a chance at working, Modi, and Modi alone needs to push hard to make it relevant so that he can fulfill his dream of South Asian integration. India is key to the success of SAARC because, according to former Indian Foreign Secretary Shyam Saran, India is "emerging as a kind of economic engine for the entire region. To make SAARC work, India has to take the lead, because it shares borders with the most member countries."