The Shanghai-Hong Kong Stock Connect: Sizzle or Fizzle?
The Shanghai and Hong Kong stock exchanges have finally been connected. Is there investor interest?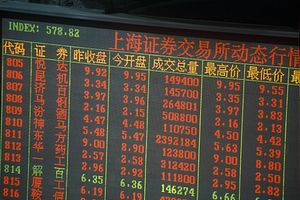 The Shanghai-Hong Kong Stock Connect program opened Monday November 17, resulting in a surge in northbound financial flows from overseas investors into Shanghai. However, after the first two days of trading, activity dramatically declined in both directions, leading some to call the Shanghai-Hong Kong "Through Train" the "Ghost Train." Northbound flows from Hong Kong to Shanghai declined from 13 billion RMB ($2.1 billion) on opening day to 2.6 billion RMB on Wednesday, November 19, while southbound flows from Shanghai to Hong Kong slowed to RMB 253 million. So, should we view Connect as a sizzle or fizzle?
One reason that some foreign institutional investors have not participated in Connect is that they wanted to monitor demand activity before investing. In addition, some investors have found Connect's restrictions onerous. First, Connect only allows northbound investment in 568 designated stocks in Shanghai out of 971 listed stocks and southbound investment in 268 stocks on the Hong Kong stock exchange. This will likely not change in the short run. Second, the process for purchasing shares is indirect; for example, overseas investors wishing to purchase mainland shares must go through a Hong Kong broker, who connects with the Hong Kong Stock Exchange in order to access the Shanghai Stock Exchange.
Notably, after the People's Bank of China cut the benchmark lending rate, Connect experienced an increase in activity once again. By Monday, November 24, international investors used over half of their daily $2.1 billion allowance to purchase stocks in mainland China. This may indicate that as mainland China's economy in particular improves, Connect may see more participation.
Further, activity is expected to pick up as Luxembourg's finance regulator, Luxembourg's Commission de Surveillance du Secteur Financier (CSSF), approves funds to participate on the exchange. Currently, most large funds are unable to invest through Connect since they must surmount compliance hurdles, such as ensuring legal entitlements to the securities. This is anticipated to occur within the next two to six months. The first fund was already approved for trading activity on Friday, November 28.
In addition, although the Connect program may not have been as wildly successful as had been anticipated, it is an important step in opening up the capital account and will likely experience more traffic as China's stock market deepens and as Chinese investors become savvier.
China's stock market, though increasingly efficient, does not represent a sufficiently diverse range of companies, particularly in Shanghai. Approval of stock listings is tightly controlled, and small and medium enterprises, while listed in Shenzhen, are not well represented on the Shanghai exchange, which contains many state-owned enterprises. State-owned enterprises, while undergoing reforms, continue to be over-indebted and have faced declining profitability in recent years. According to HSBC, SOE's average debt to asset ratio is 65 percent, above the generally acceptable range of 40-60 percent.
As the stock market faces reforms, and as more profitable opportunities arise, it is only logical that the Connect program, particularly northbound activity, will experience a rise in popularity. Southbound activity will increase as mainland Chinese investors seek diversification, and also as mainland stock prices rise closer to levels seen on the Hong Kong exchange. Right now, Hong Kong stocks are not necessarily viewed as a good value. Mainland investors are highly restricted in international financial investment and have little experience in this area.
So, sizzle or fizzle? It's too early to say. Perhaps a slow burn as China's financial economy deepens. If the financial reforms promised in the Third Plenum meeting last year are truly implemented, Connect may prove a valuable resource for Chinese, Hong Kong, and international investors alike.