Who Is Responsible for Persecuting Pakistan's Minorities?
Islamists in Balochistan are targeting minorities, yet NGOs are beginning to blame the government too.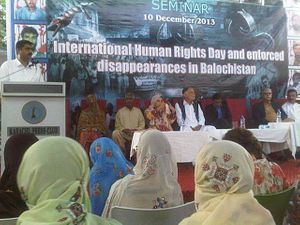 The persecution of minorities, especially the Zikri sect, in Balochistan province is not a new phenomenon. Hundreds of years ago, those who resisted conversion to Islam were killed. The violence was repeated during General Zia-ul-Haq's military rule in Pakistan. The religious zealots of that era would loot the pilgrimage caravans on their way to make offerings in the Koh-e-Murad area of Kech district in the southwest of the province.
Religious extremists suffered a setback during the tenure of the late Nawab Akbar Bugti, minister of State for Interior and governor of Balochistan province, who vowed to protect these groups between 1989 and 1990. Today, however, a wave of violence specifically directed against certain minorities has engulfed the region and seems stronger and more organized than every before.
The recent attack on Zikri minorities this year in Awaran district's Teertej area, which left six dead and many injured, is yet another dark chapter in the history of this troubled region. Unfortunately, the new government of the provincial Chief Minister Dr. Abdul Malik Baloch has not improved the situation for the Hazaras (Shia) and other religious minorities in the region, with hundreds of people fleeing the troubled province and moving to safer cities in Pakistan like Karachi, Lahore, Rawalpindi and Islamabad. Many of those migrants are now reluctant to return to their native areas due to reports of Islamic State and Lashkar-e-Khorasan militants in the province, making them fear new fighting and the government's obvious inability to protect them.
Hundreds of people belonging to the Hazara community in Quetta and Zikri in Balochistan's coastal belt have fled the southern cities of Gwadar, Pasini, Turbat and Mashkey and moved thousands of kilometers away, leaving behind their homes and businesses; the newest indication of spreading unease over racial and religious conflict in the province.
Chief Minister Dr. Abdul Malik Baloch told this reporter he doesn't rule out the presence of militants from outfits like the Islamic State, also known as ISIS or ISIL, but said that people should not panic.
However, religious minorities from both the Hazara and Zikri sects argue that they don't feel safe in their native areas, after a wave of attacks and wall chalkings directed at them on the province's outskirts. A large number of Hazara who have moved to Islamabad now say they are prepared to live in Islamabad and Rawalpindi without food and shelter, but are unwilling to go back to their home in Quetta. A group of Hazara youngsters in Islamabad spend their evenings sitting in a small hotel. Among them is a 22-year-old named Yahya Hazara, who has lost all his friends and a brother in this seemingly unending war. Yahya is a migrant from Quetta now settled in the Pakistani capital Islamabad, who said that due to violence and discrimination against them in Balochistan they can neither study nor work there. "I prepare to stay here without food but I don't want to go there because they [conservative Muslims as well as security forces] built so much discrimination against us, so much hate."
Noorul Haq Baloch (19) belongs to Shahrak, a remote region of Balochistan hit by a separatist insurgency. Noor is a member of the Zikri community but now lives in a private hostel in Islamabad with his two friends. Like Yahya he is unwilling to return to his home town in Turbat. Talking to this reporter in Islamabad, Noor explains that the Zikri who settled in Mekran and other parts of the province are traditionally non-violent, claiming that they have no militia and carry no guns but now are being blamed for supporting a separatist group in the province. "We were always peace loving and we still are," he says, adding "we don't have a militia like the others which is making us a soft target."
Noor claims than even the security forces have turned against the Zikri, suspect them of supporting the insurgents and separatists. He says that there were wall chalkings with hate slogans directed at the minority, and supporting the Islamic State, in different areas of Balochistan. Though the Makran division of Balochistan, comprising Gwadar, Turbat and Panjgoor districts where some 300,000 Zikri live, has traditionally been considered a safe place for the Zikri, the surge in violence by Islamist militants is compelling them to leave. A large number of displaced persons from different areas of Turbat recently staged a protest demanding action. Men and women staged a sit-in in front of the district coordination officer's (DCO) office for several hours demanding that they be sent back to their homes with their security guaranteed.
According to DCO Turbat Mumtaz Baloch, more than 200 Zikri families residing in remote regions of Shahrak and Shapuk have suffered severely in the escalating violence. He says a few of them intimated that they would be killed and their homes blown up by unknown Islamist militants if they did not leave, and added that police are trying to investigate the matter but have so far failed to find the culprits.
Balochistan's Home Minister Sarfraz Bugti accuses the Indian intelligence agency Research and Analysis Wing (RAW) and Afghan intelligence agency National Directorate of Security (NDS) of being behind the province's unrest. Bugti claims India and Afghanistan are doing all this to achieve unspecified but nefarious goals in the region.
Meanwhile, Zohra Yusuf, who chairs the Human Rights Commission of Pakistan (HRCP), says that there are sufficient grounds to believe that the unrest is taking place under the patronage of state elements. Yusuf believes that the acts are being carried out in order to give a religious coloring to separatist movements in the restive province for the benefit of the international community. This is being driven by fears of an Islamic State presence in the region.
Raising concerns over human rights violations across Pakistan, an HRCP report has also said that religious extremism have escalated. The report presented to the media reads:
"There has been an unchecked rise in religious extremism and the situation has worsened for religious and sectarian minority communities. A sequence of attacks on Sikhs in Peshawar, assaults on Hindus in Umerkot and on temples elsewhere in Sindh, target killing of an Ahmadi doctor in Mirpur Khas, killing of Ahmadis in Gujranwala, of Zikris in Awaran and attack on a blasphemy convict in Adiala prison are just some of the manifestations of increase in fanaticism and intolerance in the country."
Which raises questions for the government of Pakistan. For instance, why aren't there any operations against such religious outfits? Why haven't there been any intelligence reports prior to attacks on minorities? Who is financing the religious militants? And most importantly: Why haven't any charges been laid in connection with the attacks?
Kiyya Baloch is a freelance journalist who reports for the leading Pakistani English newspaper Daily Times in Balochistan and other outlets on foreign affairs and the insurgency, militancy and sectarian violence in Balochistan.