China's Holiday Spending Sprees
Consumer spending was robust over the Christmas period, and looks set to perform well during Chinese New Year.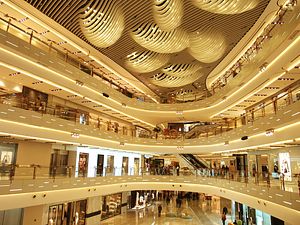 Estimates of China's Christian population range from 23 to 100 million (1.7 to 7.4 percent of the population), but given the areligious nature of the state and the nonindigenous character of Christianity in China, Chinese citizens, mainly young people and couples with children, celebrate Christmas as a time of gift-giving and gaiety. While the spending impact of Christmas is not nearly as large as that of Spring Festival, people flock to purchase apples, a symbol of peace, as well as gifts and decorations.
China's long "spending season" begins on November 11, known as Singles Day, and encompasses December 12, another lucky double day. The season extends into Christmas and ends with Spring Festival, a celebration of the Chinese New Year. Spending on gifts and entertainment has increased as incomes have risen and the culture has become increasingly Westernized. Christmas in China has been celebrated around the persona of Santa Claus.
Christmas decorations have experienced year-on-year increases, as restaurants and shopping malls decorate to promote their Christmas discounts. Clothes, toys and shoes are among the most common gifts. As in the U.S., Christmas shopping online is also increasingly popular. High-end shoppers purchase goods that average 1,379 RMB ($221) in price, according to Horizon Research Consultancy Group. Apples, an important Christmas symbol in China, have sold for high prices because of growing demand. However, some observers find that spending on restaurants has declined, despite attempts to promote specials such as "Christmas dinner."
Exports of Chinese made gifts and decorations also rises over the Christmas period. China is the world's largest exporter of Christmas supplies, shipping to almost 200 countries and regions. Exports of Christmas goods increased about 30 percent year on year in the first eleven months of 2014, up from a 12.3 percent increase the year before, and a 13.6 percent decline in 2012. Most of these exports were shipped to the United States and the European Union, and profit margins between production in China and sales in Western nations are high. For example, a set of Christmas lights costs $2.80 to produce in China, but can be sold for $20 overseas.
Not all goods have witnessed mounting demand over the holidays. China's anti-corruption campaign has suppressed demand for luxury goods since November 2012, when the campaign was announced. Luxury goods, which were frequently purchased by or for government officials, have been less popular. Bain and Company has reported that sales of luxury goods in China fell by 1 percent in 2014.
Consumption is viewed as an important means for bolstering growth. China's leadership cut interest rates at the end of November in an attempt to promote consumer spending. Additional lending restrictions will be lifted, according to banking officials informed of the central bank's intention to ease monetary policy. These policies promise to buoy economic activity in the face of China's current economic slowdown. Increased consumption resulting from these policies will encourage spending during China's long "spending season."
The next major holiday in "spending season" will be Chinese New Year, starting in February 2015. In 2014, retail sales for that period amounted to 610.7 billion RMB ($100.8 billion), according to the Ministry of Commerce, and have been rising in the past several years. Tourism and entertainment sector are expected to perform well.
China's leadership hopes to instill higher levels of consumption as a permanent feature in the economy. Christmas spending lays out an important example of the consumer mentality, purchasing goods to enhance the standard of living and quality of life. Touch wood that China's "spending season" will extend to the rest of the year.