India and Bangladesh Poised to Resolve Border Dispute
India's PM Narendra Modi has given his support to a 2011 agreement, which could have significant implications for the region.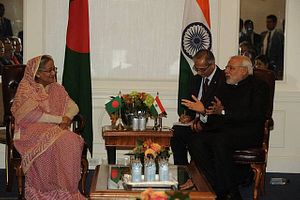 After nearly seventy years, it appears that India and Bangladesh may at last resolve their border issues, a legacy of the partition of India in 1947. Following the failed effort of the previous Indian government to ratify a Land Boundary Agreement negotiated with the government of Bangladesh, announced in 2011 but never passed by the Indian parliament, Prime Minister Narendra Modi has voiced his support. As I argue in the Indian Express this week, what may appear to be a local, low-profile regional development actually has significant impact for India and its role in the world.
The border itself—see the map below—is an astoundingly complicated matter. It isn't an issue of positioning a line here and there, but rather a Queen Anne's lace of extraterritorial islands on either side. In an excellent scholarly study of the border, Willem van Schendel offers the details of how this border came to be, and the impact on citizens living in these islands of territory, known as "enclaves," on both sides.
Schematic map of the Cooch Behar enclaves on the border of India and Bangladesh. The top of the map points to the east. Yellow dots represent small enclaves of India surrounded by Bangladesh, while green dots represent small enclaves of Bangladesh surrounded by India. Photo by Jeroen licensed under Creative Commons BY 3.0.
India and Bangladesh first attempted to resolve the border in 1974, shortly after Bangladesh's separation from Pakistan and emergence as an independent country. Modifying the border requires constitutional amendments in both countries to bring a bilateral boundary agreement into effect. The Bangladeshi parliament passed the Land Boundary Agreement in November 1974, but the companion bill on the Indian side never made it through.
India's previous government, the Congress Party-led United Progressive Alliance, placed a high priority on strengthening relations with Bangladesh, and worked to revive the Land Boundary Agreement among other initiatives. During then-Prime Minister Manmohan Singh's visit to Bangladesh in 2011, resolution of the border was hailed as historic progress. As in 1974, once again the necessary legislation was not able to make it through the Indian parliament in order to ratify the agreement. Among the objecting parties were the Bharatiya Janata Party, the Trinamool Congress, and the Asom Gana Parishad. Since this constitutional amendment requires a two-thirds vote in parliament, the previous Indian government simply never mustered enough votes for it to pass.
So it's good news that Mr. Modi has decided to move ahead with Bangladesh. He's rising above partisanship and advancing legislation that his own party rejected a year ago. To read more about why resolving this border at long last will matter greatly for India, take a look here.
Alyssa Ayres is Senior Fellow for India, Pakistan, and South Asia at the Council on Foreign Relations. She blogs at Asia Unbound. This post appears courtesy of CFR.org and Forbes Asia.