It's Time for Central Asia to Have a Voice on the UNSC
It is time for Central Asia to be a given a more prominent voice in the international community.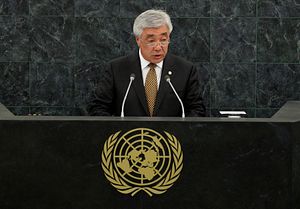 As we look around the world at the end of 2015, it is hard to think of a recent time when the role of the Security Council has been more important. Old tensions which we had hoped belong to history have been revived while new threats have emerged. In Syria and Iraq, we are seeing the rise of an abhorrent new form of violent extremism which threatens the stability of all countries.
It is a world as well in which Central Asia is of increasing importance. As globalization continues, the region links the developed markets of Western Europe and North America with the new economic powerhouses to the east. Rich energy and mineral resources are vital to the economies of partner countries. And its proximity to some of the most challenging countries such as Afghanistan means it is in the front-line of global problems such as extremism and drugs trafficking.
Given these factors, the global role of the UNSC and the need for it to reflect the broadest range of views, it is surprising that no country from Central Asia has yet been a member. Kazakhstan hopes to correct this oversight by being elected for a two-year term from 2017.
 Kazakhstan, of course, only became an independent country in 1991. But in the last two decades, we have shown our total commitment to the principles and mechanisms of the UN.
As a country and people who have perhaps suffered more than any other from the health and environmental impact of nuclear testing, Kazakhstan has given a strong lead on peace and disarmament. We renounced voluntarily the world's fourth largest nuclear arsenal and closed the Semipalatinsk nuclear test site, co-operating closely with both the United States and Russia to ensure dangerous material did not fall into the wrong hands.
We continue to work tirelessly to strengthen the nuclear non-proliferation regime and promote nuclear disarmament. With our partners in Central Asia, we have established the region as a nuclear free zone with recognition from the five nuclear weapon states. We have been chosen by the International Atomic Energy Agency to host a low-enriched uranium fuel bank to allow all countries to safely develop the peaceful use of nuclear energy.
Promoting nuclear security will be one of our four priorities if we are successful in being elected to the UNSC. But we have also promised to use our position to put a new emphasis on food, water and energy security which are all major issues not just for Central Asia but for the wider world.

We are not waiting, however, until the election to make progress on these important challenges. Kazakhstan, alongside its Central Asian neighbors, has been working hard to find shared solutions to water supplies in the region – one of the driest in the world.
As a major producer of oil and gas, we are already a major exporter of energy to a wide range of partners. But we are also looking to promote new, clean and alternative solutions. Expo 2017, which will take place in Astana, has the theme of Future Energy to allow the latest developments to be showcased and shared.
Thanks to our initiative as well, the Organisation of Islamic Cooperation is setting up the Islamic Organisation for Food Security, which will be headquartered in Astana.
It is the latest example of our strong commitment to multilateralism through the active membership in a wide range of international organizations. As our country has become more prosperous, we are increasing the level of development aid we give. We are setting up KazAid and have taken the lead regionally in supporting Afghanistan.
Regional security and development will be high on the agenda this week when we host the Shanghai Co-operation Organization Prime Ministers' summit.
Our history also means we fully understand the importance of tolerance and dialogue. Kazakhstan is home to people of many different backgrounds and faiths who live in harmony within our borders. Through initiatives like the triennial Congress of Leaders of World and Traditional Religions in Astana and our membership in organizations like the OIC and OSCE – both of which we have chaired in recent years – we do all we can to promote tolerance and moderation internationally as well.
It is a big step for a young country like Kazakhstan to stand for the Security Council. But we have been heartened by the support we have received over the last year from countries right across the globe.
Kazakhstan is a successful economy and a stable society. We are proud to be good neighbors and have warm relations with Russia and the United States, with Europe and China as well as developing countries around the world.
 We are determined, whether or not we are successful in being elected to the Security Council, to continue playing our full role in these challenging times of promoting peace and dialogue through the United Nations. But it is also time for Central Asia to have a louder voice in the international community.
The author is Minister of Foreign Affairs of the Republic of Kazakhstan.