Pakistan Reinstates the Death Penalty
Following the brutal massacre of children in Peshawar, Pakistan reinstated the death penalty.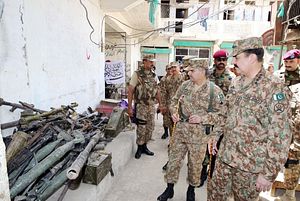 In the immediate aftermath of the brutal Peshawar school attack by the Pakistani Taliban, Pakistan has announced the resumption of the use of the death penalty for terrorists. The decision, confirmed by the prime minister's office today, ends a 2008 moratorium on the death penalty for terrorism-related cases. It is rather odd that such a moratorium existed, depriving Pakistan of a tool for dealing with Pakistan's gravest internal threat while the death penalty remained theoretically possible for a variety of other, victimless crimes, such as blasphemy.
The moratorium was introduced in 2008 by then-President Asif Ali Zardari and was maintained by the current Prime Minister Nawaz Sharif in order to facilitate peace talks and induce the Taliban to negotiate. However, the government decided to reverse its policy after the Peshawar attack, the deadliest attack on a civilian target in Pakistan's history with at least 162 causalities. The announcement came as the government called all of Pakistan's political parties together for a conference to develop a consensus on Pakistan's strategy against terrorism and groups like the Pakistani Taliban.
On Wednesday, Pakistan's most powerful man, the chief of the Pakistani Army, General Raheel Sharif, asked Prime Minister Sharif to hang all terrorists, saying "more than 3,000 terrorists should be hanged in the next 48 hours." This has not yet occurred and there are only 800 people on death row in Pakistan who have been tried for terrorism. The comments, however, show the military's stance on dealing with terrorism. General Sharif favors a much tougher, military solution to Pakistan's terrorist problem, a stance that Nawaz Sharif seems to be coming around to only now.
General Raheel Sharif also argued that "strict action should be taken against those who speak in favor of terrorists." This might not be such a bad idea in a country like Pakistan that is plagued by rampant terrorism and violence, often facilitated by non-militant sympathizers. It is important to combat the ideas spread by the Taliban, because a large portion of the Pakistani population is partially sympathetic to a stricter interpretation of Islam and thus finds it hard to reject the ideology of the Taliban in full, even if they deplore the means by which it is achieved. According to studies, when just 10 percent of the population holds an unshakable belief, their belief will almost always be adopted by the majority of the society.
It is obvious that the Pakistani establishment must dismantle the roots of terrorism completely, both physically and intellectually, if it is to really solve the problem of terrorism in Pakistan. Any half-measures will simply lead to more repeats of attacks like the Peshawar school attack.