Philippines, South Korea Eye Stronger Partnership Amid Chinese Protests
Philippine president Aquino proposes "comprehensive strategic partnership" with Seoul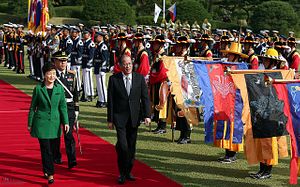 Last Thursday, Philippine president Benigno Aquino III suggested to his South Korean counterpart Park Geun-hye that the two countries should form a "comprehensive strategic partnership" during a bilateral meeting in Seoul on the sidelines of the 25th ASEAN-Republic of Korea Commemorative Summit.
Aquino's proposal is the latest step in a burgeoning partnership between the two countries as the Philippines looks to modernize its military, in part to counter China's growing assertiveness in the South China Sea, which Manila calls the West Philippine Sea.
Philippine communications secretary Herminio Coloma, Jr. said Aquino's partnership pitch consisted of a broader appeal to common values and shared threats and challenges, but he declined to divulge more specifics.
However, defense and security issues clearly featured prominently in his visit as they have in the relationship. Coloma said Park reaffirmed South Korea's defense cooperation agreement with the Philippines, which includes 12 FA-50 fighter jets from state-owned Korea Aerospace Industries (KAI) as well as donations of a patrol combat corvette, a landing craft utility and 16 rubber boats. The two sides also discussed regional security concerns, including the situation in the Korean Peninsula and the South China Sea.
Aquino also later met with KAI President and Chief Executive Officer Sung Yong-ha and South Korean air force officials at Gimhae Airbase to inspect the fighter jets, which are expected to be delivered to the Philippines starting in 2015.
Aquino also reiterated Friday that China had tried to block South Korea's sale of FA-50 fighter jets to Manila.
Reports had surfaced in October that Beijing had asked Seoul several times not to sell the jets to the Philippines, including before a summit between the leaders of the two nations on October 17. South Korea has officially denied the claim but officials reportedly privately admit that the reports are accurate, saying that it had to do with competing claims in the South China Sea.
China had also protested South Korea's decision to donate a 1,200-ton patrol boat and a landing vessel to the Philippines earlier this year, ostensibly for similar reasons. An official at the Chinese Embassy in Seoul visited the South Korean foreign ministry in June to request that the move be canceled.
Since the standoff between Filipino and Chinese forces over the Scarborough Shoal in 2012, which Beijing eventually seized, the Philippines has redoubled its efforts to secure its claims in the South China Sea – submitting a legal claim to a court of arbitration in The Hague and stepping up its own military modernization efforts at home. Just last month, Aquino announced a plan to spend $2 billion on defense procurement before 2017. China has responded to these efforts by attempting to diplomatically isolate Manila.
Apart from defense ties, Aquino and Park discussed other issues in the relationship, including education, tourism, police cooperation, and disaster relief at their meeting. Aquino expressed hope that South Korea would extend its troop deployment in the Philippines, which was sent last year to help it recover from the devastating Typhoon Haiyan. Seoul also inked a $500 million loan agreement with Manila.
The Philippines established relations with South Korea on March 3, 1949, making it just the fifth country to do so. Aside from the comprehensive partnership with Seoul, the Philippines has also sought strategic partnerships with other countries in the Asia-Pacific recently, such as Australia and Japan, which prioritize defense and security cooperation.