The Modi Doctrine for the Indo-Pacific Maritime Region
India's PM has wasted no time pursuing a new maritime doctrine in the Indian Ocean and beyond.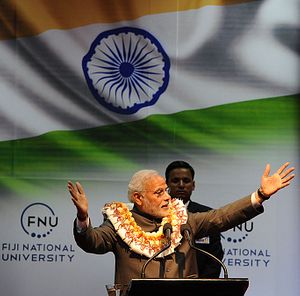 Only six months into his tenure, Indian Prime Minister Narendra Modi is breathing new life into the concept of Indo-Pacific security. Indeed, it is not too early to describe the key elements of an emerging "Modi Doctrine" focused on the vigorous pursuit of political influence through greater maritime power. Acutely aware that India's development is best advanced across the sea lanes of the Indian and Pacific Oceans, the prime minister is embarking on a course of intensified engagement with other regional maritime powers.
If the Modi Doctrine persists, then about a quarter century of "looking East" is truly set to be followed by a long-term period of "acting East." Heightened security cooperation with Japan, Australia, and the United States are three prime indicators of the new doctrine. Strengthening existing security ties with Association of South East Asian Nations (ASEAN) and deepening cooperation with islands in the Pacific and the Indian Ocean are other factors underpinning this doctrine.
Eighty-eight months ago, in August 2007, Prime Minister Shinzo Abe underscored the rising significance and linkages between the Indian and Pacific Oceans. Abe told the Indian Parliament that the rising "confluence of the two seas" would draw together Asia's two wealthiest democracies. Three months ago, while visiting Abe in Tokyo, Prime Minister Modi took steps to operationalize a "special strategic global partnership." He talked of "vikas vaad" (peaceful development) and "vistar vaad" (expansionism) characteristics of nations in the 21st century, noting that nations engaging in vikas vaad lead to development.  In perhaps a thinly veiled reference to China's maritime coercion he pointed out that some countries are still stuck in the "18th century" mindset, engaging in "encroachments" of other's territory.
Burgeoning Indian-Japanese security cooperation is one reason to believe that the Look East policy is genuinely now the Act East policy. The two countries are now fully committed to the joint production of a large, four-engine amphibious aircraft, the ShinMaywa US-2. This is critical departure for both countries. For Japan, the US-2 would mark the first major sale of military hardware overseas since the end of the Second World War. In fact, Japan is reportedly mulling over a new government-financing agency to ensure that money does not hold back the implementation of its recently relaxed export guidelines.
Meanwhile, for India, joint production will diversify and boost India's defense industry, while also adding significant maritime domain awareness and response capacity. Up to 18 short-takeoff-and-landing planes will help patrol a 7,500-kilometer coastline and deliver troops to the Andaman Islands in the Bay of Bengal, the Nicobar Islands in the eastern Indian Ocean, and the Lakshwadeep Islands off the southwest coast.
Modi is also taking a less cautious and more self-confident approach to security relations with Australia. Operationalizing what amounts to a thickening network of intra-Asian security ties, Modi and Australian Prime Minister Tony Abbott have announced a new framework for enhanced security cooperation. Addressing the Parliament in Canberra last month, Modi called for doubling down on maritime cooperation. He said that Australia and India share "a natural partnership," are both dependent on the oceans as "lifelines," and harbor growing concern about "access and security."
Maritime security and cooperation are nothing new for these two countries with access to the Indian Ocean. Last February, Australia was one of 17 navies participating in the 20-year-old Milan naval exercises off the Andaman Islands. But seven years have passed since India and Australia conducted bilateral naval maneuvers as part of the annual Malabar exercise featuring the United States and India. During the first visit to Australia by an Indian prime minister in nearly 30 years (Prime Minister Rajiv Gandhi visited in 1986), the two leaders pledged to rectify the lapse in bilateral naval cooperation both in the form of more frequent exercises but also closer policy coordination. Modi and Abbott also suggested greater support for regional capacity building among smaller island nations, from Maldives, Mauritius and Seychelles in the Indian Ocean, to Fiji and other South Pacific islands. It helps that Australia is currently chairing both the Indian Ocean Naval Symposium (IONS) and the Indian Ocean Rim Association (IORA).
Modi's evolving doctrine in the Indo-Pacific is also being largely encouraged by regional institutions seeking a greater security role from New Delhi. In the east, the rhetoric has been that India so far has failed to play its role of a security provider in the region. However, with the new government under Narendra Modi, there appears to be a significant shift in Delhi's attitude and willingness to collaborate with regional players in the security domain. Apart from ASEAN, countries from the Indian Ocean Rim Association grouping, too, are looking at India to shoulder more of the traditional and non-traditional security responsibilities of the region and take on more of a leadership role. In this regard, India also recently held the first Indian Ocean Dialogue under the realm of IORA at the port city of Cochin in the Arabian Sea.
Meanwhile, Modi has also revived U.S.-Indian relations. After a successful visit to the United States two months ago, he will host U.S. President Barack Obama as a special guest for Indian Republic Day on January 26, marking the 55th anniversary since the signing of the Indian Constitution. Bilateral relations have come a long way since the end of the Cold War, when India first announced its Look East policy, but often the vision of close relations has faltered from inflated expectations. This time around, there is reason to believe the bilateral vision is more firmly rooted in realistic national interests of both countries. Officials are optimistic that the relationship can include co-development and co-production of defense projects, something that would provide the bilateral relationship with serious ballast.
Basing the Indo-American relationship on a clear understanding of India's own goals is at the heart of recommendations made in an important forthcoming RAND study, Look East, Cross Black Waters, by Jonah Blank, Jennifer D. P. Moroney, Angel Rabasa, and Bonny Lin. The authors focus on practical areas of cooperation, including building up greater support in humanitarian assistance and disaster relief and cooperation over the Andaman and Nicobar Islands west of the Strait of Malacca. Those areas are priorities for the Modi government, too. With an eye toward growing maritime interests across the Indo-Pacific, in 2001 India created the joint Andaman and Nicobar Command. The Andaman and Nicobar Command is the country's only tri-service command rotating between the Army, Navy and the Air force. That command now includes 15 ships, two Navy sea bases, four air force and naval air bases and an army brigade.
Although neglected for far too long, the Andaman and Nicobar Islands have been a crucial factor in India's maritime strategy. Its strategic location in the Indian Ocean puts India at an advantageous position in the changing geopolitics of the region. Known as India's strategic outpost, the islands are central to India's engagements with regional navies and can emerge as the focal point of New Delhi's evolving Indo-Pacific doctrine.
India's strategic community and defense forces alike have called for strengthening the Andaman and Nicobar islands to realize its potential to serve as the center for capacity building and knowledge sharing on issues across the Indian Ocean. Former Indian ambassador Hemant Krishan Singh has advocated developing the Andaman and Nicobar Islands as a "regional hub" for the East Asia Summit and the ASEAN Defense Ministers Meeting plus initiatives on maritime security and HADR cooperation. With support from regional players such as Japan and the United States, the islands can emerge as a strong focal point for addressing issues in the Indo-Pacific. It is more pertinent than ever for India to look toward its untapped, strategically located islands.
The "Modi Doctrine" also reflects a significant China factor. Strengthening ties with Colombo and other islands in the Indian Ocean and vigorously pursuing the Maritime Silk Road initiative underlines Beijing's expanding presence in the Indian Ocean. The docking of Chinese submarines in Sri Lankan ports is highly contentious, a concern New Delhi has voiced without any hesitation. At the 2014 "Galle Dialogue" in Sri Lanka, Indian National Security Advisor Ajit Doval emphasized the need to keep the Indian Ocean a zone of peace in order to maintain stability in the region. Reflecting on India's concerns over the Chinese submarines in the islands, he called on "great powers not to allow escalation and expansion of military presence in the Indian Ocean."
New Delhi is realizing the need to play a prominent role in the regional security architecture and Modi's Indo-Pacific doctrine seems to be shaping the discourse precisely. India is showing a strong interest under Modi in diversifying India's arms suppliers while at the same time bolstering India's indigenous defense industry. The month after Modi took office, the United States supplemented previous missile sales to India by announcing that it would deliver Harpoon missiles to be deployed on India's four active but aging Shishumar class diesel-electric submarines. With the Pentagon looking at expanding its arms cooperation with more allies and partners, it will be interesting to see whether the president's visit in late January opens up new promises of defense industrial cooperation.
India is also enhancing its role with ASEAN, with which India plans to have $100 billion in two-way trade by the end of 2015 and double that in 2020.  In defense, during a visit to Vietnam in late October, Modi announced that India will quickly implement a $100 million defense credit line to Vietnam, which would enable Hanoi to acquire four offshore naval patrol vessels to improve Vietnam's surveillance and maritime domain awareness.  The prime minister has also been voicing India's concerns over the tensions in the South China Sea.  While India has always maintained that freedom of navigation through international waters is crucial, New Delhi usually refrains from making a direct comment on disputes outside of its territories.  What is of significance is Modi's choice of platforms in bringing up the issue. He first mentioned it in his joint statement with Obama, then with his Vietnamese counterpart during his trip to Vietnam and at his maiden presence at the East Asia Summit and the India-ASEAN summit in 2014. His call for a binding Code of Conduct in the South China Sea reflected a willingness to assure India's friends and key players in the region that India may finally be ready to take on the role of a security provider that the region demands. Although it appears that India is quickly shedding its "nonalignment" policy, it is unlikely that India will venture far out of its principles on alliances with other nations, especially in the security domain. The Indian Navy was auspiciously completing its annual Singapore-Indian maritime Bilateral Exercise (SIMBEX) when Modi assumed office in late May, and the decade-old strategic partnership with Indonesia would seem likely to take off now that Indonesia's new leader, President Joko Widodo is similarly embarked on a maritime strategy.
In addition to stronger security relations with Japan, Australia, the United States, and ASEAN, India is signaling a desire to play a more active role in the geographically important island nations of the region, especially in the South Pacific.
Significantly, after leaving Australia, Modi made a rare visit to Fiji.  The coup-afflicted island country of about 850,000 hosted Prime Minister Indira Gandhi in 1981, at a time when the treatment of ethnic Indians was a growing concern. But consecutive visits by Modi and Chinese President Xi Jinping last month attest to the fact that Fiji is no longer removed from mounting geopolitical competition.
Delhi has watched China intensify relations with Fiji. Although China and Fiji will mark 40 years of diplomatic relations next year, China only established an embassy in Suva in 2001. Since seizing power in 2006 and then shedding his uniform to win office via the ballot box, former Commodore and now Prime Minister "Frank" Bainimarama has brought Fiji into closer economic and security alignment with China.  That trend allowed Xi to proclaim "a natural kinship" with the island late last month. More tangibly, China signed five Memorandum of Understandings with Fiji and agreed to inject some $11.4 million of aid into Fiji, which is almost midway between Chinese seaports and Lima, Peru.
If Fiji has played the China card, China is playing the South Pacific card. In August, the People's Liberation Army (PLA) hospital ship Peace Ark made a goodwill visit to Fiji and four other South Pacific nations. While in Suva, Xi met with 7 of 12 Pacific Island nation leaders whose geography affords useful vantage points for gathering intelligence and monitoring space activity. It turns out Pacific islands are well located to keep taps on U.S. military operations in Guam and the Commonwealth of Northern Mariana Islands. And much of the competition is in cyber and outer space, making critical underwater fiber optic cables more important, as well as the need for tracking outer space activity.
India cannot match China's largesse, but even so Modi announced a new $1 million adaptation fund to provide technical assistance, a $75 million credit line for Fiji, an increase in funding for island communities, visa on arrival for the island nations, and a Pan Pacific Islands Project to support telemedicine and online education.
But for all these bilateral and multilateral maritime moves, India is heavily focused on strengthening its own capacity for maritime security.  Long a global hub of information technology, India now appears intent on leveraging its IT prowess for strategic and operational maritime security.
India recently switched on operations of a Very Low Frequency (VLF) transmitting station at the Indian Naval Station Kattaboman in Tamil Nadu off the southern tip of India. The VLF transmitter enables more secure fleet communications, especially with Indian submarines. Although India currently operates only a single nuclear submarine leased from Russia, it is preparing to commission an indigenously developed, 6,000 ton nuclear-powered ballistic missile submarine some time in 2015. India is expected to build at least three Arihant-class boats, which may carry K-4 submarine-launched ballistic missiles with a range of about 2,200 miles.
The recent sixth anniversary of the  "26/11" Mumbai terror attacks, which involved terrorists hijacking an Indian fishing boat to infiltrate the major port city in western India, was remembered with a major exercise involving 30 ships submarines and craft of the Indian Navy, Indian Air Force, and Coast Guard, as well as various civilian agencies. But more striking still was the inauguration of an Information Management and Analysis Center (IMAC) at Gurgaon for tracking ships in India's territorial waters and throughout the Indian Ocean.
The IMAC is a maritime intelligence fusion facility, involving not just the Navy and the Coast Guard but also coastal states and other governmental agencies, where data from coastal, air, and space surveillance systems will be persistently monitored and prominently displayed on huge screens. Tens of thousands of platforms can be tracked every day, and the IMAC is apparently set to become under Modi a hub of India's larger National Command Control Communication and Intelligence Network. In announcing the IMAC on the November 26 anniversary, Defense Minister Manohar Parrikar said India must have "zero tolerance" for terrorist attacks; but at the same time the ambitious maritime domain awareness system made clear Modi's interest in flexing India's regional maritime muscle.
One of India's top strategic thinkers, Dr. C. Raja Mohan, a Distinguished Fellow and Head of Strategic Studies at the Observer Research Foundation, explained the essence of Modi's strategic thinking at a recent conference we attended in New Delhi. The prime minister is ready to return India to its natural sphere of influence and become the next security provider in the Indo-Pacific region, Dr. Mohan argues. Now that roughly half of India's economy is tied to global markets, India's seaward expansion is logical and inexorable. India has never been as dependent on maritime security as it is today and is likely to become tomorrow. While nuclear deterrence prevents major interstate war on land, India's future hinges on exploiting free seas and the ability to shape the balance of power hinges on the Indian Navy. In short, contends Mohan, the Modi Doctrine, if there is one, is to pursue strategic influence — through a growing maritime orientation, shaping the Indo-Pacific regional balance of power, reclaiming a lost sphere of influence, and becoming an active participant in regional institutions.
Strategic patience is always prudent in forecasting the rise of India. Yet the present momentum behind Modi and his embryonic maritime doctrine for the Indo-Pacific region appears to be gaining steam.
There are, however, major challenges that have to be met in order to keep up with Modi's diplomatic pace. While it is easy to declare that India's "Look East" policy is now "Act East," implementation and coordination of the same within India's diplomatic levels is a major challenge. For India to establish its credibility and project its new maritime doctrine, the prime minister will have to ensure that his ministries deliver on his policies. There is definitely a greater political will within this government to play a more active security role in the region, which is being pursued through engagements and collaborations with key players. Modi should now look toward forging multilateral engagements in region with countries such as Japan, Indonesia, Australia and the U.S.
Former U.S. Secretary of State John Jay wrote in 1900 that the Mediterranean Ocean was the ocean of the past, the Atlantic Ocean the ocean of the present, and the Pacific Ocean the ocean of the future. If Modi's self-confident new policy has its intended impact, then Jay's prophetic pronouncement will need to be amended to reflect the growing power across the Indo-Pacific Oceans.
Dr. Patrick M. Cronin is Senior Director of the Asia-Pacific Security Program at the Center for a New American Security in Washington, D.C.  Darshana M. Baruah is Junior Fellow at the Observer Research Foundation in New Delhi.