U.S., Indonesia Looking To Boost Military Ties: Officials
Discussions to focus on tackling joint challenges including Islamic State and maritime security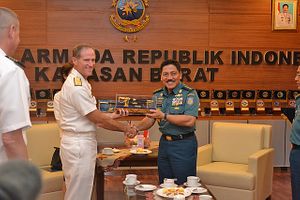 The United States and Indonesia are looking to boost defense ties to tackle challenges ranging from maritime security to the Islamic State militant group operating in Iraq and Syria, officials said last week.
Brigadier General Jan Pieter Ate, the director for international cooperation at the Indonesian defense ministry, told a public forum in Washington, D.C. last Thursday that a priority area for Indonesia would be strengthening bilateral cooperation with the United States on combating the Islamic State.
"We don't have this yet," Ate said at a day-long conference on Indonesia organized by the United States-Indonesia Society.
The Islamic State has featured prominently in recent discussions between the United States and Indonesia. The head of Indonesia's armed forces General Moeldoko and commander of the U.S. Pacific Command Samuel Locklear talked about the issue in a November 5 meeting in Brunei. U.S. President Barack Obama and his Indonesian counterpart Joko "Jokowi" Widodo also discussed it during their consultation on the sidelines of the Asia-Pacific Economic Cooperation meeting on November 10.
The United States has looked for help from ASEAN states including Indonesia to stem recruitment and freeze militant assets. The issue is also a rising concern for Indonesia, the world's largest Muslim country, with its counterterrorism chief declaring last week that the group's recruitment numbers from the country had tripled in the last few months to over 500 people.
Beyond the Islamic state, another growth area is maritime security. Speaking after Ate, Amy Searight, the U.S. deputy assistant secretary of defense for South and Southeast Asia, said Jokowi's new "global maritime axis" doctrine, which emphasizes Indonesia's pivotal role as a maritime power between the Indian and Pacific oceans, offered an opportunity for both sides to exchange ideas since the United States also sits astride two oceans – the Atlantic and the Pacific.
"The United States is also in between two oceans…and so we may be able to share our experience," Searight said.
Separately, Moeldoko and U.S. Army Pacific commander Vincent Brooks also highlighted maritime security as a future area of U.S.-Indonesia military cooperation in a special column to the publication Military Times on December 10.
"The Indonesian and U.S. militaries are well-positioned to increase our exchanges, joint exercises and capacity-building programs to support Indonesia's increasing investment in its maritime security," Moeldoko and Brooks wrote.
U.S.-Indonesia cooperation on maritime security has increased over the past few years under the framework of the comprehensive partnership signed between the two sides in November 2010. Washington has provided assistance through various means including support for new surveillance technology, bilateral exercises, and workshops and dialogues.
Pressed about more specific items or issues they were looking for ahead of talks, both Ate and Searight said they did not have lists to disclose but were open to hearing requests from the other side in future discussions in the coming weeks.
Despite the interest in both sides to boost defense ties, officials also acknowledged that there were challenges that Jakarta and Washington would have to confront going forward. Since the United States cut ties with the Indonesian military for several years starting 1999 because of alleged rights abuses, before gradually resuming them, both sides need to rebuild trust in each other as partners.
"Long term trust is very weak on both sides," Ate admitted.
Indonesia also faces its own internal challenges as it embarks on military reform, Ate said. For instance, implementing Jokowi's maritime doctrine would require reviewing defense modernization efforts already underway, which would itself be a complex process.
"We are doing a careful adjustment, not a dramatic change," Ate emphasized.
On the U.S. side, Brooks, the commander, told a conference on December 11 that based on his observations during a September visit to Indonesia for the Garuda Shield exercise between the two nations' armies, the U.S. Army needed more sophisticated equipment, including digital terrain elevation data and more advanced radio systems, to advance bilateral cooperation even further.