Vladimir Putin's Productive India Visit
India and Russia have affirmed their ties during a visit by Russia's president this week.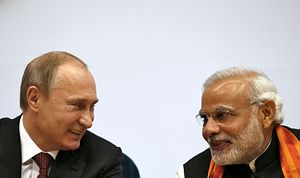 Russian President Vladimir Putin's annual summit visit to India this year was a brief affair. Putin came looking for assurances that an India led by Prime Minister Narendra Modi would have no truck with Western attempts to isolate Russia and will continue to be a "time tested and reliable" partner, especially at a time of economic difficulties for Russia.
These, he received. India has given the Russians both official as well symbolic reassurance that it does not support Western sanctions. In return, India has got its own set of guarantees at the highest level from the Russians for spares for existing Russian-origin military hardware, with Moscow agreeing to move more quickly on transferring technology for the equipment to Indian firms. Keen to retain its position in the Indian defense sector, Russia has also become the first major arms exporter to come on board with India's military-aerospace industrial goals under the "Make in India" program, with an initiative to produce and even export Russian origin helicopters from Indian soil being announced during the visit itself. At a time when Russia needs India's high-end human resources and its market size and India requires more high-value manufacturing elements, the long-standing trust between the two sides seems to be helpful.
While the joint vision document released during the visit explicitly notes that India and Russia oppose economic sanctions that do not have the approval of the United Nations Security Council, it was perhaps the fact that a business delegation led by the Crimean prime minister accompanied Putin on his visit that was more revealing of India's stance on Ukraine. The Indian government is apparently encouraging Indian businesses to engage more deeply in Crimea, in a clear signal that it stands with Russia irrespective of American positions. In fact India is going even further than China is in making its support for Russia clear.
And that of course is by design, since India does not want Russia to step back from its traditional role of maintaining a power balance in Eurasia. Of course, India will need to offer more than just support on Crimea if it is to prevent Russia from becoming overly dependent on China at a time when Moscow needs to re-orient itself away from Western markets. It is here that Modi's statement on Russia remaining India's primary defense partner despite other options for his country becomes important. The Russian embassy in India has been rather voluble of late in denouncing India's turn towards the United States and France as defense partners, while Russian spares support for existing programs had become rather uneven – leading to calls in India to scale back its military partnership with Russia. That moment has now passed.
Already a private company in India has snagged a contract for maintaining Mig-29s, and more such arrangements are being pushed forward. During talks, Modi is known to have conveyed to Putin the very crucial need to locate spares manufacturing facilities for Russian origin weapons in India. For its part, Russia seems at ease with the overall "Make in India" policy that Modi's government is emphasizing. In light of India's liberalized regime for "FDI in Defense," Russia will tie up with an Indian partner to produce as well export up to 400 Mi-17 medium lift and Ka-226 light utility helicopters (LUH) in India each year. The Ka-226 incidentally was the Russian entry for the Indian military's global LUH tenders, before that process was cancelled by the Modi government in favor of a home-made initiative where foreign majors could tie-up with Indian partners to build the helicopters in India.
Recognizing that India has adopted an automotive sector-type strategy to boost its aerospace industry at a time when China is spending heavily in this arena, Russia is also looking to locate MS-21 and Sukhoi Superjet 100 production facilities in India, taking advantage of the availability of cheaper but trained manpower locally. Russia has known for a while that it needs greenfield locations for its high-end industries outside its own territory, and India with its immense market size seems the best prospect. Going forward, the output from Russian industrial arrangements in India should also service the domestic market back in Russia, given the need to hold down costs at a time of tighter state budgets. Moreover, with the prospect of Western sanctions lingering for the foreseeable future, Russia may require export partners such as India to circumvent the sanctions. However, as with every such initiative in India, any Russian investment in the aerospace industry will be tied to localization clauses as well as support for India's own civil airliner development program.
Although the visit did not bring any announcement on ambitious co-development programs, such as the fifth generation fighter aircraft project or the medium transport aircraft initiative, Modi's statement on Russia's status as the most important defense partner for India means that there will be new impetus in sorting out the workshare issues holding back a final agreement on these two initiatives. Of course, Russia will have to be far more amenable to Indian demands on technology development if these projects are to proceed, given the spends involved.
Continuing negotiations also meant that hydrocarbons did not become a centerpiece of the visit, in contrast to initial expectations. The visit did see an agreement signed between India's Essar and Rosneft on the long-term supply of some 10 million tons of crude annually at a discount that will see the former drawing down imports from Iran. However, no agreement was reached on Indian state-owned ONGC purchasing a stake in Rosneft's East Siberian oil and gas fields, including the prized Vankor estate, which will feed assured markets in China via the ESPO pipeline, since the Indians want a 25 percent stake while Rosneft is offering only 10 percent. The haggling may reflect the fact that Indian hydrocarbon majors want equity stakes in lucrative fields and tax breaks for existing assets in Russia where production has tapered off, while the Russians want India to make up-front off-take commitments for risky offshore fields in the Arctic as well as for LNG export projects. Putin even commented just prior to the visit that LNG is likely to prove cheaper than a gas pipeline from Russia to India, and this too is going to be explored. Given India and Russia's needs in the current oil-to-gas transition, much bigger deals can be expected in the future, current negotiations notwithstanding.
In any case, delays on the hydrocarbon front are not getting in the way of building more Russian-origin nuclear reactors in India. Neither is India's nuclear liability law, with the Department of Atomic Energy (DAE) agreeing with Rosatom to build a further 12 reactors of Russian design in India by 2035 in addition to the two existing facilities at Kudankulam. To accommodate more Russian design reactors, another reactor site will be identified soon along India's eastern coast. The first of this new wave of reactors will be Kudankulam units 3 & 4, with construction commencing in 2016. Again, the Russians will have to localize most of the components for the VVER-1200 reactors that will be built under these arrangements. The visit has also seen forward movement on settling a dispute between Indian Rare Earth's Limited, a DAE undertaking, and Russia for recoveries from a titanium plant in India.
The minerals outlook does seem to be brightening, with Indian investment in Russian potash mines set to grow and Indian companies inking a 2.1 billion dollar pact to source diamonds directly from Russia's world-leading diamond consortium Alrosa. The diamond industry in India is a significant employer and the world's largest manufacturing center for cut and polished diamonds. It can now reduce its dependence on diamond trading centers in the West and Dubai. Interestingly, this move is similar to the Chinese decision to locate production facilities in Modi's home state of Gujarat, the center for India's diamond industry, since it directly increases the power of a business constituency entrenched in Modi's region of origin. Clearly, Modi looms large as a personality to be courted now in the Indian political spectrum by major foreign countries.
With both sides looking to grow trade in strategic sectors and minerals, the working group on India's participation in the Eurasian customs union now looks more significant. More so because Russia's food security in the future will also depend on cheap Indian exports of processed dairy and meat products as well as commodities such as rice, given that Moscow has embargoed Western suppliers. At the same time, Russia is instituting "import substitution" policies at home and free trade arrangements with India will allow two-way trade to grow regardless. In fact, it would also be a source of encouragement for Indian industries to use Russia's own water resources to produce certain categories of goods.
To do that, Indian and Russian business will have to talk more efficiently and directly with each other. There is solid ground for that now, with Russia rather keen to enter the Indian market with a view to finding innovative partners that can overcome traditional weaknesses in bringing inventions to market. The vision document calls for the creation of a "direct investment fund of $2 billion between Rosnano and suitable Indian investment partners for implementation of high-tech projects." Besides this, the Skolkovo foundation is now scouring India for startups in the high-tech spectrum to fund as an angel investor. Russia and India will also ease visa rules for businesses and students to facilitate the movement of financial and human capital. Overall, given the urgent need to boost trade (which languishes at a mere $10 billion) and private investment, both sides are moving forward on rupee-ruble trade with their central banks working out the modalities and export-import banks discussing new credit guarantees that would facilitate loans in local currencies for Indian and Russian companies seeking to participate in each other's economies. This is of course in sync with BRICS efforts to trade in bilateral currencies in a bid to reduce the influence of the dollar. Of course, it will ultimately also depend on how quickly bilateral economic activity grows between the two sides.
In the multilateral sphere, India wants the 2015 Shanghai Cooperation Organization Summit in Ufa to be the moment it finally becomes a member of that organization. With China having supported India's membership and Russia presiding over SCO at the moment, this will be a key test of India-Russia ties. No wonder Putin's special representative remarked recently that Moscow will do whatever it can to secure India's membership.
Just as India does not want to push Russia into China's grip, Russia doesn't want to see China become too dominant. With this in mind, Russia's partnership with India in strategic deterrence programs will grow in strength, already evident in their nuclear agreement and the fact that Russia has made available military GLONASS signals to India for ballistic missile targeting.
Follow Saurav Jha on twitter @SJha1618.