Good Knight, Mr. Abbott?
In another misstep, Australian Prime Minister Tony Abbott knights Prince Philip.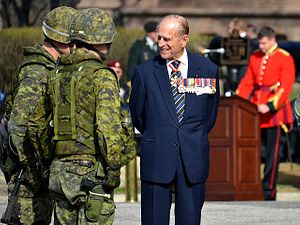 In 1960 Prince Philip told Time magazine, "Dontopedalogy is the science of opening your mouth and putting your foot in it, a science which I have practiced for a good many years." In this he shares much with Australia's Prime Minister Tony Abbott, who knighted the British royal on Australia Day, January 26, to widespread disbelief.
After his government's cuts to the Australian Broadcasting Corporation and the Special Broadcasting Service, Abbott has essentially put the nation's satirists out of work. Even John Oliver, a Brit, would have a hard time making the Australian prime minister appear any more ridiculous than he does on his own steam. Right now it is about all he seems to be doing well. Comic First Dog on the Moon suggested the same: "Then with Prince Philip's knighthood the Pisstakeometer went completely into the red and stayed there." Some readers may remember the prince's "pissometer" gaffe from years ago.
It seems, after a tumultuous 2014 that left him promising a "reset" (and something-something about ships' barnacles), and a leadership scare this year already, Abbott is either completely out of touch with the vast majority of the electorate, or as longtime political writer Michelle Grattan suggested, his "head is in some very strange place." Possibly politician Clive Palmer is right: He has a "deathwish."
Abbott last year brought back knighthoods and damehoods after they were dropped by former Prime Minister Bob Hawke 28 years ago. It seemed silly and anachronistic at the time, even from the committed monarchist. But at least these were to go to "Australians of extraordinary and pre-eminent achievement and merit." How the royal consort fulfills those criteria is anyone's guess. "He's the inspiration and wellspring of the Duke of Edinburgh's Awards which have provided leadership training for tens if not hundreds of thousands of Australians over the years," said the PM. And though the patron of "hundreds" of organizations, not even dozens would be Australian. In a contrast, mother of murdered boy Luke Batty, Rose Batty, was named Australian of the Year on Australia Day for her efforts to stop family violence.
Though the extraordinary strangeness of the choice would likely be a haymaking opportunity for the Opposition at any time, what makes it worse for Tony Abbott is that it has come after so many other missteps and clangers. There were his complaints to the G20 leaders over the Australian public's dislike of a then-AUD7 doctor's fee or "co-payment," backflips over Medicare, and the admission that he had promised no cuts to public broadcaster the ABC pre-election only to renege last year. And, of course, his threat to "shirtfront" the Russian president.
The problem is not just that his conservative supporters in the press have deserted him or derided his decision: Even his own party members are appalled or "speechless." One interviewed on radio wondered whether it was April Fool's Day or Australia Day. Whilst some frontbenchers have publicly supported their prime minister, they are not the majority. Independent Senator from South Australia Nick Xenophon suggested it was like giving Bill Gates an abacus: "I don't know what he's (Prince Philip) going to do with it."
Opposition leader Bill Shorten meanwhile on Australia Day turned a  book launch into a call for a republic: "Let us rally behind an Australian republic – a model that truly speaks for who we are, our modern identity, our place in our region and our world." Former Labor leader and Prime Minister Kevin Rudd was a supporter of an Australian Republic, as is his former counterpart and the man Abbott replaced, Malcolm Turnbull, a founding member of the Australian Republic Movement. A referendum was held in 1999 and defeated. The majority of Australians do not, even now, like the idea of an Australian republic. But if the reaction to the prime minister's utterly pointless gesture is any indication, they do not have unquestioning support for the most archaic and anachronistic members of the royal family either.
Helen Clark was based in Hanoi for six years as a reporter and magazine editor. She has written for two dozen publications including The Diplomat (as Bridget O'Flaherty), Time, The Economist, the Asia Times Online and the Australian Associated Press.