US-India Cooperation on Naval Aviation: Game Changer?
India and the United States will cooperate on naval aviation following U.S. President Barack Obama's recent visit to New Delhi.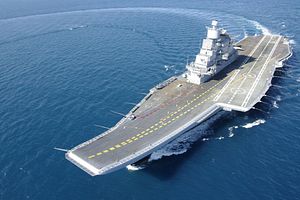 One of the potentially most interesting developments to emerge from President Obama's recent trip to India was news that the United States and India have decided to embark on cooperative efforts with respect to naval aviation.  Of course, India and the United States already enjoy some degree of collaboration, as the U.S. has assisted the Indian Navy with pilot training and deck management for several years. Still, the open discussion of this relationship implies a more expansive, longer-term cooperative framework than has previous been clear.
India has taken a much different road with its carrier force than the United States. It's current carriers are transplants from the United Kingdom and Russia, albeit with significant modification.  Instead of pursuing a common design for its three carriers, the Indian Navy has settled on three different designs, with potentially serious implications for compatibility and air crew training. Both INS Vikramaditya and INS Vikrant will use a ski-jump to launch aircraft, a system never employed on a U.S carrier.
It will be interesting to see whether the discussion about carrier cooperation and development simply reaffirms the existing degree of collaboration, or whether it extends to operations and even naval architectures. In particular, the transfer of data and technology associated with the EMALS catapult system would be of tremendous assistance to India, even though we're likely beyond the point at which it could affect the design of INS Vikrant.  INS Vishal, a 60,000 ton carrier expected to enter service sometime in the 2020s, is a different story.  EMALS technology could potentially alleviate some of the problems generated by steam catapult design, if India decides to move in that direction.
What does the United States get out of this relationship?  It's unlikely that the U.S. carrier force will depend on India for transfer of key technologies.  Rather, the advantages to the United States are political and operational.  These include:
A full understanding of the capabilities and operational procedures of a major partner
A set of relationships between military and civilian defense officials in both countries, relationships that can serve to lubricate cooperation on operational and political levels
A potential market for US defense products, and a means of undercutting the procurement relationship between India and Russia
The politics of the partnership between India and the United States remain complicated, albeit more so in India than in the United States.  Establishing a collaborative framework around one of the most expensive and important features of the Indian and American military complexes suggests a high degree of political cooperation, and a long term vision of the bilateral relationship.  Undoubtedly, China and Pakistan are taking note.