Afghanistan: The Ball Is in Pakistan's Court
Afghanistan has made an unprecedented series of goodwill actions. Pakistan must now respond.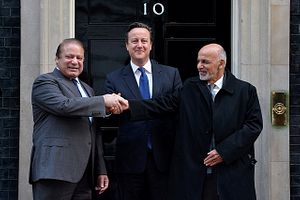 Afghanistan once again finds itself at a historical crossroads. Once again, the Afghans themselves, their neighbors – most notably in Pakistan and Iran – and the international community face a question: Can they save the country from further bloodshed? Can they safeguard Afghanistan from an extremist takeover?
With expansion of ISIS into Afghanistan and parts of Pakistan, the must come together. For this time the threat is not only to Afghanistan, but also to Iran, Pakistan, and Central Asian states, which in turn jeopardizing the security of China and the interests of the broader region and the world.
With visits by senior Pakistani officials, most notably Chief of Army Staff Gen. Raheel Sharif and ISI Chief Lt. Gen. Rizwan Akhtar, underscore a clear shift in Pakistani policy towards Afghanistan. It is, incidentally, worth noting that a recent visit by Iranian Vice-President Mohammad Shariatmadari was not a coincidence. Iran faces its own security threats from ISIS in Iraq, and would certainly not want to be sandwiched by another threat from Afghanistan.
The new government of Afghanistan has so far shown clear signs of cooperation with regional stakeholders, and particularly Pakistan, in a bid to strengthen regional cooperation and peace. Afghan President Ashraf Ghani and his government seems committed to improving relations. Consider the following bold initiatives.
For the very first time the Afghan government has conducted joint operations with Pakistan against extremists in the vicinity of the Durand Line.
Second, although he was a bargaining chip, the Afghan government has handed over Latifullah Maseed, a Pakistani Taliban leader, to Pakistani government without requiring any prior commitment to a quid pro quo.
Third, the Afghan government has suspended all agreements with the Indian government signed by former President Hamid Karzai to import arms for Afghan security forces.
Fourth, it has long been a Pakistani desire to train Afghan security personnel. While the previous government refused to countenance this, the new Afghan government recently sent a delegation of Afghan Army personnel for training in Pakistan.
Fifth, during Ghani's inaugural visit to Pakistan in November of last year, he made a commitment to Pakistani investors that they would have access to a special industrial zone in Afghanistan. According to local newspaper reports, the new government also announced a reduction in customs duties of 60 percent for Pakistani investors who export their commodities to Central Asian states via Afghanistan.
Finally, the Afghan government also worked with the Pakistan government to capture several men who were said to have helped the Pakistani Taliban attack a school in Peshawar, which resulted in more than 130 deaths, mostly children, in December of last year.
Clearly, Ghani has realized the importance of Afghanistan to its neighbors – China, India, Pakistan, Iran – and is pursuing a cleverly balanced strategy in its approach to relations with them.
Now, it is Pakistan's turn to act. According to sources close to Afghanistan's presidential palace, on his last trip to Pakistan, Ghani gave the country four months to demonstrate that it is willing to cooperate with the new Kabul government. The arrival in Afghanistan of the heads of the Pakistani Army and ISI on February 17 is seen as part of the commitment Pakistan made to support the Afghan government, particularly in facilitating peace talks with Taliban.
The same sources indicate that tangible signs of Pakistani government cooperation with Afghanistan will appear within a few weeks. Pakistan needs Afghanistan more than ever. With growing insecurity and energy demands, Pakistan is seeking a route to Central Asian states, both for a market and as an energy route. This is only possible if there is a peace in Afghanistan.
China also pledged to invest in Afghan and play a more engaged role than it has. For Pakistan, this means that supporting militants will pose a direct threat to Chinese interests in Afghanistan with potential repercussions for Sino-Pakistan relations. To gain the trust of the Chinese leadership in the hope that they will support Afghan peace talks, and to encourage Pakistan to change its policy, the Afghan government recently captured several Chinese Uighur militants and handed them over to China. To maintain healthy relations, Pakistan now similarly needs to show goodwill in Afghanistan.
The Ghani government has taken clear steps to build a sound relationship with Pakistan. The ball is now in Pakistan's court. The Afghan government has fulfilled nearly all of the demands Pakistan has made over the past 12 years. Islamabad can thus choose to cooperate with the new government in Kabul or continue its own dual policy of distinguishing between a good and bad Taliban.
The Pakistani government has the opportunity to be bold and use its leverage over the Afghan Taliban leadership – said to be in Quetta and Waziristan – by convincing them to come to the table in talks with a committed new government in Kabul. So far the signs are positive, and sources say they are seeing the beginning of trust between Afghanistan and Pakistan. Recent reports that the Taliban will open talks again with U.S. officials in Qatar are said to be a sign that Pakistan wants to cooperate. If so, Pakistan can begin to repair the damage caused by supporting groups that have taken the lives of thousands of innocent civilians, in both Afghanistan and Pakistan.
Afghanistan and Pakistan depend on each other, and cannot exist in isolation. The two countries must build trust by backing words with actions, most particularly in the fight against terror and extremism.
Aziz Amin Ahmadzai is a writer based in Kabul. He tweets on@azeezamin786 and can be reached by email at [email protected].