China, India To Lead World By 2050, Says PwC
Asia's powerhouse economies are predicted to be dominant by mid-century.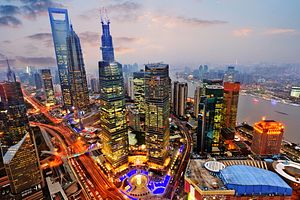 Asia's rise to global economic pre-eminence could see China and India leading the world by 2050, with Southeast Asia also making gains, according to PwC. However, Japan, South Korea and Australia are seen slipping down the world rankings without major reforms.
The projections came in the consultancy's latest "World in 2050" report, which provides growth forecasts for 32 of the world's largest economies, accounting for around 84 percent of global gross domestic product (GDP), based on purchasing power parity (PPP).
According to PwC, China is already the world's biggest economy in PPP terms and will become the biggest at the more commonly accepted figures of market exchange rates by 2028, despite its projected reversion to the global growth average. China's share of world GDP in PPP terms is forecast to increase from 16.5 percent in 2014 to a peak of around 20 percent in 2030, before easing slightly to 19.5 percent in 2050.
However, China's growth rate is forecast to slow to just 3.4 percent annually during the period through to 2050, with its economy reaching $61 trillion in PPP terms.
"Given China's low population growth and aging population (accentuated by its one-child policy for the past three decades), increases in labor productivity will account for all of its economic growth (in fact, China is expected to experience a very minor decline in its population during the period 2014–2050)," the report said.
In contrast, India is seen surging from $7 trillion in 2014 to $17 trillion in 2030 and $42 trillion by 2050, claiming second place ahead of the United States on $41 trillion. The South Asian giant would overtake the European Union and the United States in share of world GDP (in PPP terms) by 2044 and 2049, respectively.
India's economy is forecast to expand by an average annual rate of 6.4 percent from 2014 to 2020, remaining faster than China after 2020 due to its "younger population and greater scope for catch-up growth." However, the report said India's envisaged golden destiny would require "sustained economic reforms and increased investment in infrastructure, institutions and mass education (notably for women in rural areas)."
Both the International Monetary Fund and the World Bank expect India to overtake China as the world's fastest growing major economy in 2016. On Monday, India's statistics ministry revised upwards its forecast for annual economic growth to 7.4 percent for the year to March, although it downplayed any rivalry with China.
"There is no comparison," Ashish Kumar, director general of the Central Statistics Office, told the Wall Street Journal, noting that China's economy is several times larger than India's. "We are not here in a beauty contest."
Neighboring Pakistan is also expected to advance, rising from 25th-largest in 2014 to 15th by 2050 with an estimated $4 trillion economy in PPP terms.
Southeast Asia Moving Up
Southeast Asia is also set for further moves up the global economic ranks, led by Indonesia's forecast rise from ninth in 2014 to fourth-largest by 2050 in PPP terms, at $12 trillion.
The Philippines is seen surging from 28th place last year to 20th by 2050 at $3.5 trillion, narrowly ahead of Thailand which is seen holding its 21st ranking. Bangladesh is predicted to climb from 31st to 23rd, with Malaysia also rising from 27th to 24th over the same period.
According to the report, Southeast Asia's rise will be helped by a shift in overseas investment away from China due to its increasing labor costs.
"Rising costs will mean that many offshored jobs are likely to exit China over time and move to other cheaper economies such as Vietnam, Bangladesh, Philippines and Indonesia, whilst Chinese exporters will find themselves competing more on the basis of quality rather than price in their key U.S. and E.U. export markets," it said.
Demographic Decline?
Meanwhile, poor demographics are expected to weigh on growth in the developed economies, with Japan and Germany forecast to experience declining populations.
"Demographics are now actually a drag on growth in the long term for these developed economies. This can also be seen in nations such as Poland and Thailand. This brings into sharp perspective the importance of structural reforms and institution building aimed at boosting the productivity element of growth in the absence of high population growth," the report said.
Japan is predicted to slip from fourth-largest in 2014 in PPP terms to seventh by 2050, with South Korea dropping from 13th to 17th and Australia from 19th to 28th over the same period.
PwC Australia economics partner, Jeremy Thorpe had a special warning for Australia as it struggles to maintain its economic winning streak following the end of a mining boom.
"Business, government and community leaders must move their focus away from the next results announcement or election and turn towards planning for the long term to prevent us slipping down the ranks," Thorpe said in a statement.
"Australia must diversify its economy by investing in highly skilled workers and become the knowledge nation to stop us slipping out of the top 20 economies."
The report noted downside risks to its forecasts, including slowing global technological progress, political instability in emerging economies and potential future rises in energy and raw material prices, with the recent slowdown in Brazil and Russia indicative that forecast rapid growth is not always guaranteed.
Jim O'Neill, the economist who coined the "BRIC" acronym, recently commented that "if Brazil and Russia carry on in the same way…they won't warrant being regarded as a BRIC" by the end of this decade.
Despite the rise of the emerging economies, GDP per capita will remain significantly higher in the advanced economies since the current gap is "just too large to bridge."
Nevertheless, according to PwC, the historic reawakening of China and India should ensure predictions of an "Asian century" are realized.
"This shift of global economic power to Asia may occur somewhat more quickly or slowly than this, of course, but the general direction of change and the historic nature of this shift are clear. In many ways, it is a return to the pre-Industrial Revolution era when China and India dominated world GDP in large due to their great populations, and relatively efficient agricultural sectors at that time," it said.