Japan Escapes Recession
The country manages to grow at the end of 2014, but the anemic pace underscores the work still to be done.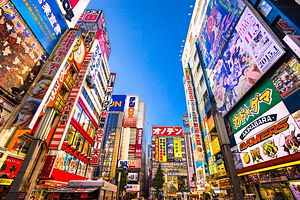 Japanese investors celebrated Monday as official data showed the nation escaping from recession, helping Tokyo stocks hit their highest level since July 2007. Yet the tepid expansion – weaker than expected – suggests more work lies ahead for "Abenomics" to ensure a sustainable recovery for the world's third-biggest economy.
After last April's consumption tax hike put the brakes on consumer spending, the Japanese economy bounced back to post an annualized expansion of 2.2 percent in the fourth quarter, well below economists' expectations for a 3.7 percent gain.
During 2014, Japan's economy stood pat after a 1.6 percent expansion the previous year, showing the impact of the consumer strike on growth.
"Japan has clawed its way out of recession, but we are looking for a modest acceleration in growth," HSBC economist Izumi Devalier told Bloomberg TV. "This is not the picture of an economy that has a lot of spark behind it."
According to revised data from the Cabinet Office, the Japanese economy contracted by 6.7 percent in the quarter following the sales tax increase, following up with a 2.3 percent slump in the third quarter to post a technical recession.
In the latest December quarter, business spending rose by just 0.1 percent from the previous quarter, while private consumption expanded by only 0.3 percent, underscoring the weak state of domestic demand.
"The disappointing output figures indicate that the Bank of Japan's view on growth is too optimistic," Capital Economics said. "We still believe that the bank will announce more easing at the late-April meeting."
Consumer spending, which accounts for around 60 percent of GDP, remained at lower levels than before the 3 percentage point rise in the sales tax to 8 percent last April. Akira Amari, minister for economic and fiscal policy, said consumer sentiment had "started improving last December," although consumption was still below the level of July-September 2012.
Prospects for increased consumer spending are reliant on employers hiking wages. In 2014, employee compensation posted its biggest gain since 1997, rising by 1.8 percent, and according to the Nikkei, this year's spring labor-management negotiations should yield further pay hikes.
The Japanese yen has dropped by almost 30 percent against the dollar since Abe regained the prime ministership in December 2012, and a weaker currency helped boost exports by 2.7 percent in the fourth quarter, aiding earnings of automakers and other exporters. A planned corporate tax cut scheduled for April is set to further aid business investment, while falling oil prices have delivered another free kick to the economy.
According to the Nikkei, Japanese corporate profits should expand by around 10 to 15 percent in fiscal 2015, with potential for a 20 percent gain if oil prices remain low.
Tsutomu Fujita, vice chairman of Citigroup Global Markets Japan, told the Japanese financial daily that the "reverse oil shock" could even spark a mini-bubble: "The three conditions for a bubble are low interest rates, low inflation and a healthy economy. We're already seeing the first two."
Defeat For Deflation?
Rising equity, real estate and import prices have aided the nation's war against deflation, and the latest GDP data was also promising on this front.
Nominal GDP expanded by an annualized 4.5 percent from the previous quarter, exceeding the rise in real GDP and indicating that higher prices inflated the economy.
"Japan's economy is finally starting to return to normal as it escapes from deflation," Masayuki Kichikawa, an economist at Bank of America Corp, told Bloomberg News, pointing to rising wages as indicative of the change.
The GDP deflator, a broad gauge of prices in the economy, posted its biggest gain last year since 1995, with the deflator rising by 2.3 percent in the fourth quarter after a 2 percent gain the previous quarter. This acceleration reveals that conditions are "favorable for escaping from deflation," economics minister Amari said.
Higher nominal GDP growth and the rising deflator "indicate companies needn't resort only to price cuts as they compete for customers," SMBC economist Koya Miyamae said.
A virtuous circle of higher profits, increased wages, and rising employment and business investment could be in prospect, should the war against deflation finally be won.
In January, the BOJ raised its growth estimate to 2.1 percent for next fiscal year, although it cut its core inflation forecast to 1 percent from 1.7 percent in fiscal 2015 due to the effect of cheaper oil. The central bank expects core inflation will jump to 2.2 percent in fiscal 2016, with GDP expanding by 1.6 percent, as the nation's "deflationary mindset" comes to an end.
However, international forecasters are less optimistic on the Japanese economy. In January, the International Monetary Fund cut its projections for this year's GDP growth to just 0.6 percent, rising only slightly to 0.8 percent in 2016. The World Bank was slightly more bullish, estimating an expansion of 1.2 percent this year and 1.6 percent in 2016, helped by cheap oil, labor and other reforms.
The latest GDP data will be among those factors the BOJ reviews at its two-day policy meeting ending Wednesday, where it is expected to leave its current monetary policy settings unchanged.
However, having fired the first two arrows of Abenomics comprising monetary and fiscal expansion, Prime Minister Shinzo Abe remains under pressure to deliver on the more challenging "third arrow" of structural reform, helping the economy transition to one based on private demand.
"The big challenge for the Abe government is to guide that transition while the country can still benefit from a weak yen and low crude oil prices. The government needs to achieve that self-sustaining recovery ahead of the next sales tax hike, which is to lift the levy from 8 percent to 10 percent in April 2017," the Nikkei said.
In its latest "Going for Growth" report, the OECD said Tokyo still had plenty of work to do in raising labor productivity, including deregulatory moves in the services sector and further reforms to agriculture, labor and taxation.
While investors may be popping champagne corks, for Japan's political district of Kasumigaseki the hard work on the economy has only just begun.