Nadeshiko Sushi: Women Make Inroads in a Traditional Industry
A new restaurant is challenging a traditionally male-dominated domain.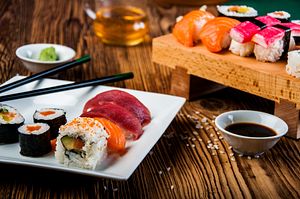 Japan is well known for its unique culture and traditions, many of which are still being preserved and practiced today. But often these traditions remain closed to all but a select few, and operate with strict hierarchies and rules. One example is the preparation of sushi, perhaps Japan's most iconic and popular dish, respected worldwide for its simple yet technical preparation. Becoming a sushi chef in Japan entails a very strict and lengthy process, and is nearly always available to men only.
The laborious training process to become a respected sushi chef in Japan usually takes around ten years – no self-respecting sushi restaurant would ever allow an inexperienced hire to dive right into handling the food. The training process usually starts by working as an apprentice, washing dishes before gradually moving on to tasks such as delivering supplies from the fish market. After a few years of these mundane tasks, the aspiring chef may be given permission to start learning how to make sushi. To be hired by an experienced sushi chef is known as becoming a deshi (pupil,) a term used for almost all beginners in the traditional Japanese arts, whether shamisen or karate. The idea is to work as a pupil under the guidance of the teacher. (Recently, several sushi schools have been established that offer a somewhat quicker path to becoming a sushi chef. They are proving popular with those hoping to work as sushi chefs overseas.)
The sushi industry is marked by an almost complete absence of female chefs. The shut-out was originally founded on myths, for instance the belief that because women have higher body temperatures, their hands are not suited for making sushi. Despite the lack of scientific accuracy supporting such claims, resistance towards female sushi chefs persists. That is why the opening of "Nadeshiko Sushi," a sushi restaurant run only by women in Akihabara Tokyo, has captured the attention of sushi-lovers in Japan.
Given the Japanese aversion to women as sushi chefs, the arrival Nadeshiko Sushi was greeted with considerable skepticism, even hostility. Manager Yumi Chizui told The Diplomat that, especially after the restaurant's opening, and sometimes still today, experienced male chefs would visit with no intention of ordering anything, but simply to watch them make sushi. "They would come over just to mock us," Chizui said. When she or the other female workers would head to the fish markets to obtain supplies, they would frequently find themselves yelled at and told they did not belong. "It is an environment with almost no female presence, so it must have been a shock when I showed up with my pink attire," Chizui smiled.
Nadeshiko Sushi opened in 2010 with the aim of encouraging women to be more active in society, especially in sectors traditionally off-limits to women. The restaurant was opened in Akihabara, an upscale district in Tokyo known for its extensive displays of Japanese pop culture, because it was felt the location would be more likely to give the restaurant attention. It worked: Nadeshiko Sushi has been featured in the Japanese media numerous times.
Chizui told The Diplomat that one of her motivations for taking the job was being denied the chance at her former workplace to learn how to make sushi, simply because she was a woman. She saw Nadeshiko Sushi as a golden opportunity to finally be able to learn the trade. Before being able to stand behind the counter at Nadeshiko Sushi, chefs have to pass a strict training period that runs for a few months. The training covers not just learning how to make sushi, but also how to communicate properly and provide customers with attentive service, an important part of the work of any sushi chef. Chizui acknowledged that there were still many years of studying and learning to be done for the restaurant.
While heading to the restaurant to speak with Chizui, your correspondent watched as a Japanese couple passing by the restaurant stopped and gaped at the sign, "Exclusively Operated by Women Sushi Chefs," which hung outside the door. Female sushi chefs are still a rarity in Japan, but thanks to pioneers like Nadeshiko Sushi, this may soon change.