Sri Lanka to Go Ahead With Chinese Port Project
Contrary to the new Sri Lankan government's pre-election posturing, plans for Chinese projects in Sri Lanka remain on track.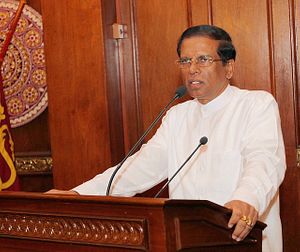 The election of Sri Lanka's new president, Maithripala Sirisena, last month was thought by most analysts to be the harbinger of a cooler between Sri Lanka and China. President Sirisena's predecessor, Mahinda Rajapaksa, was known to favor Chinese investment and influence over Indian or Western influence. Some of the most controversial decisions by Rajapaksa's government were its decisions to allow Chinese investment in several ports, such as the port project in the southern town of Hambantota. Another port project initiated by the Rajapaksa government with Chinese investment was the $1.4 billion Colombo Port City project.
The Colombo Port City project was heavily criticized by both India and Sri Lanka's then-opposition. India expressed concern at Chinese ownership of land near the main commercial port in Colombo, which India uses as a trans-shipment port. India was also worried that Sri Lanka allowed a Chinese warship and submarine to dock at Colombo last year. Sri Lanka's current Prime Minister, Ranil Wickremesinghe, who was a member of the opposition under Rajapaksa, said before last month's election that if his party came to power, they would cancel the Colombo Port City deal with China. Wickremesinghe cited environmental concerns for this viewpoint. However, many other Sri Lankan opposition politicians, including the current president, expressed concerns that his country was being sold to China for the personal benefit of the Rajapaksa family.
However, the fact remains that Sri Lanka does not want to be on China's bad side, despite President Sirisena's desire to improve ties with India and distance himself from China. Moreover, Sri Lanka needs Chinese investment, which is significantly greater than India's in that country. It is for this reason that President Sirisena's government decided this Thursday to go ahead with the Colombo Port City project in order to avoid a "misunderstanding" with the Chinese government. Sri Lanka's government's official reason for allowing the port project to go through was that a study found the project to be environmentally feasible after all. According to the Wall Street Journal, "Chinese firms would receive more than 100 hectares of land to cover their investment costs, part on an outright basis and the rest on a 99-year lease." China will likely use this land as one of its links in its Maritime Silk Road (MSR) initiative.
While some alterations to the original project may be discussed when President Sirisena visits China next month, the fact that the project is still going ahead indicates that Sri Lanka may not pursue completely the path of realignment with India and the West that many analysts believed it would after the defeat of Rajapaksa. The decision to continue with the project is clearly a move to reassure China and a sign that Chinese investment will still be welcome in Sri Lanka under its new government.