Uzbekistan: Karimov's Impending, Unconstitutional Reelection
Domestic and international dynamics suggest Karimov will again run for president, and win.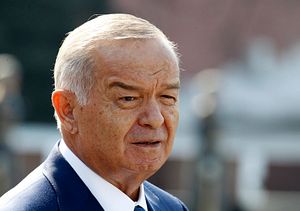 Following the Uzbek Central Elections Committee's announcement that the next presidential elections would be held on March 29, 2015, a news agency broke the news under the headline "Incumbent President Islam Karimov's reelection scheduled." That is not far-fetched given Karimov's quarter-century rule in Uzbekistan, the most populous nation in Central Asia, despite the constitutional provision that prohibits any one person from holding the post for "more than two consecutive terms" (Article 90)
Karimov was already holding office during the last presidential elections in December 2007, when the Liberal Democratic Party of Uzbekistan (UzLiDeP) nominated him. Whether or not it is unaware of the constitutional restriction, UzLiDeP, currently the majority seat holder in the legislative chamber, is asking the current president to run again this March, for a third time even by the most conservative count. The Popular Democratic Party, the Milliy Tiklanish Party, and the Social Democratic Party have nominated their own candidates to compete with Karimov.
If history is any guide, Karimov will face no serious challenge from his opponents and will "convince" the electorate that he remains the best candidate for the job. Therefore, despite the obvious violation of the constitutional prohibition of two consecutive terms, the simple act of nominating the incumbent president "breaks the news" that he will remain in power beyond March 2015.
At 77, Karimov, or "Papa" as he is unofficially known, has been subject to rumors about his health. There is talk of a succession struggle. For now, though, the president looks poised to become one of the longest ruling heads of state. There are several factors to suggest why this is the case.
Papa, Don't Go!
Although there are three other candidates, none has been nominated by parties that could even be considered a nominal opposition. Past presidential hopefuls, one of whom is running again this time, actually campaigned to support Karimov's policies, not their own. In fact, there are no officially registered opposition parties in Uzbekistan. So the Uzbek Central Electoral Committee can look forward to calm and peaceful presidential elections, as was the case with the latest parliamentary elections late last year. The exiled opposition figures in the Erk and Birlik parties can only count on a virtual electoral process online.
For their part, the electorate, who ostensibly hold ultimate power, do not even seem aware of the other presidential hopefuls. According to a Tashkent-based website, nobody, save perhaps his friends and relatives, has heard of Khatamjon Ketmonov. In the words of Daniil Kislov, the chief editor of the Fergana website, the reason for this is that the Uzbek population has become so apolitical that "no surprises should be expected even if President Karimov were to be announced president for life." The recent announcements that the mayor of Tashkent and all regional governors have been reappointed, coupled with the reappointment of Prime Minister Shavkat Mirziyayev (who has held his post since 2003) by the parliament indicate the president's team is staying in the game to make sure the population does not experience any changes of heart.
The Reliable Partner
While domestic dynamics suggest would-be opponents have little chance threatening Karimov's grip on power – for now, anyway – the international community, too, looks unprepared for change in Uzbekistan. Given the large number of external actors and given the complexity of international relations, this particular factor warrants more attention.
Uzbekistan's two immediate neighbors – Kazakhstan and Turkmenistan – which also hold vast oil and gas reserves and are almost as repressive as Uzbekistan is, are locked into very long-term commitments to fill the China-bound gas pipelines that traverse Uzbek territory. Meanwhile, Tashkent has long been a leading voice of opposition to the plans of its two poorer neighbors – Kyrgyzstan and Tajikistan – to build hydropower dams on the two largest rivers in Central Asia. For Kazakhstan and Turkmenistan, which would also be affected by Tajik and Kyrgyz dams, losing Karimov as the most outspoken critic of said hydropower projects would be to their detriment.
At the same time, Tashkent has been seen to be attempting to mend ties with Tajikistan and Kyrgyzstan. To their Tajik counterparts' surprise, the state-owned Uzbek Airlines is planning to resume Tashkent-Dushanbe-Tashkent flights on March 29 (coincidentally, the day of the presidential elections), after they were halted almost a quarter of a century ago. Moreover, Uzbekistan resumed delivering natural gas on the eve of January 2015 to the other poor, "rogue" state – Kyrgyzstan – after an almost nine-month suspension. Neither Tajikistan nor Kyrgyzstan buckled to Uzbekistan's pressure to shelve their hydropower plans, so Karimov appears to be opting to appease them.
Russia, meanwhile, will have to set aside its hopes of bringing Uzbekistan under its umbrella, so long as Karimov keeps his post. After all, Karimov has been unequivocal: Uzbekistan would "never" join USSR-like unions, an interesting choice of adverb for someone whose term in office is supposed to expire in just three months. On top of this, Tashkent has unilaterally withdrawn from the Moscow-dominated Collective Security Treaty Organization [CSTO].
Yet the Kremlin wrote off almost a billion dollars of Uzbek debt ahead of the parliamentary elections last December. Given Russia's plunging economy as a result of falling oil prices coupled with Western sanctions, the write-off hints that Moscow is keen to stay friendly with the man in Tashkent.
Further West, European Union officials have not only dropped the arms embargo and visa bans on Uzbek officials, imposed after the Andijan massacre in 2005, but have also officially hosted Karimov as head of state on several occasions. Karimov was re-elected as president again just two years after the Andijan tragedy, and the EU apparently failed to detect violations of Uzbek law or to read the numerous reports on rampant human rights violations and suppressions of freedom of speech.
Across the Atlantic, Washington recently announced that it was in the process of delivering to Uzbekistan more than 300 armored vehicles worth millions of dollars. While earlier reports suggested the NATO-led ISAF coalition would be providing Uzbekistan with used non-lethal military equipment and vehicles, Deputy Assistant Secretary of State for Central Asia Daniel Rosenblum says the vehicles in question were not used in Afghanistan, and Uzbekistan is paying for their delivery.
Uzbekistan is the only country in Central Asia to enjoy such gifts under the Excess Defence Articles program. Coupled with an apparent lack of direct need for these mine-resistant vehicles, the assistance lends credence to the theory that Washington, too, is satisfied for Karimov to remain in office beyond March 2015.
The reality is that Islam Karimov's nomination very likely equals his re-election. Although Muhammad Salih, an exiled opponent and erstwhile presidential hopeful, disputes the outcome of the first presidential election in the early 1990s, Karimov easily won all subsequent polls utilizing a range of political and other means to overpower his opponents. This time around, with trouble in the Middle East, plunging oil prices, a struggling Russian economy, the NATO/ISAF troops withdrawal from restive Afghanistan, and IMF and World Bank forecasts of financial challenges, conditions both at home and abroad are such that Karimov's clear violation of his country's constitution will most likely go remarked.
True, the Office for Democratic Institutions and Human Rights (ODIHR) has consistently cited the lack of competition, abuse of power, and obvious inconsistencies with Uzbek legislation during various elections past. However, the reports of foreign observers have changed nothing. After all, no report is strong enough to contend with the remarkable compatibility over a quarter of a century between the "popular vote" and the plans of the powers that be.
Elmurad Kasym is an independent analyst and commentator on political, social and religious affairs in Central Asia. He holds a master's degree from the Korbel School of International Studies at University of Denver (Colorado, USA).