Will Bangladesh's Democracy Fall Apart?
Former Prime Minister and opposition leader Khaleda Zia has a warrant out for her arrest.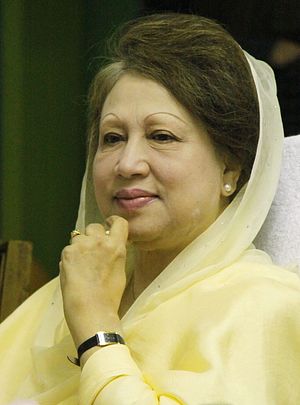 Winston Churchill once called democracy "the worst form of government, except for all those other forms that have been tried." Looking at South Asia, that claim doesn't seem too far off. India, the continent's gold standard, struggles to fight corruption at almost every level of industry and government. Pakistan faces a rift between the government and the military so great that it has culminated in a dictatorship twice in less than 70 years. To the east, Bangladesh seems to be on the verge of descending into a one-party state.
On Wednesday, an anti-corruption court in Dhaka issued an arrest warrant for Khaleda Zia, a former prime minister and leader of the Bangladesh National Party (BNP), on charges that she skipped graft hearings. The opposition leader, who boycotted last year's elections, has been waging a campaign of civil disruption since the anniversary of the campaign in January. Transportation blockades, nationwide strikes, and fire bombings have paralyzed the country's economy, and left more than 100 people dead. BNP plans to continue the protests until fresh elections are held.
Prosecutors claim Zia failed to show up to a hearing on embezzlement allegations dating from her last term as prime minister, which ended when a military-led caretaker government usurped her in 2007. Holed up in the party's offices in Dhaka under house arrest, Zia claims that the charges have been trumped up by her political opponents, who named BNP leaders as suspects in election violence last year, ordering arrests and executions.
Whether or not Zia is found guilty, Bangladesh appears to be trending away from democracy. Prime Minister Sheikh Hasina's ruling Awami League controls 274 of the 350 seats in the Jatiyo Sangsad, Bangladesh's unicameral parliament, almost five times as many as the second biggest party, Jatiya, which occupies just 48 seats. Dozens of parties are registered in Bangladesh, but just six of them are represented in the Sangsad, a building designed by the famed American architect Louis Kahn. With a majority of members, and no upper or lower house to provide checks to its power, the Awami League can pass legislation almost at will.
"Although steady progress has been made towards improving the quality of election in the past decade and a half, few see Bangladesh as particularly democratic," the Asia Foundation lamented in a 2012 report. "[C]onsequently, there is growing recognition that the elections alone cannot deliver democracy." That proves even more prescient today, after 2014's blood-soaked, bellwether election left the Awami League in full control. BNP boycotted the poll after Hasina refused to appoint a caretaker government to monitor the vote.
Bangladesh's democracy is at a tipping point. Because there is no competition at the ballot box, party strife manifests itself in violence. Groups like Transparency International, which have worked to help Bangladesh deal with corruption, are finding progress difficult to come by, outside of setting up a complaint box in the Supreme Court Building and getting politicians to agree in principle to a laundry list of concessions.
Despite their bitter rivalry, Hasina and Zia have cooperated before to bring Bangladesh's democracy back from the brink, banding together in 2008 against the military government. The Awami League and its opposition must find a way to make amends, or the whole system, imperfect as it may be, could vanish.