Chinese Operations in Balochistan Again Targeted by Militants
A fleet of oil tankers is attacked, as local tensions flare over major development projects.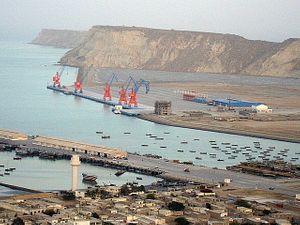 In an attack on Monday, unknown militants set at least five oil tankers on fire and abducted four drivers reportedly carrying fuel for a Chinese company working on the Saindak Project in Balochistan's Chaghi district, outside the provincial capital Quetta. Police sources said the privately owned tankers were targeted because they supply oil to a Chinese company working on a major project in mineral-rich Balochistan province.
The attack took place as Pakistan prepares to hand over its deep sea Gwadar port to Chinese interests in the coming month. The atmosphere surrounding the handover is tense.
According to reports, militants with sophisticated weapons began firing indiscriminately on the tankers near the Kirdi Gap area of Mastung district late Monday morning. Police and frontier corps are investigating the attack. Efforts have also been made to trace the missing drivers.
Although it was unclear who was behind the incident, and no group has claimed responsibility, local media suggested that Baloch insurgents were involved. Baloch insurgents have for some years been attacking government and private property, including Chinese facilities in Balochistan. Tankers have recently become a preferred target.
The last attack on fuel tankers linked to Chinese operations in Balochistan took place July 14, 2013, when Baloch militants ambushed a convoy of fuel trucks in Chaghi district. A firefight between police guards and insurgents erupted, and four trucks were destroyed.
Chinese companies working in the remote region of Balochistan receive most of their fuel supplies via the Pakistani port of Karachi.
Baloch militants have vowed to attack all multinational companies working on major projects in the troubled Balochistan region. A week ago, militants fired rockets into a military convoy on the outskirts of Turbat. The convoy was guarding a construction company working on the Gwadar-Kashgar route. A truck was destroyed in the attack.
Insurgencies
Multinational companies operating in Balochistan face threats from both a strong separatist insurgency and a sectarian conflict. The Baloch insurgency, which is principally directed at Pakistani armed forces, accuses multinationals of looting Balochistan's natural resources. Foreign companies have been targeted on several occasions. In 2004, three Chinese engineers working on the seaport project were killed in an attack in Gwadar.
Overland trade between Pakistan and China must contend with separatist movements on both sides of the border, in Balochistan and Xinjiang. In Balochistan, separatists are threatening China's ability to gain strategic access to energy-rich regions through the Pakistan-China energy and trade corridor, while Uyghur insurgents could also disrupt development in Xianjiang. These security concerns threaten the viability of the Gwadar port project.
In the meantime, both the Baloch and Pashtun leadership have expressed grave reservations about the proposed 2,395 km highway from Gwadar to Kashgar. Leaders have vowed to join forces in a collective struggle against the proposed highway in the event of any diversion in the route, which was originally planned to pass through Balochistan's key cities of Gwadar, Hoshab, Panjgur, Quetta, Zhob, before continuing on to Khyber Pakhtunkhwa province.
Baloch and Pashtun leaders claim that a proposal to divert the route, bypassing Khyber Pakhthunkhwa and some of the districts in Balochistan, was aimed at providing jobs to Punjabis at the cost of Balochs. They claim that such a route would be of no benefit to the Baloch or Pashtun people. Some independent experts have agreed, arguing that neither the route nor the Chinese-controlled port will yield economic benefits to locals. Abdul Qadir Baloch, Pakistan's minister for the frontier region dismisses such concerns, insisting that the project will not only benefit all Balochistan, but Pakistan and even the broader region.
If successful, China will benefit from Gwadar's accessibility to the Central Asian republics and Xinjiang. By extending its East-West Railway from the Chinese border city of Kashi to Peshawar in Pakistan's northwest, Beijing could send cargo to and from Gwadar along the shortest possible route, from Karachi to Peshawar. The port could also serve as a key piece of China's growing energy infrastructure, cutting in half the distance between China's western provinces and the sea.
Kiyya Baloch is a freelance journalist who reports for the leading Pakistani English newspaper Daily Times in Balochistan and other outlets on foreign affairs and the insurgency, militancy and sectarian violence in Balochistan.