Diplomatic Access: Pakistan
Pakistani Ambassador to the U.S. Jalil Abbas Jilani on regional cooperation and the fight against terrorism.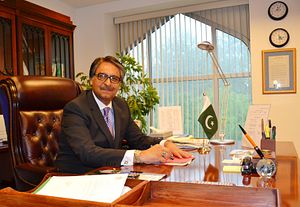 For spring 2015, The Diplomat presents "Diplomatic Access," a series of exclusive interviews with ambassadors from the Asia-Pacific region. By talking to these diplomats, we'll give readers a sense of each country's perspective on various regional economic and security trends — from TPP to the Silk Road Economic Belt; from the South China Sea disputes to the Islamic State. Check out the whole series to date here.
In this interview, His Excellency Jalil Abbas Jilani, Ambassador of Pakistan to the U.S., gives Pakistan's take on regional economic integration and security cooperation, including counter-terrorism efforts.
The Diplomat: From Pakistan's perspective, what are the greatest threats to regional security?
Amb. Jilani: Terrorist, rising extremism, and growing resort to violence obviously are the biggest threats to the wider region and a top concern for Pakistan, a country that has been the worst victim of these vicious trends .
Growing military imbalance in a region beset with long standing territorial conflicts with no crisis management mechanism contributes to making the regional security environment more complex.
Rising poverty, disease, and environment-related vulnerabilities, including climate change, are some of the other challenges that make the security environment even more precarious in our part of the world.
What can be done to address these threats?
Closer regional cooperation and economic integration would be helpful in addressing these threats to regional security because such measures will create mutual stakes for all the countries. However realizing this ideal would require trust building through continued dialogue and engagement. A case in point is our burgeoning cooperation with Afghanistan, which is generating trust and is helping build confidence and  hope for the future. We are also hopeful that India would reciprocate Pakistan's desire to engage with a view to confronting the common challenges that we face and resolving all outstanding disputes, including Jammu and Kashmir.
Regional cooperation in South Asia has not succeeded to the same degree it has in other regions, such as Southeast Asia. What is holding back South Asian regional cooperation and how can Pakistan help organizations like SAARC succeed?
I would again emphasize that trust building and sustained engagement is the fundamental building block of any form of regional cooperation. We need the political will on all sides for sustained engagement. Pakistan strongly believes that the key to a  vibrant, prosperous, and secure South Asia lies in resolving outstanding disputes through dialogue and in creating regional equities built around common concerns and priorities. The dividends for larger and economically better performing economies will be even higher when we are better connected than growing in isolation.
December's tragedy in Peshawar reinforced the Pakistani government's resolve against terrorism. How is Pakistan cooperating with its neighbors, particularly Afghanistan, on counter-terrorism? What in your view can be done to increase the efficiency of cross-border terror cooperation?
There is certainly a strong momentum in bilateral contacts with Afghanistan. We are also increasing the breadth of this engagement. Our political leadership is regularly in touch. Our military leaders and various institutions are better connected today than before. Afghan cadets are now being trained in Pakistani military institutions and cross-border cooperation is expanding between the two countries with the shared objective of eliminating terrorism from the region. We think we are laying down a strong and hopefully enduring foundation of our cooperation with Afghanistan.
Internally as well, a number of measures are underway as part of our National Action Plan (NAP) to combat both terrorism and extremism.
There are a number of regional economic initiatives under development, including the China-Pakistan Economic Corridor and the Silk Road Economic Belt. How does Pakistan see these projects? What role will Pakistan play in regional economic development?
Pakistan is located at the crossroad of three of the most important regions in the world — the Middle East, Central Asia, and South Asia. Due to its strategic location, Pakistan has the potential to become the hub of regional trade, transport, and economic integration. Middle East and Central Asia have huge piles of energy resources and other natural resources with a rather small population. South Asia is energy deficient but rich in human resources.
A network of oil and gas pipelines in the region along with an electricity grid to South Asia and China would make Pakistan the hub for regional cooperation. Pakistan is proactively pursuing numerous regional trade and transportation initiatives. Besides working on Pakistan-China Economic Corridor, we have concluded a Quadrilateral Transit Transport Agreement with China, Kyrgyzstan, and Kazakhstan. Similarly CASA 1000 is an ambitious energy transfer project from Central Asia to Afghanistan and Pakistan. The Turkmenistan, Afghanistan, Pakistan, and India (TAPI) Gas Pipeline, when mature, will fulfill the energy needs of Pakistan, India and even beyond. It can go South and East from Pakistan.
In your opinion, what are the greatest misconceptions regarding Pakistan's foreign policy?
There are indeed misperceptions that we have to manage. Misperceptions about our fight against terrorism. Pakistan has captured or killed more Al-Qaeda operatives than any other U.S.  partner. Our soldiers and civilians have paid a massive price in fighting a brutal and vicious enemy. Our economy has suffered tremendously over the last decade. And yet Pakistanis are shocked at the suggestion and insinuations of Pakistan's inaction or worse  complicity with terrorists. It certainly takes a deliberate blinding of intellect to miss the real picture of what Pakistan has historically done and how much we have suffered.