India's Key to Sri Lanka: Maritime Infrastructure Development
To surpass China in Sri Lanka, India needs to pursue proactive and dynamic diplomacy.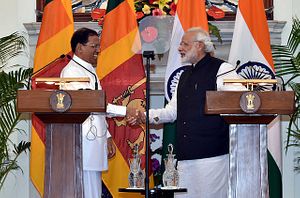 Indian Prime Minister Narendra Modi's recent trip to Sri Lanka highlights New Delhi's reawakening to the strategic position that Sri Lanka holds in India's neighborhood. Since 2008, India has watched as China built port facilities, highways, and other major infrastructure in Sri Lanka. People's Liberation Army (PLA) Navy warships have also paid port visits to Sri Lanka, even taking in Trincomalee, where India has been sensitive to any extraregional presence for decades. Most recently, in September and October 2014, New Delhi became unsettled at the sight of a conventional Chinese submarine and a tender ship openly paying port visits in Colombo on the way to counterpiracy patrols in the Gulf of Aden. Despite the public nature of the docking and advance notice, Indian policymakers appeared to be taken by surprise and feared India had lost strategic ground to China regarding Sri Lanka. In essence, how did India go from once being offered the opportunity by Sri Lanka to develop Hambantota harbor to being caught off guard by Chinese submarine visits in its backyard?
Shortly after the submarine episode, Maithripala Sirisena defeated Mahinda Rajapaksa in Sri Lanka's January 2015 presidential election and visited India for a successful summit with Modi in February. But despite this recent warming of relations, India should recognize the underlying factors—some of its own making and others independent—that have contributed to the perception that India's overall relationship with Sri Lanka has fallen behind Sri Lanka's relationship with China, given the latter's robust commercial activity. A better understanding of these factors will help New Delhi develop a comprehensive and less reactive approach to Indian Ocean security as new manifestations of China's engagement in the region lead observers to question India's preeminence in its own backyard.
Why is India in this position?
Before considering the factors that have affected India's position in Sri Lanka and led some to conclude that India is now lagging behind China, observers should appreciate that India's overall political-military standing in the Indian Ocean is strong and outstrips that of China. As demonstrated by Modi's recent trip to Sri Lanka, Mauritius, and Seychelles, India is actively deepening its partnerships with most Indian Ocean littoral states. With Sri Lanka alone, India's naval ties have strengthened considerably during the postwar period in terms of bilateral exercises, staff talks, training, equipment, senior official visits, and trilateral maritime domain awareness cooperation involving Maldives. By contrast, Sri Lanka's naval relationship with China over the same period remains limited mostly to the realm of military diplomacy and some training.
Yet looking beyond India's strengths of geography and political-military standing, one can identify three primary issues that have complicated India's ties with Sri Lanka. The first set of developments involves China and is out of India's control: China's considerable ability to invest in and carry out infrastructure projects and the PLA's entry into the Indian Ocean due to regular counterpiracy patrols. Now that China has contributed to the security of the maritime commons, it is unrealistic to expect that the PLA Navy will not seek the opportunity to gain far-seas operational experience through a variety of assets, including the submarine and tender ship that visited Sri Lanka. The fact that PLA Navy ships prefer to visit a Chinese-built and operated terminal in Colombo is not surprising.
The second factor involves domestic Indian politics and center-state relations. Before the Modi era, New Delhi largely prioritized the internal interests of the state of Tamil Nadu over national strategic interests in Sri Lanka. For electoral reasons, the United Progressive Alliance (UPA) coalition government needed to weigh the demands of Tamil Nadu's chief ministers concerning Tamil populations in northern and eastern Sri Lanka. India supported Colombo during its war against the LTTE through important assistance such as radars and intelligence sharing, but the Indian (and U.S.) ban on lethal assistance gave China the opportunity to fill a gap through its munitions and postwar diplomatic support to Colombo. This policy reduced Indian military and diplomatic assistance to Sri Lanka at critical times in its history. Regardless of the human rights merits of this policy, New Delhi needs to recognize the strategic implications of such a prioritization.
The third factor is less understood. India has not provided significant investment in Sri Lanka's maritime infrastructure, which Sri Lanka sees as essential to achieving its national development goals. An overlooked angle when trying to understand why India seems to have merely watched China develop a port presence in Sri Lanka is that India lacks a structural economic incentive (although it has a strategic incentive) to invest in Sri Lanka's maritime infrastructure. Of course, few countries can boast China's massive currency reserves for lending or environment of government-supported businesses to carry out construction activities. Plus, India has infrastructure development needs of its own, some of which will even be met by Chinese investment. But when India has actively promoted investment in the region by Indian companies or government-to-government assistance, it has focused on projects that do not pose direct economic competition. For example, India has provided up to $3 billion in lines of credit, loans, and grants to help build up infrastructure in Nepal and Bangladesh—two neighborhood countries considered low-income economies by the World Bank. In terms of development projects across the Indian Ocean, India is financing construction of Sittwe port in Myanmar, which will promote connectivity with India's landlocked northeast, and Chabahar port in Iran, which will allow trade from Afghanistan to bypass Pakistan.
In Sri Lanka, India is supporting infrastructure projects mostly in the north of Sri Lanka such as the construction of a power plant, 27,000 new homes, and a hospital; the dredging of the war-devastated Kankesanthurai port; and the reconstruction of the Northern Railway Line. While much appreciated and important for Sri Lanka's internal development, these projects are primarily intended to improve the infrastructure of the war-ravaged Tamil population in the north and help promote post-conflict reconciliation. They do not directly advance Colombo's maritime development goals as do Chinese port-building projects in Colombo and Hambantota and construction of highways connecting coastal cities like Colombo, Galle, and Matara.
On the other hand, Colombo competes with Mumbai for the busiest port in South Asia, and both have aspirations to rival Singapore as a regional shipping hub. When Rajapaksa offered India the opportunity to develop Hambantota port, New Delhi declined. It may have done so for many reasons (U.S. investors passed as well on Rajapaksa's offer); nevertheless, China was able to assume this role. Notwithstanding criticism during the election campaign of the terms of loans undertaken to build these projects, Chinese financing and construction have allowed Sri Lanka to develop two modern ports in the Indian Ocean region that can service the newest generation of deep-draft ships. China's terminal in Colombo port has already helped reduce congestion, and Hambantota port transships Indian-built cars exported to Africa.
Ironically, Chinese port development in Sri Lanka indirectly benefits India, whose ports are in need of upgrading and do not have the depth and large cranes that are needed to handle mega container ships. In fact, approximately 70 percent of shipping to and from Indian ports goes through Colombo port. Sri Lanka certainly wants the business from India, but New Delhi may see this transshipment activity as a shortcoming of Indian ports. For example, a former Indian foreign secretary suggested that Campbell Bay in India's Nicobar Islands should be developed to lessen some of this dependence. Although the Indian government and companies finance and carry out important connectivity projects throughout Sri Lanka, India has not chosen to develop maritime infrastructure on the scale that China has. When considering China's commercial investments and the PLA Navy's entry into the Indian Ocean, India's lower maritime investment profile in Sri Lanka has raised questions to observers about the strategic implications for India's standing in its region.
What's next?
The February and March Modi-Sirisena summits present opportunities for Indian investment in Sri Lanka, including in the maritime realm. Ferry services could restart, and Modi announced that Indian and Sri Lankan companies will work together to develop oil tank facilities that can refuel visiting ships in Trincomalee. Modi stated a desire to help the northern city become "a regional petroleum hub." These developments suggest India may undertake a major investment in Sri Lanka's maritime infrastructure. Furthermore, Harsha de Silva, Sri Lanka's deputy minister of policy planning and economic development, recently stated that "India would be welcome to invest in building and upgrading the east and west terminals of Colombo port."
More broadly, Modi's administration should encourage public-private partnerships and government-to-government investments in India's neighborhood, beyond concerns about China. According to the World Bank and Asian Development Bank, South Asia is one of the least integrated regions in the world. By investing in Sri Lanka's maritime infrastructure and regional connectivity, India is enhancing its own security. Of course, India needs to build up its domestic maritime infrastructure, such as through Modi's Sagar Mala initiative. But maritime South Asia will be developed eventually (although much too slowly for those within the region), and India should have a stake in the course of this development rather than primarily extraregional countries and institutions driving the process.
Beginning with the UPA government and now under the Modi administration, India has made great strides in recent years to expand its political and military weight in the Indian Ocean. New Delhi now needs to work on building the economic dimension of maritime power. All Indian Ocean countries—including India—want to improve their infrastructure. Until India approaches maritime economic policy in its neighborhood more proactively and demonstrates the appeal of its own investment and construction capabilities, it will continue to react with alarm to each new manifestation of China's inexorable reach into the Indian Ocean.
Nilanthi Samaranayake is a strategic studies analyst at CNA Corporation, a non-profit research and analysis organization located in the Washington, D.C. area. The views expressed are solely those of the author and not of any organization with which she is affiliated.