Is China's Economic Power in ASEAN Overblown?
A new report suggests there is less to Beijing's influence than meets the eye.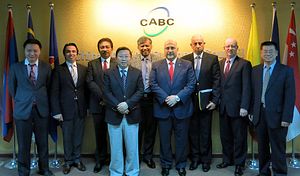 While a lot has been written about China's growing economic influence in Southeast Asia, the analysis is often based on a survey of certain ambitious initiatives that have yet to play out – like the Maritime Silk Road – or flowery statements and declarations by leaders rather than measuring its actual impact using hard data. I've pointed out the folly of this before, most recently in an article on Sino-Indonesian relations for The Diplomat.
A recent report released by the U.S.-China Economic and Security Review Commission attempts to actually measure China's economic ties with the ten members of the Association of Southeast Asian Nations (ASEAN) using trade and investment data. The report's findings suggest that China is actually much less of a juggernaut than it is often portrayed to be in Southeast Asia, and that there are still lingering problems with Beijing's economic relationships in the region. While some analysts have been stressing this for years, it is worth briefly summarizing what recent data says about China's economic power in Southeast Asia.
First, one needs to look beyond rankings to get a more granular understanding of China's economic influence in Southeast Asia and the purported 'dependence' it creates. As the report notes, while China consistently appears among the top five ASEAN trade partners, the degree of dependence on China as a source of exports, imports, or both varies. In general, wealthier ASEAN countries have a more diversified set of trading partners, while poorer ones depend more heavily on China, especially for imports. The distribution of Chinese export and import flows is also much more complex – Vietnam's share of Chinese flows within ASEAN has increased a lot, but Singapore's share has dropped. Given this, one should be careful about making sweeping statements about ASEAN states becoming pliant to Beijing.
Second, attention should be paid to the balance of trade rather than just the amount of trade. Since the full enactment of the ASEAN-China Free Trade Agreement in 2010 – the largest free trade area in the world by population – ASEAN's trade in goods with China has gone from a surplus to a deficit reaching $45 billion in 2013. "The causal link between ASEAN's deficit and ACFTA," the report notes, "merits scrutiny." This is not just an academic point. An unfavorable trade balance for Southeast Asian countries in their relationships with China has been a political issue in the past, and in some cases this has been highlighted as a priority to fix.
Third, the content of ASEAN-China trade matters as much, if not more, than just the value of that trade. The report finds that the major source of ASEAN-China trade still remains manufactured goods – particularly machinery and electronics. There are also some outliers, such as Cambodia because of its reliance on Chinese textiles on the import side, and Indonesia and Myanmar due to their resource shipments to China on the export side. The report notes that this suggests "the extent and durability of regional production networks." But it is also the case that the nature of this trade contributes to perceptions among some that Beijing is benefiting more, while certain gains to Southeast Asian states in other areas like services are not being realized to a sufficient degree.
Fourth, and on a related note, economic influence ought to be measured using both trade and investment, and despite some increases, China's role in the latter field in Southeast Asia is still rather "marginal," as the report puts it politely. China contributed a measly 2.3 percent of ASEAN's total FDI inflows in 2013. Even if you make the usual adjustments for undercounting (including the fact that investment originating in Hong Kong is not factored in), as the report concludes, "the fact remains that China is not yet a major investor in ASEAN."
Of course, like any such report, you can quickly point out the limitations of the data in terms of how they were both collected and utilized. Data from the Chinese side comes from the Ministry of Commerce, which has its own quirks, and there are discrepancies due to different accounting practices and lagged data collection. In most cases, 2013 was the last year when comprehensive data was available for all countries, and much has changed since that year when, as I pointed out elsewhere, Beijing launched its new strategy for ASEAN-China relations to commemorate the 10th anniversary of the strategic partnership.
But with the rise of new, ambitious Chinese initiatives like the Asian Infrastructure Investment Bank and the 21st Century Maritime Silk Road – which have received a lot of attention despite barely getting off the ground – it is arguably even more important to keep in mind that there is often much less than meets the eye when it comes to China's influence in Southeast Asia.
You can read the full report here.