Japan and Indonesia: A New Maritime Forum?
The two countries are looking to establish a new high-level bilateral maritime forum.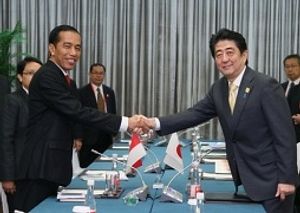 On March 23, visiting Indonesian President Joko "Jokowi" Widodo and his Japanese counterpart Shinzo Abe agreed to set up a new high-level bilateral maritime forum. The initiative is part of their ongoing efforts to strengthen their overall strategic partnership as well as to deepen the defense side of that relationship, as I have noted previously.
While the joint statement signed by Jokowi and Abe to strengthen their strategic partnership, seen by The Diplomat, consisted of five areas, the first was dedicated specifically to maritime cooperation. The statement notes that both Jokowi and Abe, as leaders of maritime countries, confirm that "free, open and stable seas are essential for peace, stability and prosperity of the region and the international community." The two countries will establish a Japan-Indonesia Maritime Forum to help realize this goal.
"They concurred in establishing Japan-Indonesia Maritime Forum as soon as possible in order to further strengthen and accelerate maritime cooperation inter alia in maritime safety and security, promotion of maritime industries, as one of the important pillars towards enhancing bilateral cooperative relationship," the statement read.
Speaking after the summit, Jokowi said that the forum would be geared towards enhancing Indonesia's coast guard and infrastructure capabilities.
"Japan and Indonesia agree to launch the forum in order to enhance competence of coast guard capabilities and infrastructure, as well as the marine industry," Jokowi said.
Details about the forum, however, are still lacking. According to Kyodo News, a senior Japanese government official admitted that both sides have not agreed about specifics such as when the first session would be held and who will take part. The official did, however, say that it was to take place at a high level.
The setting up of the forum comes as Indonesia seeks to realize its new maritime doctrine – dubbed the poros maritim dunia, translated as global maritime fulcrum (which I have explored in several pieces, including here and here) – and Japan continues to strengthen its relationships with Southeast Asian countries, including increasingly in the security sphere.
Aside from agreeing to set up the forum, the maritime cooperation portion of the joint statement noted that both sides would promote cooperation by strengthening capacity-building for maritime safety, promoting the fishing, shipbuilding and shipping industries, and enhancing measures for maritime traffic safety "through technical cooperation including the dispatch of experts, the provision of equipment and financial assistance." Some of this cooperation will build off of previous efforts, including Tokyo's maritime security assistance to Southeast Asian states and discussions about the provision of patrol boats.
Given both countries' involvement in the ongoing South China Sea and East China Sea disputes – even though Indonesia is technically not a claimant state – the joint statement did include a reference to "the importance of freedom of navigation and overflight on the high seas, unimpeded lawful commerce, as well as resolving maritime disputes by peaceful means," which would be done in accordance with international law including the 1982 United Nations Convention on the Law of the Sea (UNCLOS).