Philippines Fires Back at China's South China Sea Charges
Manila hits back at Beijing.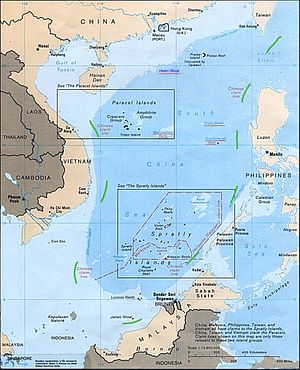 The Philippines dismissed concerns raised by China over Manila's "hypocrisy" in conducting activities in the South China Sea while crying foul at Beijing's efforts to do so.
The Philippines had halted activities in the South China Sea last year and suggested other nations follow suit due to concerns about an ongoing legal case against China. However, as The Diplomat previously reported,Foreign Minister Albert del Rosario said last week that Manila would now resume some activities amid massive Chinese land reclamation efforts that could alter the status quo before any legal verdict could be reached. Beijing said this announcement had "exposed the Philippines' hypocrisy."
But in a direct response to China, a Philippine foreign ministry spokesman on Saturday dismissed any attempt to compare Manila's proposal to resume limited repair and reconstruction works with Beijing's massive land reclamation efforts that involved changing the very nature of individual features.
The possible repair "is in no way comparable to China's massive reclamation activities, which not only violate international law… but also unnecessarily raise regional tensions," Philippine foreign ministry spokesman Charles Jose said in a statement.
The Philippines has repeatedly accused China of violating international and regional agreements, primarily the United Nations Convention on the Law of the Sea and the Declaration on the Conduct of Parties in the South China Sea, inked in 2002 between Beijing and the ten members of the Association of Southeast Asian Nations (ASEAN).
Jose also said that China's recent comments should not distract the international community from the main issue in the South China Sea: China's nine-dash line, which covers about 90 percent of the entire South China Sea.
"China's recent statement expressing concern over what the Philippines plans to do should not distract us from the real issues in the South China Sea, which are China's illegitimate 'nine-dash line' claim and China's unilateral and aggressive behavior in asserting that claim as exemplified by its massive and unrestrained 'reclamation'," Jose added.
The Philippines' ongoing legal case against China at the arbitral tribunal at The Hague is expected to be concluded in early 2016. China has declined to participate in the case.