South Korea's New Spy Chief Under Fire
The nominee to lead NIS is questioned for his patriotism and his perceptions of history.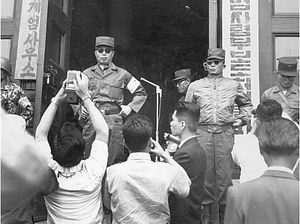 South Korea is getting a new spy chief. Lee Byung-ho will replace Lee Byung-kee as head of the country's intelligence agency, the National Intelligence Service (NIS). Lee Byung-kee was named as South Korean President Park Geun-hye's new chief of staff at the end of last month. The move is part of the president's cabinet reshuffle and comes at a time when the intelligence agency is still reeling from the scandal of 2012.
Nominees for the position of NIS chief, unlike cabinet positions, require a confirmation hearing. The confirmation hearings for Park's nominee for the position of NIS chief highlight some interesting themes in South Korean political discourse: (1) what makes a loyal public servant and (2) historical interpretations of Park Chung-hee's coming to power.
Lee Byung-ho was nominated for his experience and long career in intelligence (26 years). "He is a man of integrity and strong patriotism and has earned deep trust from members of the intelligence agency. He is the best candidate to head the NIS," a Blue House government spokesperson is quoted as saying. Not everyone agrees.
Many on the left have questioned Lee's patriotic commitment, not because of his public service background but because of his family. The Hankyoreh explains: Between Lee's sons, daughters-in-law, and grandchildren, "A total of seven family members…  either hold citizenship (four) or permanent residency (three) in the United States." This, the article explains, is problematic, given that state secrets will be entrusted to Lee as NIS chief.
The article goes on to give a confusing mix of reasons why Lee may not make such a great NIS chief. Hankyoreh's leftist bias obfuscates an objective opinion (as it often does), but the primary critique is clear: with so many family members living abroad, Lee may not always act in the best interests of South Korea's national interests. The issue of dual nationalities in a "global era" is broached but not substantively entertained.
The second theme relates to the actions on May 16, 1961, when Park Chung-hee (the current President Park's father) came to power by military force, effectively ending the democratically elected government and the Second Republic. Typically referred to as the "May 16 coup," many call the events of that date a military coup d'état. Some, however, see it differently. KCIA (the predecessor to NIS) director Kim Jong-pil (recently interviewed by the Joongang Ilbo), refer to the action as a "revolution," though there were no major social changes involved.
Politicians are often asked their thoughts on this event and whether they see it as a military coup, rebellion, or something else. When asked to confirm that the events of May 16 represented a military coup, Lee Byung-ho refused to answer, stating instead that he hadn't given it much thought. Clearly, he was avoiding the issue. Given Lee's ties to governments of the authoritarian era, many probably suspect his views more closely align with Kim Jong-pil's.
While neither issue is likely to prevent Lee from taking his post as new chief to the NIS, some in South Korea may feel that Park has not made a satisfactory effort to actually change things around and bring on fresh faces from outside the establishment. Lee Byung-ho (and Lee Byung-kee, for that matter) is anything but an outsider.