What the AIIB Means for the US-China Power Transition
Is Washington determined to keep China isolated?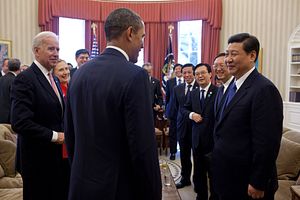 As AIIB awaits its official commencement later in 2015, more members are set to join. The new bank will China give the chance to have an more important role than it has been offered in other U.S.-led financial institutions.
Yet, why all the media furor over a new regional bank? AIIB has deeper political significance, because it is yet another multilateral platform where the  United States could choose  to engage an emerging China in view of the long-term power transition taking place in the current international system.
As The Boston Globe put it in a recent op-ed, "The United States should seek to accommodate that shift in a productive way, by enmeshing the world's second-largest economy more deeply in multilateral bodies such as the World Bank, International Monetary Fund, and Asian Development Bank – three institutions over which the United States has long exercised outsize influence." Obviously, to the West and especially to the United States, having China more integrated into the U.S.-led world financial system is a way to ensure a more cooperative China.
But the reality has been somewhat different, simply because China is not given much of a voice in these institutions. In the IMF, the voting shares of the United States, Japan, and China are set at 16.75 percent, 6.23 percent, and 3.81 percent respectively. According to reforms agreed to in 2010, China's voting share could reach to about 6 percent but such reforms are not yet in effect. China also has less voting power (5.4 percent) than Japan (12.8 percent) and the United States (12.7 percent) in the Asian Development Bank (ADB). Hence, Long Yongtu, who served as the chief negotiator for China's entry to the WTO, commented that China was forced to start AIIB for two reasons: first, reforms of the world financial system have stagnated; second, Asian countries' demands for infrastructure investment have soared significantly and that goes beyond the capability of current institutions like IMF and ADB.
Meanwhile, the United States has its own reasons to have stalled the reform and expansion of world financial institutions, particularly with regards to China's involvement. For example, the United States may worry that China has different political values and it may not truly intend to abide by the international rules. As China shows great interest in becoming more engaged in the world financial system, the United States may even worry about the genuine political intentions behind Beijing's newly found enthusiasm.
However, in fact, a yellow book published by the Chinese Academy of Social Sciences (CASS) in 2007 already addressed some of these worries. The report found that China generally accepts international rules, and that its role has been changing — from opposing the international system to participating and suggesting reforms, and finally to supporting and defending the system.
Nevertheless, how to include China in the international system has been a true dilemma for the United States. Washington still does not seem to truly believe, as Joseph Nye argued in The Future of Power, that "empowering others can help us to accomplish our own goals." By excluding China, the world's second largest economy, in Trans-Pacific Partnership negotiations, and by boycotting AIIB, the United States seems to have sent a strong message that it still has the capability to "isolate" China. However, it is the United States that has been more or less "isolated" this time around.
In view of the broader topic of a power transition, the true significance of having China more active involved in the world financial system does not lie in the possibility of transforming the People's Republic or enmeshing Beijing with various political conditions. Most importantly, China's involvement ensures broad and sustained chances for both a dominant United States and an emerging China to engage with each other, and to find institutional (and thus peaceful) means to accommodate and possibly to reconcile with each other in the long run.
So far, has the United States been merely acting out of pride, or has it truly decided to alienate or even antagonize China? This is the question of great importance to keep in mind as AIIB gets off the ground. A more constructive attitude — rather than dogmatically boycotting any new multilateral institution, whether created by the United States or China — is the key to solving any such future dilemmas.