A Fiber-Optic Silk Road
China's Silk Road initiative has profound implications for cyberspace, as well as for physical infrastructure.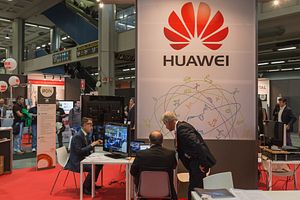 Not even two years into what will be a ten-year tenure at China's helm, Xi Jinping has already made his mark on China's foreign policy, in particular with the launch of the "One Belt, One Road" initiative, also known as the New Silk Road. This initiative will manifest in a vast network of transportation, energy and communication projects, all of which are supposed to boost intraregional trade and ultimately give China and its neighbors a sense of "common destiny."
Although not as well publicized, the planned improvements in telecommunications infrastructure are as critical to business and economic development as the railroad projects that are to be technically and financially supported by China through its New Silk Road initiative. The virtual cloud of cyberspace relies on a physical infrastructure that constitutes the sinews of the Internet. Because cables can be laid easily along rail lines, the future Eurasian fiber optic backbones will benefit from the transportation infrastructure that will soon stretch along the Silk Road. For landlocked countries such as the Central Asian Republics, this will mean greater access to international data networks, at a cost averaging a tenth that of satellite communications and with a bandwidth significantly enhanced by fiber optic technology.
A number of projects are already underway. In 2006 the telecom giant ZTE was commissioned by Afghanistan to establish the country's first fiber optic cable network, the same year that Huawei, another Chinese firm, received a contract from the government of Tajikistan. China and Russia have also partnered in building major terrestrial telecommunication links across the Eurasian continent, including the world's longest terrestrial cable link, the Trans-Europe Asia (TEA), in addition to the Europe-Russia-Mongolia-China network, the TransEurasian Information Superhighway (TASIM), and the Diverse Route for European and Asian Markets (DREAM). The last of these is an ambitious Eurasian fiber optic communication land line whose launch was announced by Russia's MegaFon in October 2013; it will be built with equipment supplied by China's Huawei.
While domestic networks are mostly terrestrial, underwater fiber optic cables carry the vast majority of international data traffic. Thus Asia and Europe are currently digitally connected, via the Suez Canal thanks, among other things, to the world's longest submarine cable, the 39,000 km SEA-ME- WE 3 system. Digital packets transmitted from Western Europe to Japan either have to traverse Europe, the Middle East, the Indian Ocean and the China Seas, or ride through the Atlantic, the U.S., and then the Pacific Ocean. The global undersea system experiences several hundred disruptions per year, especially at heavily trafficked choke points such as the Strait of Malacca or the Suez Canal, where too many cables pass through a narrow maritime passage. Regular disruptions occur when ships drag their anchors across cables lying on the ocean floor. In addition to increasing the connectivity of landlocked countries that stretch along the Silk Road, the envisioned terrestrial trans-Eurasian networks will alleviate the possible risks of disruption to maritime cables and add redundancy: Terrestrial cables also face disruptions, but they are easier to repair and maintain than the ones that lie 8,000 meters underwater.
The land digital highways will also increase the speed of data exchanges between Europe and Asia, a major challenge that telecommunication companies are racing to meet. Investors are willing to spend several hundreds of millions of dollars to gain a few milliseconds in highly profitable "high frequency trading" – a system where computers buy and sell automatically and electronically. By some estimates, a one millisecond advantage could be worth up to $100 million a year for hedge fund companies. Shorter routes are therefore the key to speed – and profit. The melting of the Arctic ice cap has created the possibility of opening new routes linking Asia to Europe and Trans-Arctic Ocean submarine cables are now being installed, with the aim of reducing by 30 percent the time a packet takes to travel from Tokyo to London. But maintaining the cables remains an obvious challenge and the Silk Road routes offer a sound alternative for customers looking for increased speed and reliability.
In addition to commercial motivations, the new fiber optic Silk Road could also have geopolitical and strategic implications. Russia and China evidently share a desire to shield themselves from U.S. and other Western intelligence agencies and probably believe that their own communications – both with one another and to and from Europe – will be better protected if cables run across their own territory rather than through the Indian Ocean or the U.S. The same motivation explains the announced Telebras cable, which will connect Brazil to Portugal without any U.S. technology, and the BRICS cable project, which will link Vladivostok to Brazil, via China, India and South Africa. There is a growing wariness among these countries that when their data traffic goes through hubs in Europe or the U.S., it incurs a greater "risk of potential interception of critical financial and security information by non-BRICS entities," according to Andrew Mthembu, a South African businessman who is promoting the BRICS cable.
Together with planned roads, rail and pipelines, the fiber optic "Silk Road" will tie the Central Asian states more closely to China and Russia. These countries may also hope that the new cables will circumvent NSA attempts to eavesdrop on the data sent through U.S. IT companies. But they may well find themselves subjected to increased electronic surveillance by Beijing or Moscow, or both. Russia and China's perceived security risks, reinforced by Edward Snowden's revelations about the electronic surveillance carried out by the U.S. government through digital channels, will lead to more alternative routes provided by non-American companies, conceivably making it easier to seal off the global network if deemed necessary. Paradoxically, the emergence of alternative networks could eventually increase the digital balkanization of some parts of the world.
Nadège Rolland is Senior Project Director for Political and Security Affairs at The National Bureau of Asian Research (NBR). Prior to joining NBR, Ms. Rolland served as senior adviser to the French Ministry of Defense.