ASEAN: Asia's Hottest Investment?
The rise of ASEAN could ensure that Asia remains the world's economic growth engine.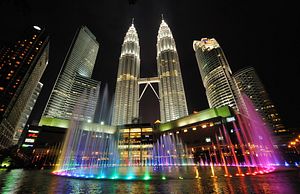 European and Japanese investors are pouring money into fast-growing ASEAN, eyeing the region's emerging middle class consumers. However, it is not all plain sailing, with rising wages and political and business risks giving companies plenty of headaches.
In a new report, accounting group PwC has highlighted Southeast Asia's potential to become "central to the success of a host of global and Japanese companies.
"With GDP growth rates that are threatening to overtake China's, and a youthful, growing and increasingly educated population, the allure of the ASEAN markets is obvious," PwC said.
Since its formation in 1967, the ASEAN region has grown to account for 8.8 percent of the world's population and with an economy that combined would represent the world's sixth-largest. The 10-nation bloc is expected to post average annual GDP growth of 5.6 percent through to 2019, led by the Philippines (12.3 percent), Laos (11.8 percent), Myanmar (10 percent) and Malaysia (9.4 percent), with Indonesia, Malaysia and the Philippines the three biggest economies.
According to PwC, consumer spending will grow by 45 percent between 2013 and 2020, with the biggest gains in communications (up 62 percent), education (up 59 percent) and hotels and catering (up 51 percent), giving the region an estimated $2 trillion consumer market by 2020.
Asia's share of the global middle class population will also rise from the current 30 percent to more than half, with the number of households with annual disposable income exceeding $10,000 set to reach nearly 64 million by 2020, according to Euromonitor International.
European investors have been the fastest to seize on ASEAN's potential, with net foreign direct investment (FDI) of $75 billion over 2011 to 2013, followed by Japan's $56 billion, with $24 billion from the United States and $22 billion from China. Singapore has received the lion's share of such investment – although PwC suggests much of it may ultimately flow elsewhere in the region – with the ASEAN 5 nations of Indonesia, Thailand, Malaysia, Vietnam and the Philippines receiving most of the rest.
Japan's renewed interest in ASEAN is shown by the 120 percent increase in Japanese investment to reach nearly $24 billion, according to a 2014 JETRO report, including in automotive production and banks. In contrast, Japanese FDI in China dropped a third to $9 billion amid rising Chinese wages, a slowing economy and worsening political ties.
PwC said at least 58 percent of Japan's FDI was directed toward the four largest ASEAN economies, "running at about twice what Japan is investing in China" and making Japan the largest source of foreign capital for Thailand and Indonesia and the second-largest in the Philippines and Malaysia.
According to PwC, this trend did not happen overnight, with Japan's development assistance to the region "vast for decades…[and] now clearly bearing fruit." Japan's cumulative development aid to the Asia-Pacific stood at more than $110 billion in 2012, more than double the next-highest individual donor nation, the United States, with two-thirds of such aid to ASEAN nations.
Japan's new wave of ASEAN investment is set to continue, according to JETRO's fiscal 2013 annual survey of overseas-oriented Japanese firms. While the poll of more than 1,000 respondents still had China as the top target for expansion at 57 percent, almost 50 percent cited intentions to grow in Thailand, 35 percent in Indonesia and 30 percent in Vietnam, with 20 percent eyeing Singapore.
The ASEAN Economic Community was cited by PwC as another reason for the increasing investment, despite the likelihood that the region will fail to meet its year-end target for economic integration, as previously noted by Pacific Money.
Business, Political Challenges
However, investing in ASEAN is not without its challenges, with the World Bank's 2015 survey on the ease of doing business ranking Singapore top but Malaysia 18th, Thailand 26th, Vietnam 78th, the Philippines 95th and Indonesia 114th.
"While opening a subsidiary or regional headquarters in ultra-modern Singapore might pose few challenges, going further afield involves familiarizing yourself with cultural differences, business practices, logistical issues and potential hiccups that can easily turn a good investment into one that struggles," PwC warned.
Singapore or Malaysia have become the preferred regional headquarters for Japanese companies, although most still run their operations out of Japan, PwC said.
The report also noted ASEAN's political instability, with Thailand having seen 15 coups in 33 years, and the rest of the region also having witnessed its share of turmoil.
Meanwhile, rising wages have been listed as a concern by more than 70 percent of Japanese companies, topped by Indonesia's 17 percent rise in average wages in fiscal 2014 and followed by Vietnam's 11 percent gain. Corruption, staff shortages, political and legal risks and poor infrastructure are also seen as challenges, although the situation differs markedly across the region.
According to JETRO's fiscal 2013 survey, inadequate infrastructure was the biggest concern across ASEAN at 32 percent, although it was 70 percent for Myanmar, followed by political risks or problems in social conditions and law and order at 25 percent. Exchange rate risk was only cited by 15 percent, despite the effects of a weakening Japanese yen and rising U.S. dollar.
Despite the challenges, PwC cited successes including Japan's special economic zone in Myanmar, Bank of Tokyo-Mitsubishi UFJ's $5.6 billion acquisition of Thai Bank of Ayudhya, Marubeni's and Mitsui's power investments and the rapid expansion by retailers 7-Eleven, Aeon, Lawson and Uniqlo.
PwC urged Australian companies to piggyback on Japan's ASEAN networks to boost their investment in the region, with just 9 percent of Australian businesses currently operating in Asia.
"Many Australian businesses fail to appreciate that the window of opportunity to get a foothold in Asia is fast closing," PwC said. "Companies that are now successful in Asia arrived there approximately 15 years ago and they made their business plans and investments work. They, along with large local businesses, are now the competition – and they are world-class competitors."
Similarly, JBIC's Masaaki Amma said Japan had "missed the boat" in organically growing business in ASEAN and must instead ramp up its acquisitions.
"Acquisition is the only solution. At this stage it is too late – they cannot really start from scratch,'' he said. "They need to make a very quick decision so they [can] challenge difficult markets and countries."
An example may be Japan Post's recent $5 billion acquisition of Australia's Toll Holdings, with the Japanese state-owned giant eyeing Toll's Asia-wide network to boost overseas growth.
The latest wave of investment could be critical to achieving ASEAN's promised economic gains, as well as helping to lift an estimated 750 million Asians out of poverty. According to the Asian Development Bank, increased productivity could also spur growth, with an improvement in the productivity of physical investments of just two-tenths of one percent "like adding $10 billion to those investments."
With Asia still seen as the world's economic growth engine, ASEAN's rise could ensure its reign continues for some time to come.