Can Pakistan's 'Burka Avenger' Score Fans in India?
Pakistan's popular cartoon superhero is coming to India. Will audiences follow?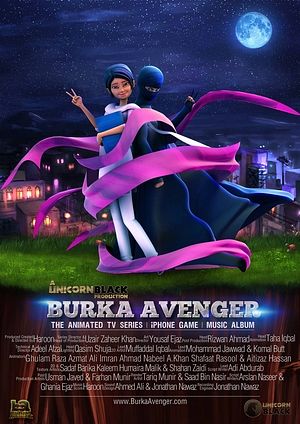 One of Pakistan's most popular crime-fighting superheroes will soon be hitting the small screen in India. Recently, the creator and director of "Burka Avenger," Haroon Rashid, announced that the show would launch on India's ZeeQ Network later this month, with broadcasts in English, Hindi, Tamil, and Telegu.
The show has captivated audiences in Afghanistan and Pakistan with its block three-dimensional animation, catchy theme song, and candid take on the issues facing young girls and women in Taliban-dominated areas of the region, winning a Peabody award and scoring an Emmy nomination. In those countries, traditional norms prevent many girls from attending co-educational schools and participating in many of the same activities as their male counterparts. Many girls who do get to attend school to head to madrassas and other strict religious institutions.
In many ways, "Burka Avenger" is an homage to that audience: devout Muslims with an abiding belief in liberal education and women's rights. The show's hero, Jiya (named one of the world's most influential fictional characters by TIME in 2013), is a teacher at an all-girls school in the fictional Pakistani town of Halwapur, in the northern part of the country, who dons the burqa as a disguise from her adversaries. Those baddies include the maniacal, turban-clad magician, Baba Bandook, who drives around Halwapur causing trouble in a souped-up tractor with limbs that wield saw blades, and the corrupt politician Vadero Pajero.
Will the show resonate in India? The central challenges that "Burka Avenger" highlights, both implicitly and explicitly, such as child marriage, violence in the household, and human trafficking, are not just limited to Pakistan, but impact the entire subcontinent.
In India, some of those issues are less prevalent. Taliban gunmen are far less likely to raid school buses in far-flung provinces, than in Pakistan's Swat Valley, where Nobel Prize winner Malala Yousafzai grew up.
But as women enter the workplace in growing numbers, intrusive questions about marital status and pregnancy have led to demotion and termination. Worse yet, India, growing at the world's fastest clip so far this year, has struggled to address violence against women. In March, the government banned the BBC documentary "India's Daughter," which depicts the 2012 gang rape and killing of Jyoti Singh, a medical student from Delhi.
In rural communities, honor killings are still a danger for women who refuse to enter into arranged marriages, have sex outside of wedlock, or confess to being raped. Across India's countryside, a quarter of girls dropped out of primary school in 2009. The gender divide is a widespread issue: in 2012, India ranked 101 on the World Economic Forum's Global Gender Gap Index, a survey of 136 countries.
Can the show be a hit? Even though "Burka Avenger" is designed for children, it could play to disaffected women looking for a superhero. It will have that chance when Indian audiences tune in for the first time later this month.