In Germany, Modi Pitches 'Make in India'
Will the Indian prime minister's "Make in India" message resonate in Europe's biggest industrial power?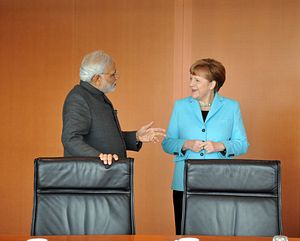 Prime Minister Narendra Modi looked much different than usual when he addressed the Indo-German Business Summit in Hannover, Germany on Monday, his first day on a two-day stopover in the country. Losing his customary vest and shawl, Modi sported a tweed jacket and highfalutin rhetoric that championed India's progress on regulatory and economic reforms. "We have committed ourselves to creating and improving the business environment," Modi said. "I can assure you that once you decide to be in India, we're confident we can make you comfortable."
It wasn't just Modi who seemed upbeat about the relationship. More than 400 Indian companies from 14 states showed up in Hannover, hoping to prove their manufacturing chops to the Germans. The prime minister, who made headlines in January by treating U.S. President Barack Obama to a prime seat at the Republic Day parade, a Gujarati feast, and a night of traditional dancing at the Presidential Palace, wasn't shy about taking his hospitality on the road, either. Joining him at the summit were 45 celebrity chefs, who dished out mango lassis, khandvis, dhoklas, khakras, and other exotic Indian treats to potential investors.
The hope that the trip could help the push for a more robust trade relationship with Europe's largest economy is not unfounded. Delhi and Berlin enjoy a $17 billion trade relationship. That total should improve after the visit, especially with Modi's efforts to court German business leaders.
But aside from that news, Modi's visit proved short on deliverables. In Germany, the second stop of the prime minister's broader trip abroad, which began in France last week and will conclude in Canada on Thursday, India did not seal a major trade agreement. The biggest takeaway was a bilateral mechanism to ease German investment and business, although there are few specifics about how it will work.
That may not have been the objective. Modi's speech resonated with investors at Hannover, who responded positively to the "Make in India" campaign. Modi's address also focused on proving that Delhi was doing its part to clean up corruption and to fix a fractious business environment. "I am here to assure the German companies that India is now a changed country," Modi said. "Our regulatory regime is much more transparent, responsive and stable. We are taking a long-term and futuristic view on the issues."
Still, the gains seemed to pale in comparison to Modi's recent accomplishments on the diplomatic front. During Obama's visit to India in January, Washington agreed to supply Delhi with civilian nuclear technology. During last week's trip to Paris, Modi announced that India will purchase 36 French fighters.
India and Germany could still ink a substantive trade deal before the year is out. Chancellor Angela Merkel will visit Delhi in October, which will provide another opportunity to initiate talks.
Before Modi left for Canada on Tuesday, things seemed to be heading in a positive direction. "I think [the] Hannover [trade] fair would allow us to turn a new chapter in our relationship," Merkel said. "Let me assure you that Germany stands ready to develop this partnership." We'll see if that feeling can last for the next six months.