Iran After Sanctions: An Emerging Economy Giant?
An Iranian nuclear agreement could be an economic game changer.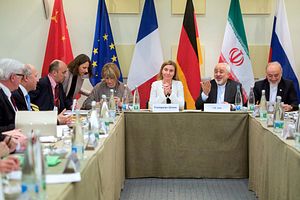 A final agreement is yet to be signed.  But for the first time in the decade-and-a-half-long Iranian nuclear negotiations we may have a viable deal on our hands.  By and large, the international community, including Pope Francis, has welcomed the recently announced Joint Comprehensive Plan of Action (JCPA) framework agreement, which marked the culmination of days-long, grueling 11th-hour haggling in Lausanne, Switzerland.
The next three months will be extremely crucial to ensuring the P5+1 great powers (Britain, France, China, Russia, the U.S., plus Germany) and Iran hammer out the technical details of a final, comprehensive nuclear agreement. Obviously, the pitched battle over (diplomatically) resolving the Iranian nuclear conundrum is far from over. If anything, as I argued in a previous piece, the "second level" of the negotiations is expected to reach a fever pitch in coming months, as domestic opponents of the deal try to undercut what could end up as Obama's most enduring foreign policy legacy.
Assuming the Obama and Rouhani administrations manage to overcome domestic political hurdles and arrive at a final understanding, which is by no means certain, it is still worth examining the potential economic fallout of an Iranian nuclear agreement. After all, Iran arguably represents the hottest emerging market in waiting, combining the consumer market and human capital potential of Turkey with the oil riches of Saudi Arabia, natural gas reserves of Russia, and mineral resources of Australia.
The Sanctions Conundrum
Western sanctions against Iran — targeting the country's financial, transport and oil sectors — have been particularly devastating. After years of robust economic growth, which qualified Iran as a legitimate member of Goldman Sachs' "Next-11" (prospective or actual) star economies, Iran fell into a vicious "stagflation." A toxic combination of hyperinflation and economic contraction brought the Iranian economy to the precipice. In 2012 and 2013, Iran suffered economic contraction.
Oil exports, the chief source of state revenues and foreign currency earnings, halved, while surgical sanctions on Iran's financial sector, including the Banke-e-Markazi (Central Bank), prevented the Middle Eastern country from accessing global financial markets. Even Iran's main ports and shipping facilities were targeted, undermining its ability to conduct trade in even basic commodities such as food and medicine. Not only did Iran struggle to collect payments for its shrinking oil exports, but up to $100 billion of Iranian overseas assets were suddenly out of reach. Inflation reached as high as 40 percent, with Iran's currency (rial) losing as much as 60 percent of its value, significantly reducing the purchasing power of Iran's cosmopolitan middle-class. If not for sanctions, Iran's economy would have been 15-20 percent larger today.
Once a thriving economy, Iran was preparing for "economic jihad (resistance)."  The 2013 election of President Hassan Rouhani, however, paved the way for the establishment of a centrist, diplomatically-savvy administration. Rouhani's cabinet stood as among the most technocratic in the world, boasting more American PhD-holders than the White House. Staking his legacy on ending Iran's economic woes, Rouhani drew on Iran's best diplomatic minds, particularly Foreign Minister Javad Zarif, and lobbied the Iranian political establishment, especially the Supreme Leader Ali Khamenei (Iran's ultimate authority), to green-light high-stakes negotiations with Washington.
Forces of Fortune
Despite enduring decades of sanctions, Iran has managed to establish the Middle East's most expansive industrial base, standing among the world's top 15 steel producers, top 5 cement producers, and top 15 automobile manufacturers. In recent years, Iran has also ventured into cutting-edge sciences, featuring among leading countries in stem-cell research and nanotechnology.
Iran cemented its position as the leading Middle Eastern scientific power in 2012, ranking as the world's 17th biggest producer of scientific papers, above Turkey and Israel. Its elite universities, particularly Sharif University of Technology (Iran's MIT) and University of Tehran (Iran's Harvard), have produced some of the most competent engineers and scientists in the world, most notably Maryam Mirzakhani, who became the first woman to win the the "Nobel Prize" of mathematics. Embracing greater connectivity, Iran has also stepped up investments in its internet infrastructure.
Iran's sprawling industrial and scientific infrastructure, however, needs access to Western technology and capital if it is to maintain its momentum. Due to punitive sanctions, Tehran has had to reluctantly rely on a shrinking pool of (opportunistic) partners, particularly China, India, and Russia, which have made the most out of Iran's isolation. Meanwhile, the Iranian economy has been in doldrums, despite the Rouhani administration's damage-control reforms. No wonder, the (swift and comprehensive) removal of sanctions has been the key objective of Iran's nuclear diplomacy. And this is why Iran has reportedly agreed to significant concessions on its nuclear program.
An Iranian nuclear agreement would be an economic game-changer, providing global investors access to one of the most promising markets in the developing world. And there has been no shortage of major Western oil and industrial companies anxious to enter the Iranian market. And there are signs that the Iranian political establishment has unified on supporting the emerging deal. But the Obama administration faces an uphill battle at home, and the negotiating parties are yet to agree on the pace and scope of any rollback in sanctions against Iran. Nonetheless, as Iranians anxiously look forward to a post-sanctions economic bonanza, we may finally have an answer to Henry Kissinger's timeless question on whether Iran is "a nation or a cause".
Richard Javad Heydarian is an assistant professor in political science at De La Salle University, and a policy adviser at the Philippine House of Representatives. He has authored more than 400 articles and policy papers on Asian geopolitical affairs, writing for or interviewed by Foreign Affairs, BBC, Bloomberg, Al Jazeera, New York Times, Wall Street Journal, The National Interest, The Nation, and NPR among others. He is the author of "Asia's New Battlefield: US, China and the Struggle for the Western Pacific".