Is Karachi's Biggest Party on the Ropes?
Pakistan's MQM faces an increasingly difficult set of challenges to hold onto power in the country's biggest city.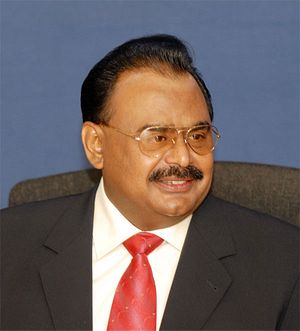 In Pakistan's largest and most volatile city, Karachi, a sea change could be afoot. The Muttahida Qaumi Movement (MQM), which has dominated municipal politics for decades, now faces government raids, foreign criminal investigations, and new competition that threaten its pole position. Is MQM on the ropes?
An analysis published in The New York Times by the paper's Pakistan bureau chief, Declan Walsh, and Swat Valley-based journalist Zia ur-Rehman last week seems to lean in that direction. Last Friday, MQM's leader Altaf Hussain, in self-imposed exile in London, resigned his post over pent-up frustrations with the Rabita Committee, the party's central planning organism, only to roll back on that decision after conferring with party workers. That's not the only bit of trouble that the party has faced this week: Hussain's decision to flirt with resignation, the second time he's done so in as many months, comes just two days after Pakistan's Interior Minister, Chaudry Nisar Ali Khan, urged the party to "come clean" in the unsolved murder of Imran Farooq, a former MQM ally slain in a London stabbing in 2010.
British police are upping the pressure on MQM, launching investigations into the party's inner circle, including Hussain. They've questioned MQM's standard bearer on suspicion of laundering money, after $650,000 was found in his home. Hussain has claimed the cash came from legitimate contributions to the party. That explanation may not be enough for British investigators, who recently arrested Muhammad Anwar, a senior MQM official living in London on similar charges.
Those investigations might not be enough to uproot a party with strong political backing in Karachi, and a knack for playing the underdog role. In 1992, when Prime Minister Nawaz Sharif was in his first turn in office, he cracked down on MQM, sending special forces into Karachi to drive the party out. Hussain's allies were still able to regroup and re-energize after several years underground.
But MQM lives and dies by its enigmatic leader. In the past few months, Hussain has been increasingly erratic, appearing drunk on party calls, slurring his speech. On top of its problems with the law, MQM is finally facing a tough political challenge in Karachi. Pakistan Tehreek-e-Insaaf's Imran Khan, the famous cricketer-turned-politician from neighboring Punjab, who enjoys a close relationship with military leaders, plans to aggressively contest by-elections on April 23.
In the mean time, MQM faces the constant threat of a watchful government: the March 11 raid at Nine Zero, the party's headquarters in Karachi, seem part of a concerted effort to get rid of the party. With Nawaz Sharif back in power in Islamabad since May 2013, those efforts may intensify in the coming months.
The investigation of Farooq's murder back in Britain poses an equally important threat. Last Tuesday, the Pakistani government arrested a suspect in the case, and the British government has identified two more persons of interest – both party members.
None of these signs bode well for MQM, especially with elections looming at the end of the week. But even with the party elite in turmoil, the group still commands a loyal following on the streets of Karachi. Even for a dynamic figure like Imran Khan, that groundswell will be tough to overcome.