Japan Wins New Philippine Defense Deal
Tokyo will construct ten vessels for Manila in the coming years.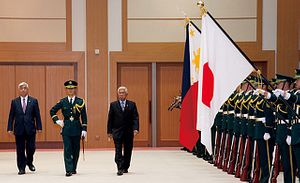 Japan has won a deal to construct ten vessels for the Philippine Coast Guard in the coming years, news outlets reported earlier this week.
According to an announcement from the Philippine Department of Transportation and Communications (DOTC) on April 20, the Maritime Safety Capability Improvement Project to supply ten multirole response vessels (MRRVs) was awarded to the Japan Marine United Corp (JMU).
The winning bid, which amounted to PHP8.8 billion (around $200 million), will reportedly comprise of PHP7.4 billion from Japanese Official Development Assistance (ODA) tied to the Japan International Cooperation Agency, and PHP1.4 billion from the Philippine government. It includes the supply of standard spare parts and tools, crew training, ocean transportation, and marine insurance. Delivered are expected to start in 2016 and continue up to 2018.
DOTC Secretary Joseph Emilio Abaya said that the project was part of the Philippine government's program to equip its forces with "necessary assets to protect the national marine interest." According to Abaya, the ten new vessels will help the Coast Guard in its functions of maritime law enforcement, search-and-rescue operations, and upholding maritime security. DOTC said the MRRVs would be 40 meters long, have a standard cruising speed of 16 knots and a range of 1,500 miles, and be deployed to various Coast Guard districts across the country, including Manila, La Union, and Puerto Princesa.
The deal comes as part of a broader effort by Japan and the Philippines to boost their defense relationship. While I always make it a point to emphasize that Tokyo and Manila have a long relationship that extends beyond contemporary concerns about China, the security side of the relationship has grown significantly amid growing anxiety about Beijing's actions in the East China Sea and South China Sea, and also as part of Japan's increased engagement with Southeast Asia more broadly under Prime Minister Shinzo Abe.
Japan and the Philippines have been building on a strategic partnership inked in 2011 in recent months, including signing a memorandum of understanding in January when Philippine Defense Secretary Voltaire Gazmin paid a three-day visit to Tokyo. As I noted then, some of the measures proposed included cooperation in defense equipment and technology, and there were reports that Manila had handed over a 'military wish list' of sorts to Tokyo to assist with its ongoing defense modernization. These vessels will no doubt be a boost for the Philippine Coast Guard in that respect, as well as a concrete sign of an elevation of Japan-Philippines defense ties.