Post-Anwar: Malaysia's Gloomy Future
As the opposition leader sits in prison, a shadow looms over Malaysian politics both at home and abroad.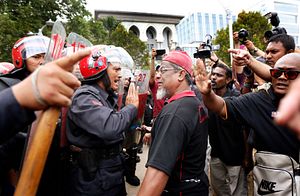 On February 12, Malaysia's highest court decided to reject an appeal and uphold a sodomy conviction against opposition leader Anwar Ibrahim, threatening to end his political career. While the verdict was not altogether surprising, it raises several lingering questions about Malaysia's direction during a year when the country has taken on a much more prominent role on the regional and global stage.
In the 1990s, Anwar initially rose within Malaysia's ruling United Malay National Organization (UMNO) to become deputy prime minister before falling out with the country's then prime minister Mahathir Mohamad. He has since spent several years in prison after being convicted of what many have called politically motivated corruption and sodomy charges. The sequel to this trial, dubbed "Sodomy II" locally, has been marred by questionable evidence and glaring inconsistencies and was roundly criticized by several human rights groups and experts. According to Human Rights Watch, the sodomy charge – which carries a punishment of up to 20 years in prison – has only been invoked seven times in the country's history but has been used repeatedly against Anwar. The Malaysian government has fiercely denied any foul play, but many close observers of the country's politics find that claim rather difficult to believe.
The verdict could influence the future trajectory of Malaysia's politics. On the one hand, some say that Anwar's imprisonment will play into the hands of UMNO and Malaysia's current prime minister Najib Razak by undermining the opposition which has already been beset by political infighting in spite of winning the popular vote in the 2013 polls. Anwar's imprisonment is expected to last five years, and barring a few outs, most notably a pending royal pardon sought by his family, he will lose his parliamentary seat and role as opposition leader. This means the 67-year old Anwar, a charismatic, experienced, and well-connected politician, will no longer be able to hold together the unwieldy opposition coalition known as the Pakatan Rakyat.
The three-party coalition – comprising a conservative Islamist party, an ethnic Chinese minority party, and Anwar's multiracial, secular party – has been bickering over divisive issues such as the role of religion in the secular, Muslim-majority country which also has significant Chinese and Indian minorities. With Anwar gone and no other leader with his status and ability to bridge these chasms, some worry about the future of the coalition. In an interview with The Diplomat on March 1, Sim Tze Tzin, the strategy director for Anwar's party, said that while there were challenges, he expected the coalition to continue to operate in the future because of its grassroots support and second-line leadership. But as he himself acknowledged, the coalition will first need to survive, something which will itself be difficult to achieve.