The China-India Defense Dialogue
The two countries seek to improve cooperation ahead of next month's summit.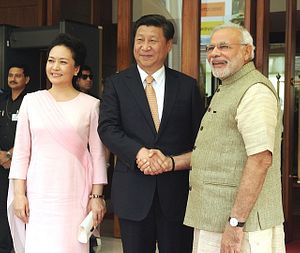 Indian and Chinese officials concluded talks in Beijing earlier this month that covered a host of issues, including the establishment of new confidence building methods, joint efforts on humanitarian disasters at sea, as well as four additional points of emergency interaction between border personnel in the Ladakh region, at Track Junction, Panging Tso Lake, Demchock and Chumar. This last issue was driven by
recent confrontations between Indian and Chinese troops along the Line of Actual Control (LAC) in Ladakh, one of which led to a stand-off that lasted a fortnight. The dialogue  also discussed initiatives to counter terrorism.
In the background to this defense dialogue, the seventh, China has been touting its vision of linking two Indian projects (Mausam and Spice Route) with its One Belt One Road (OBOR) initiative, namely the Silk Road Economic Belt (SREB) and the 21st century Maritime Silk Route (MSR).
Apart from its economic implications, the OBOR initiative clearly seeks to strengthen China's regional influence, while aspiring to connect China with Africa and Europe by road, sea and rail. Funding for the initiative  will be provided through the new Asian Infrastructure Investment Bank (AIIB), which India has recently joined as a founding member. China has created a $40 billion fund along with a financing facility for OBOR through the AIIB, which is slated to become fully operational later this year.
However, the OBOR initiative raises potential concerns for some countries in Asia, notably Japan, India and Russia. Although China claims that the project is a "win-win" for all involved, for its part India sees a major risk in Chinese investment in Sri Lanka. Late last month, Chinese President Xi Jinping spoke of trilateral China-India-Sri Lanka cooperation with Sri Lankan President Maithripala Sirisena. This worries New Delhi, although recent political changes in Sri Lanka have changed the equation somewhat, with the Sirisena government putting on hold the $1.5 billion Colombo Port City project, a key component of the MSR.
Other Chinese projects, including the Bangladesh-China-India-Myanmar Corridor and the Pakistan-China Economic Corridor, raise Beijing's strategic stakes in the Indian Ocean, particularly in Sri Lanka and the Maldives. This leaves New Delhi with something of a dilemma. By joining the MSR, India will certainly benefit in trade terms, but at the same time it sees the MSR as a hegemonic project with China's funding ensures that it plays the dominant role.
Significantly, China's main goal is to coordinate regional policy so that each country's economic development plan becomes part of a larger regional vision. The larger vision is to have a free trade areas as well as financial integration.
China has also expressed its inclination to work with India's Mausam and Spice Route projects. The Mausam project aims to re-connect and re-establish communications between countries of the Indian Ocean Region, enhancing understanding of cultural values and concerns. The Spice Route project meanwhile focuses on an India-centered linkup of historic sea routes in Asia, Europe and Africa.
The Defense Dialogue this year had added significance, as Indian Prime Minister Narendra Modi is scheduled to visit China next month in a bid to bolster ties. Modi is likely to seek a settlement to the Arunachal Pradesh dispute – a major impediment to improved relations – while also aiming to boost trade ties and encourage more Chinese investment in India. In these aspirations, Modi is likely to be helped by apparent enthusiasm in both India and China for better ties.
Arushi Gupta is a research assistant at the Observer Research Foundation.