The New Zealand Dollar's Big Moment
Buoyed by a strong economy, the Kiwi approaches a historic parity.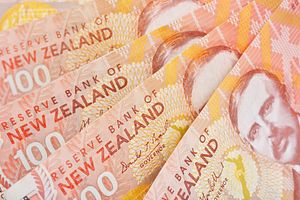 New Zealanders visiting Australia have long struggled with the currency conversion rate. This may be a thing of the past, given that the New Zealand dollar is now, for the first time in decades, trading almost at parity with the Aussie dollar. At the time of writing one New Zealand dollar was buying A$0.99.
The ascendancy of the New Zealand dollar is largely the reflection of a strong local economy. And should Australia's Reserve Bank cut interest rates in May, the Kiwi dollar may well reach and hold parity with the Aussie. That is something that has not happened since the currencies were floated – in 1983 for Australia and 1984 for New Zealand.
The upside for New Zealanders is a cheaper trip to Australia and a happy feeling that they have not just caught up with, but actually surpassed, the larger nation. "It sends a strong signal to Kiwis that after years of falling behind the big guy across the ditch we are catching up," wrote Corin Dann on the TVNZ website. It's good news for the government too, as despite some economic concerns – regional performance disparities and an Auckland property bubble – the New Zealand dollar is strong and the ruling National Party can take credit for it.
New Zealand has done well in its export sector in recent years, agricultural exports especially. It has managed to capitalize on Chinese worries about the safety of local milk and its dairy industry is now worth billions. The free trade agreement New Zealand signed with China in 2008, six years before Australia's, certainly helps.
One drawback of currency strength might be that New Zealand's second-largest export market is Australia – it used to be first – and a dollar at, near or beyond parity may hurt exports. New Zealand is also one of Australia's top holiday destinations and the tourism industry could take a hit, especially given the Southern Hemisphere snow season is approaching and the country is beloved by Australian skiers.
Across the Tasman, Australia is struggling with falling prices of its biggest single export – iron ore – which hit a new low in early April. Australia's budget will be delivered in May and it's expected that falling commodity prices will be problematic. This has not helped Australia's general economic health.
An article in the Sydney Morning Herald in early April headed "Currency World Cup" (Australia had just defeated New Zealand in the cricket World Cup), said, "As Australia grapples with sinking commodity prices, sluggish consumer spending, lack-lustre business investment, and an unstable political environment, New Zealand can boast of almost boom-time conditions, popular, sure-footed governance and the sort of confidence that most of the world has only been able to dream of since the global financial crisis."
It's a long way from the days when the Australian dollar could boost of its own parity – with the American dollar in 2010 then 2011. The Aussie has since fallen and stands at 77 cents to the greenback.
All this has prompted the inevitable debate: an ANZAC dollar. If the two nations are at parity, then why not simply institute one easier currency? Both nations' coins already look interchangeable enough, at least in local shops, but despite years of talk of a single currency, there is little genuine interest. For Kiwis already wary of Australian dominance, the idea of single currency is not particularly enticing, and the European experience is hardly inspiring. Moreover, analysts have pointed to the extent to which the two economies diverge, as Australian struggles with a downturn in the mining sector while New Zealand benefits from the strong performance of its agricultural exports.
For now, Aussies may have to rethink their trips to Queenstown while Kiwis enjoy more affordable holidays in sunny Queensland.
Helen Clark was based in Hanoi for six years as a reporter and magazine editor. She has written for two dozen publications including The Diplomat (as Bridget O'Flaherty), Time, The Economist, the Asia Times Online and the Australian Associated Press.