What Press Freedom in Eurasia?
Every year is a bad year for press freedom across the former Soviet Union. Last year was no different.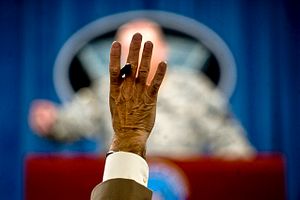 Press freedom hasn't improved for most of Eurasia for years. According to Freedom House's Freedom of the Press 2015 report, released today, the wider Eurasian region continued to have the lowest average press freedom scores in the world.
Within the Eurasian region there was some improvement, particularly in Ukraine, which moved from Not Free to Partly Free. This improvement was the result of the ousting of President Viktor Yanukovych last year. The resulting violent crisis in eastern Ukraine continues. Crimea was assessed separately for the first time and was not so lucky, earning a Not Free ranking owing to the shuttering of Ukrainian media and exodus of journalists from the breakaway region. Crimea was ranked as one of the ten worst countries for press freedom, as was Belarus.
Of the five Central Asian states, two grace the worst of the worst list — Uzbekistan and Turkmenistan — a dubious honor. Freedom House ranks countries press freedom on a scale from 0 to 100, with zero to 30 indicating Free, 31 to 60 Partly Free, and 61 to 100 meaning Not Free. In 2000, Uzbekistan's score was 83 and Turkmenistan's was 86. In 2015, Freedom House ranked both at 95. Turkmenistan's score has hovered around 95 since about 2004. The only country to score worse this year was North Korea.
Recent reports, from Human Rights Watch and the Civic Solidarity Platform, highlight that Turkmenistan's crusade against free press is still active. The government has ordered the removal of satellite dishes, which HWR says provided the only access to non-state-controlled media and news. Civic Solidarity Platform says the initiative is specifically targeted at blotting out access to Radio Free Europe/Radio Liberty's Turkmen Service, known locally as Radio Azatlyk.
Uzbekistan's score jumped after 2005, owing to a media crackdown following the May 2005 Andijan massacre. From the 2006 report:
Aside from a news blackout surrounding the events themselves, [Uzbek] authorities took steps during the year to shutter the few remaining Western-funded media outlets and training centers, such as the Institute for War and Peace Reporting, Internews, Radio Free Europe/Radio Liberty, and the BBC.
Kazakhstan, which held a competition-free election last week that ushered President Nursultan Nazarbayev into another term, has steadily become more restrictive, according to Freedom House data. In 1994, Kazakhstan qualified as Partly Free with a score of 60, but press freedom has declined since. The 2015 report rates Kazakhstan at an 85. Although Kazakhstan has a number of news outlets, most are state controlled and report only favorable news about the government.
Kyrgyzstan continues to have the best score in Central Asia (67), but has not been ranked as Partly Free since 1996. Increasing Russian influence has some observers worried that press freedom, among other human rights, may suffer in the coming years.
The Freedom House report has an extensive section at the end outlining their methodology, which is worth reading. The scores are compiled based on a series of questions that are divided into three categories — the legal environment, the political environment, and the economic environment. Using this method, improvements in one area may be offset by declines in another or vice versa. Tajikistan's broken out scores, for example, remained the same in the legal and economic categories between 2010 and 2015, but the country's rise in overall score (from 78 in 2010 to 82 in 2015) is explained by the worsening of the political environment with regard to media.
The detailed data is available here and the finished report here.