What's Next for US-Philippine Military Ties?
A brief look at what might lie ahead for Washington and Manila.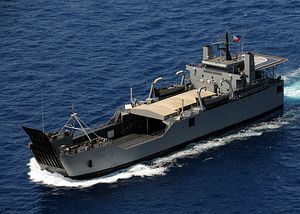 As I reported previously, the United States and the Philippines are now carrying out this year's iteration of the Balikatan exercises, which have been expanded significantly. But with those exercises soon coming to a close on April 30, there have been some discussions about what we might expect from U.S.-Philippine military relations in the near future.
One evolving issue is what the Enhanced Defense Cooperation Agreement (EDCA) signed last year between the two countries might mean specifically in terms of the U.S. access to Philippine bases. In mid-April, Philippine Foreign Secretary Albert del Rosario had already said that the Philippines welcomed the U.S. plan to deploy air and naval assets to the country as part of the next phase of Washington's rebalance to the region. While del Rosario said he had not discussed specifics with his U.S. counterparts, he noted that handling such equipment "will require U.S. presence." Department of National Defense (DND) spokesman Peter Galvez also added that Manila had planned and looked at where some of these new capabilities "may be appropriately deployed," including Subic and Clark which the United States had access to up till 1991.
On April 24, Chief of Staff of the Armed Forces of the Philippines (AFP) Gregorio Catapang offered a bit more clarity on this question when he disclosed to ABS-CBN News that US troops would have access to at least eight Philippine military bases under EDCA. These are: Fort Magsaysay in Neuva Ecija; Crow Valley in Tarlac; Basa Air Base in Pampanga; Naval Station San Miguel in Zambales; Antonio Bautista Air Base in Palawan; Benito Ebuen Air Base in Cebu; and Naval Base Rafael Ramos in Cebu. Two of those bases face the South China Sea.
The list of bases is not new – it was agreed upon during a meeting between Catapang and Admiral Samuel Locklear, the chief of the U.S. Pacific Command, last October. Catapang was also careful to emphasize that the list would only be formalized once the Philippine Supreme Court rules on the constitutionality of EDCA, which is still yet to occur. And while media reports have stressed that some of these bases face the South China Sea (which Manila calls the West Philippine Sea), Catapang himself noted that the Philippines recognizes that this does not solve its problems in disputed areas and Manila cannot expect Washington to defend its ally if an armed conflict erupts.
"EDCA will not solve our problem. We understand the treaty, it does not include the West Philippine Sea. So we want to develop our own capabilities," he said.
In that vein, the Philippines is also looking to boost its own capabilities in this respect in the coming months with the help of several countries including the United States. On 27 April, Galvez, the DND spokesman, reportedly told IHS Jane's that the Philippines is preparing to submit a request to the U.S. government to procure additional military equipment – especially those that could boost the country's offshore military capabilities in the face of rising Chinese assertiveness – in line with official meetings between the two sides.
"We will be requesting to acquire equipment that can improve our military capabilities, particularly in the maritime domain," Galvez said. "We have a list of priorities but we will not be specific with our requirements until we know what is available from the U.S."
As IHS Jane's notes, stated requirements by the Armed Forces of the Philippines (AFP) include additional transport aircraft, long-range patrol aircraft, close-air support aircraft, anti-submarine warfare helicopters, light frigates, amphibious assault vehicles, and communications and surveillance systems.