Can Shinzo Abe Inspire Silicon Valley's Dynamism in Japan?
In a speech at Stanford University today, Japanese Prime Minister Shinzo Abe lauded California's culture of innovation. Can he bring that spirit back to Japan?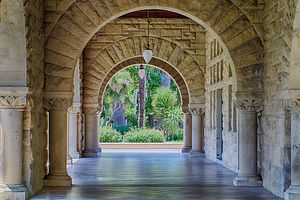 Japanese Prime Minister Shinzo Abe landed in Silicon Valley Thursday, hoping to pick the brains of some of the top thinkers in the region in a whirlwind day of visits to various hotspots.
Abe began that effort at Stanford University, where he gave short speech and took questions from the school's president, John Hennessey, and former Secretary of State George Schultz. "Silicon Valley is here thanks to Stanford University," Abe, who once attended the University of Southern California, said.
But Abe, who has diligently studied Silicon Valley, wasn't just there to heap praise on Google, Yahoo, and Facebook–he wanted a piece of the Valley for Japan: "We"d love to capture the dynamism of Silicon Valley and bring it to Japan," the Prime Minister said.
To that end, Abe proposed building a Japanese "bridge to Silicon Valley, announcing the Kakehashi Project, an incubator program funded by Tokyo that would allow 30 businesses to come to California for launch. Also announced was a plan for Japanese schools to partner with Stanford's bio design unit, starting in the fall.
Since Japan's red hot start to the digital age in the 1980s, its momentum has cooled. Sony has struggled to put out hit products for the past decade, and Sharp, a pioneer in the flatscreen television market, is seeking a bailout from creditors, deepening fears that Japanese electronics manufacturers could fall even further behind their Korean counterparts.
But Abe remained bullish on the prospects for Japanese tech companies. "My confidence never wavers when it comes to Japanese technology, " he said. Even when prodded by Schultz about Japan's challenging demographics, Abe expressed optimism, particularly in the healthcare and nursing industries. "If innovation can be introduced in those sectors, it will generate jobs," Abe said.
Japan's demographics will be important from a deal-making standpoint on this trip. On Thursday, Japan Post CEO Taizo Nishimuro shared the stage with Apple and IBM Chiefs Tim Cook and Ginni Rometty, announcing a partnership to design iPad programs that are easy for seniors to use, an effort to get the country's aging population digitally integrated.
With Japan's tech giants wavering, Abe's visit served as a bit of a wake up call for the beleaguered industry. Stanford was one of many stops for the busy prime minister on Thursday, part of his three-day visit to the U.S. West Coast. Abe visited Sand Hill Road, where a big chunk of America's $48 billion venture capital industry resides. That industry is nearly fifty times the size of its Japanese counterpart.
At Stanford, he rubbed shoulders with Oracle founder Larry Ellison and Microsoft chairman John Thompson, before rushing off to take a test drive at Tesla Motors with Elon Musk immediately afterward. Later in the evening, Abe and California Governor Jerry Brown will discuss the prospects for rapid, long-distance transit, with a $68 billion high speed rail connection between San Francisco and Los Angeles in the works. Abe also met with Facebook CEO Mark Zuckerberg, Apple General Counsel Bruce Sewell, and Yahoo co-founder Jerry Yang as part of the fast-paced afternoon. Though Abe's push for the Trans-Pacific Partnership was met with a mixed reaction in Congress, most of his meetings on the West Coast will be with supporters of the deal. "This is an ambitious 21st century partnership," Abe said.
That's not to say everything about Abe's visit will go off without a hitch. Just a few feet away from Bing Concert Hall, where the prime minister spoke at Stanford, about two dozen protesters gathered to protest the visit, calling for a formal apology for Japanese atrocities in World War II. One of Silicon Valley's representatives in Congress, Democrat Mike Honda, remains on the fence about TPP, split between labor and tech interests. Honda also expressed disappointment with Abe's offer of condolences in his speech to Congress, calling on the Prime Minister to make a direct apology for Japan's conduct during the war, especially for the sexual enslavement of women during the campaign.
For now though, in his first visit to the region, Abe seems excited by the renewed possibilities for technological innovation. We'll see if that excitement resonates back in Japan.