China, Russia to Hold First Naval Exercises in the Mediterranean
The drills will take place next month.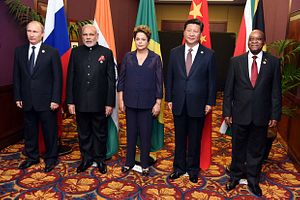 China and Russia plan to hold joint drills in the Mediterranean Sea for the first time in mid-May, the Chinese defense ministry announced Thursday.
While no specific date was given for the exercises, which have been discussed by the two countries since last year, Chinese Defense Ministry spokesman Geng Yangsheng reportedly told a monthly news briefing that they would be focused on navigation safety, at-sea replenishment, escort missions and live fire exercises. Nine ships from the two countries would participate.
"The aim is to deepen both countries' friendly and practical cooperation, and increase our navies' ability to jointly deal with maritime security threats," Geng said according to Reuters.
While China and Russia have held naval drills in the Pacific since 2012, this is the first time that the two countries will hold exercises in the Mediterranean. The exercise is yet another indication of China's gradual drive to expand the reach of its navy, with steps over the past decade including sending ships to join anti-piracy patrols back in 2008 as well as evacuations of citizens in Libya in 2011 and Yemen last month, as The Diplomat recently reported.
It also comes at a time when Sino-Russian relations are in the limelight in the wake of Moscow's isolation following the imposition of economic sanctions by Western powers over the violence in Ukraine. Ties between the two Asian giants are set to grow closer this year with the inking of agreements covering natural gas and arms as well as the expansion of cooperation in areas including aviation and aerospace, agricultural trade and cross-border infrastructure construction. Advances are expected when Chinese president Xi Jinping visits Moscow next month to attend a parade celebrating the end of World War II. China's ambassador to Russia Li Hui also confirmed earlier this week that the People's Liberation Army will send a contingent to take part in the parade in Moscow for the first time ever.
But Geng once again sought to downplay the exercise as he has done on previous occasions, emphasizing that China and Russia have conducted several such exercises before and that this particular one was not tied to any regional developments.
"What needs saying is that these exercises are not aimed at any third party and have nothing to do with the regional situation," Geng said.