Did Cambodia Just Scam Australia?
Something doesn't look right with a refugee deal between the two countries.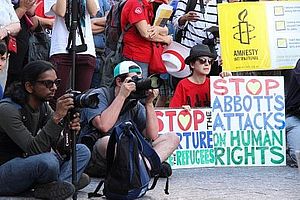 Last September, Cambodian Minister of Interior Sar Kheng and Australian Immigration Minister Scott Morrison clinked their champagne glasses after a meeting in Phnom Penh. The toast was to an pact between the two countries in which Cambodia agreed to shelter refugees coming from an Australian-run refugee center on the island state of Nauru.
In an effort to stem the influx of refugees to Australia, the country has taken a series of steps, including launching a controversial "No way. You will not make Australia home" campaign. In this deal, refugees still make it from detention on Nauru island to shore, but — as promised — they aren't making Australia home. Instead, they are to be resettled in Cambodia.
Not everyone took part in the celebrations, though. The agreement has been widely criticized by a number of experts claiming that Cambodia will not be able to take proper care of the incoming refugees. Both local and international NGOs have cried foul, and even UN High Commissioner for Refugees António Guterres has stated that it is "crucial that countries do not shift their refugee responsibilities elsewhere" with reference to the agreement.
Nevertheless, in September the Australian government went ahead and paid Cambodia $31 million to accept the refugees. This week, despite the lack of progress in carrying out the agreement, Australia forked out an additional $12 million on top of the original amount. But human rights concerns aside — where are the supposed resettlers from Nauru?
Although both sides had agreed that just four or five refugees would initially be involved, it was never clear exactly when the transfer was going to take place. The Australian government has done a fair bit of groundwork to convince the Nauru residents to take the offer and go to Cambodia, including distributing an official video promising "a fast-paced and vibrant country with a stable economy and varied employment opportunities." While the video was mocked for painting a very rosy picture of Cambodia, four refugees still took the deal and agreed to go to Cambodia. So far, so good.  In April, there were widespread reports that the refugees were going to land at any moment now.
But they didn't.
On May 12 The Sydney Morning Herald reported that the four refugees allegedly were transferred from Nauru to Darwin en route to Cambodia. Australian Minister for Immigration and Border Affairs Peter Dutton suggested then that the refugees would be transferred "very shortly." But right after that statement, a Cambodian spokesman claimed to have no update at all on the matter.
On May 28 — over two weeks later — an Australian official visited Cambodia to "finalize arrangements for the transfer" (and, of course, to hand over the extra $12 million). But even so, after the visit, the plans were as vague as ever: "I cannot give you a final date, because we have not finalized that with the government of Cambodia," said the Australian official, while Cambodian senior officials again claimed that they were "unaware of any imminent plans to move the group."
For anyone familiar with Cambodia, these repeated dodges from Cambodian authorities certainly do not suggest that the two governments are anywhere close to finalizing any agreement or transfer. On the contrary, it sounds like the Cambodian government is quite unwilling to keep up their end of the deal now that the money has already been paid. Even if the four resettlers make it to Cambodia, it is worth noting that this deal will end up costing Australia over $10 million per refugee at that point.
So, apart from the embarrassing lack of planning for this refugee resettlement in the first place, the concerns for the well-being of the resettlers in Cambodia and the missing coordination in statements coming from both parties, there is one very pressing question Morrison, Dutton and the rest of the Australian government need to ask themselves: Did Cambodia just scam Australia for $43 million in this refugee deal?
Anya Palm is a freelance journalist based in Bangkok, Thailand.