India's Missed Iran Opportunity
The Iranian port of Chabahar remains an elusive dream of Indian strategic policy.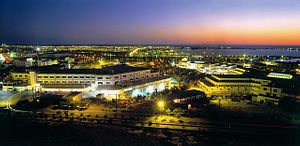 On a recent trip to Tehran, India's Minister for Road Transport, Highways and Shipping, Nitin Gadkari inked a memorandum of understanding (MoU) with his Iranian counterpart for the development of Chabahar port. The port, situated in southeastern Iran, is seen by India as a gateway to both Afghanistan and Central Asia and a possible counter-balance to Gwadar port in Pakistan, which is now operated entirely by China.
"With the signing of this MoU, Indian and Iranian commercial entities would now be in a position to commence negotiations towards finalization of a commercial contract under which Indian firms will lease two existing berths at the Port and operationalize them as container and multi-purpose cargo terminals," read a statement released by the Indian Ministry of External Affairs.
However, the inking of this MoU raises more questions than answers, given that it has been signed nearly 12 years after the first MoU were penned between the two countries, for the same port project. Ministry of External Affairs spokesperson Vikas Swarup said the MoU paves way "for commercial entities to negotiate commercial deals," another aspect of the deal that had been done before but produced no end result.
India first showed interest in the Chabahar port project in 2002, and in 2003 India, Iran and Afghanistan signed an MoU on the development and construction of transit and transport infrastructure on the Chabahar-Milak-Zaranj-Delaram route. The same year, then president of Iran Mohammed Khatami visited India where Delhi committed to further understandings in infrastructure and energy related investment in Iran, with Chabahar prominently leading the way.
The port, situated in Iran's poorer Sunni minority area, is seen as a vital project for Indian commercial and strategic aims, specifically now when the Indian Ocean region is becoming a hot spot where India's traditional prowess is being challenged by a fast-growing China. However, the real gain for India from being involved in Chabahar is probably more economic than traditionally strategic.
Iran itself has invested heavily in and around the Chabahar region in an attempt to try and attach itself to the lucrative possibilities of Central Asia. For this, it has funded small but significant infrastructure in Tajikistan as it hopes to connect, by road, to China via northern Afghanistan. It is also involved in railway projects in Kazakhstan and Turkmenistan that in turn are involved in various "corridor projects" with China, which is orchestrating a massive push into central Asia.
In 2004, an Indian consortium that included Ashok Leyland Project Services (ALPS), backed by the Hinduja Group, inked an MoU with the Ports and Shipping Organization (PSO) of Iran to develop the Chabahar port. However, the understanding never went further, even as India finished constructing the Delaram-Zaranj highway in Afghanistan in 2009. In fact, during this period Iran was having its own bureaucratic issues, as it doubted its own plans whether the Chabahar port facility itself was part of the larger Free Trade Industrial Zone that was announced to support the city.
The reasons behind the delay of Chabahar project are as complex as the deal with Iran itself, which is not known for being easy to deal with. At the heart of the issue lies a fundamental clash of political wills, with both India and Iran spending much of their political capital on negotiations, seemingly trying to outdo each other in levels of bureaucratic ineptness. If Delhi was acting aloof over Chabahar for years due to circumstances, which included economic shortfalls at home, a greedy Tehran with problems of chronic corruption was equally indifferent at any attempts by India to find a compromise.
Other than the port, India has also been ready to invest in the Iranian oil and gas sector, and the failure of these projects to get operational as well did not help India's already precarious stand on Chabahar. The Farzad B field in the massive Farsi gas block has been an ONGC Videsh interest for some time now, and India has committed an initial sum of $1 billion to start development there. After 2010, however, India began to balk on the project, reflecting increasing U.S.-led pressure on Iran over its nuclear program, and on India to minimize its hitherto positive dealings with Iran. The output from Farzad B was expected to be a boost to both Iran around Chabahar and other southern provinces, while also benefiting India, which wants to build a pipeline between the two countries to transport the natural gas from the field.
While Delhi had refused to completely cut ties with Iran on the trade of oil and gas, it did rapidly scale back its investment plans. Whatever progress was made over Chabahar and Farzad B in the past was lost within weeks of India refusing to release financial commitments to Tehran for oil purchases during the peak sanctions period. The reasons for this were perhaps justified, the risk inherent in the projects had increased dramatically within a short period of time, and transferring money to Iran would have violated many international financial treaties to which India is a signatory.
In 2012, Iran dispatched a team to Delhi to deliver something of an ultimatum over India's non-delivery on the Farzad B project. Tehran asked India to immediately commit the $1 billion promised, or the field would be promised to "others," an indirect reference to China, which today is Iran's biggest trading partner and which has funded railway and road projects in the country. For Beijing, like Delhi, Iran is an important source of hydrocarbons, as both China and India are dependent on large imports of crude oil and natural gas, specifically from West Asia. Iran has the world's second largest proven natural gas reserves and sixth largest oil reserves. A considerable part of these reserves has yet to be fully exploited.
Around 2010-11, Iran was beginning to feel the sanctions, as its income from the sale of hydrocarbons, vital to its economy, began to dwindle. For India, Iran had fallen from its second largest source of oil to seventh place by 2012, as New Delhi turned to the likes of Saudi Arabia and Iraq to hedge its supplies. However, Delhi still imported as much oil as it could from Iran, with business worth nearly $5 billion over two to three years. Even as India managed to negotiate with Washington some waivers for limited periods of time to continue energy trade with Iran, transferring payments became difficult and much of Tehran's dues were being deposited in a bank account in Kolkata. Tehran pressured India to free its dues, suggesting "unconventional" ways to transfer the money via Oman. However India persisted, and Iran grew impatient with Delhi's buckling under American pressure. Iran's billions were only transferred in phases in 2014 after sanctions eased as a thaw emerged between Tehran and the P5+1 negotiating countries.
In 2013, India's National Security Advisor called out the Ministry of External Affairs for "dragging its feet" on projects in Iran, particularly Chabahar, prompting some sense of urgency in Delhi. In early 2014, Iran invited global oil and gas majors for a meeting with President Hassan Rouhani, as it sensed an easing of sanctions and the potential for foreign investment. The meeting was held on the sidelines of the World Economic Forum in Switzerland, with Indian companies notably absent. The reasons for this faux pas given by government sources ranged from deliberately not attending the meet to a communication lapse within the Indian delegation.
Now, in 2015, India is already late to the "rush" that is expected to begin as Iran looks to open up following its expected negotiations breakthrough by the end of next month. Western and Chinese companies have been camping out in Dubai and other Gulf cities to pounce on the anticipated opportunities. India and its businesses are lagging, and the loss of both time and strategic space is visible.
Earlier this month, an Indian delegation was hurriedly put together and sent to Tehran to represent the Indian oil and gas sector. Tehran, while receptive, reportedly took India's strategic edge away as it refused Delhi's latest package for the development of the Farzad B field, which was a modified version of the deal offered in 2010. Worse, Iran has now also refused to give the field to India without a tender bid, which means after all these years Farzad B could slip out of India's hands and end up with the highest bidder.
Both India and Iran can look back on more than a decade of squandered potential for a strategic partnership, with both sides more often than not acting against their own interests. Now, if Iran can open up successfully, India should be ready with its best diplomatic and economic face to once again start what it could have successfully concluded half a decade before anyone else.
Kabir Taneja is a journalist covering Indian foreign affairs and energy sector for The Sunday Guardian, The New York Times (India Ink), Tehelka, The Indian Republic and others. He was also formerly a scholar at The Takshashila Institution.