Narendra Modi's Foreign Policy Year in Review, Part 1
Narendra Modi has spent a year in office. How well has he handled India's foreign policy?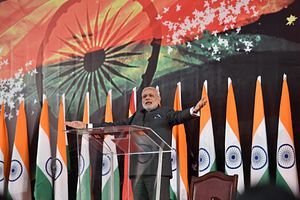 In his first year in office as prime minister of India, Narendra Modi has infused vitality into India's engagement with the rest of the world. He has worked to correct the faltering trajectory of India's relationship with the United States and has attempted to expand economic ties with China while being forthright in his appraisal about challenges in the relationship.  He has also attempted to re-engage the smaller states in India's immediate neighborhood and has reached out to the democracies of East Asia and the West.
As of May 19, 2015 Modi has visited 18 countries in an official capacity, unprecedented for any Indian Prime Minister in so short a time.  For some, it may seem surprising that Modi, whose electoral campaign focused heavily on the economy and government corruption, has dedicated as much time as he has on foreign policy matters.
In reality, Modi, like previous Indian prime ministers, understands that foreign policy and economic policy are inexorably linked. India's first Prime Minister, Jawaharlal Nehru, underscored the importance of the economy to India's foreign policy pursuits in a speech to the Constituent Assembly in 1947 where he argued that "foreign policy is the outcome of economic policy, and until India properly evolved her economic policy, her foreign policy will be rather vague, rather inchoate, and will be groping."
Modi's predecessor Manmohan Singh, who as finance minister in 1991 ushered in reforms to liberalize India's economy, drew attention to the positive externalities of India's increased economic engagement with other countries. Singh noted that "the response of other countries to [India's] national security concerns is being shaped by perceptions of business and economic opportunities. Countries that imposed sanctions on India when we declared ourselves a nuclear weapons power are building bridges with us, to utilize opportunities for mutual economic benefit."
Thus, a recognition of the importance of economic factors in India's engagement with the rest of the world is not new.  However, many of India's past challenges stemmed not from a paucity of ideas on India's place in its region and the world or how to engage with other states, but from an inability to see commitments made through to their conclusion.  What we appear to have witnessed in the first year of the Modi government is a sustained effort to engage and carry through on commitments made, which in and of itself, represents a positive departure from the past.
A year since Modi's inauguration as the 14th Prime Minister of India, some broad contours of foreign policy and national security priorities for his government seem apparent.  This column, in two parts, aims to analyze these broad contours, which might lend light to India's approach and priorities in the coming years.
India and the United States
Modi sees closer ties with the United States as vital to India's pursuit of its economic and security objectives. Apprehensions that the United States' denial of a diplomatic visa to Modi in 2005 would have a detrimental effect on ties in a Modi-led government have thus far proven to be unfounded. In fact, the Modi government has done more than just arrest the slide in India-U.S. relations; Modi's visit to the United States in September last year and Obama's subsequent visit to India on the occasion of India's Republic Day has created newfound optimism in the relationship.
There is now greater convergence between India and the U.S. on national security issues, ranging from global terrorism and piracy to freedom of navigation in the Asia Pacific and China's assertiveness in its neighborhood. It is also clear that there is political will at the highest levels in both the Indian and the U.S. governments to further enhance the scope and extent of the relationship along the lines envisioned in the September 2014 and January 2015 joint statements. In this regard, C Raja Mohan notes that "Modi's contribution was not about bringing big new ideas to the engagement with the United States… Modi's success was in ending India's political ambivalence towards America and bringing clarity to India's own objectives."
Whether and to what extent this political will can be realized will remain to be seen.  Complications in the India-U.S. relationship remain in areas like climate change, trade, and taxation.  India, for its part, can't be particularly pleased with the recent announcement that the U.S. has handed over combat aircraft, air-to-air missiles, and naval armaments from its Afghanistan campaign to Pakistan.
China
Narendra Modi displayed rare candor for an Indian prime minister in his appraisal of ties with China, at once underscoring the potential for enhanced Sino-Indian economic ties and cooperation on regional and global issues, while also being candid about the border dispute and India's concerns over China's incursions and the nature of its engagement with Pakistan. The approach is a breath of fresh air for those used to attempts by previous leaders to paper over the very real issues that existed between the two countries.
Former External Affairs Minister Salman Khurshid, for example, responded to a question about the state of the Sino-Indian relationship after the 2013 standoff between Indian and Chinese troops in Depsang Valley by suggesting rather perplexingly that "one little spot is acne, which cannot force you to say this is not a beautiful face… the acne can be addressed by simply applying ointment."
Now, it is unlikely that the mere articulation of these challenges by Modi will be sufficient to bring about a change in the manner in which India and China engage with each other. But as former Foreign Secretary Kanwal Sibal notes, the approach could move the Chinese "out of their present comfort zone… which cannot but have some impact on how it treats India in the future."
Modi recognizes that investment from China, which sits on almost $4 trillion in currency holdings, is indispensable to India's own economic growth. He has therefore attempted to attract greater Chinese investment in India, particularly in infrastructure, telecommunications, and manufacturing. However, Modi has remained silent on how he intends to address India's ballooning trade deficit with China, now estimated to be over $48 billion.
On the security front, the Modi government deserves credit for doubling-down on its relationship with the United States while strengthening ties with Asian states that share India's anxieties over China's aggressiveness in its neighborhood. The direct references to the South China Sea in the September 2014 and January 2015 India-U.S. joint statements and during his visits to Japan last year and South Korea this May represent important signaling to China.  However, a real test of Modi's China strategy will be in the manner in which he reacts to any future flare up with China on along the Line of Actual Control. Just how aggressive can India afford to be given the asymmetries between China and India along their disputed border?