Singapore Calls for Global Action to Tackle Maritime Challenges
Defense minister outlines measures to tackle maritime challenges in the Asia-Pacific.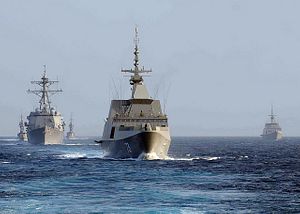 This week, Singapore hosts the 10th International Maritime Defense Exhibition Asia (IMDEX) at the Changi Exhibition Center. With more than 180 exhibitors from over 50 navies and maritime enforcement agencies, including 30 Chiefs and Vice Chiefs of navies and coast guards, it is the Asia-Pacific's largest exhibition of its kind.
At the opening ceremony of IMDEX on May 19, Singapore's defense minister Ng Eng Hen delivered a speech calling for global maritime cooperation to address a number of key shared challenges. In his remarks, seen by The Diplomat, Ng noted that since any disruption of maritime trade routes in Asia would affect the global economy, all countries had a collective interest in keeping regional sea lines of communication open and secure.
Doing so, Ng said, required the global community to jointly address three significant problems: maritime territorial disputes in the South China Sea; the threat of maritime terrorism; and piracy and sea robbery. That list is not surprising considering the increasing attention to these threats of late, including here at The Diplomat. (See, for instance: "Over Half of World Piracy Attacks Now in ASEAN".)
Ng suggested three "focus areas" for the international community as it seeks to make progress on these fronts. First, he emphasized forging understanding as well as trust and confidence through existing multilateral platforms like the ASEAN Defense Ministers' Meeting (ADMM) and ADMM-Plus, the ASEAN Regional Forum, as well as the Shangri-La Dialogue. He specifically mentioned the ADMM-Plus Humanitarian Assistance and Disaster Relief and Military Medicine Exercise conducted in Brunei in 2013 as an example of practical cooperation that can help promote stable military-to-military relations in the region. Unlike others, he did not call for new institutions to tackle these issues. (See: "Does Asia Need a New Maritime Organization Beyond ASEAN?".)
Second, he called for practical measures to reduce miscalculation at sea based on internationally accepted norms and legal frameworks. Ng mentioned Brunei's proposal to establish a Direct Communication Link, or hotline, to maintain open channels of communication in the event of emergencies, and the endorsement of the Code for Unplanned Encounters at Sea by the Western Pacific Naval Symposium in April 2014 as some examples that help reduce the risk of misunderstanding and mishaps at sea. In the same vein, he said ASEAN and China should "expeditiously conclude" the Code of Conduct in the South China Sea, in spite of Beijing's clear reluctance to do so. (See: "The Challenge of China's South China Sea Approach".)
Third and lastly, he focused on the need for capacity-building to respond to challenges quickly and effectively. Part of this involves information-sharing, and Ng unsurprisingly focused on the role of the Republic of Singapore Navy's Information Fusion Center (IFC), which was inaugurated in 2009, as a good example of how this can be facilitated. Ng pointed out that the IFC has thus far established links with 65 operation centers in 35 countries, with International Liaison Officers from 16 different nations currently deployed there. It is these extensive linkages, Ng argued, that allow the IFC to provide "accurate and timely information to resolve actual cases of maritime threats such as piracy and sea robberies."